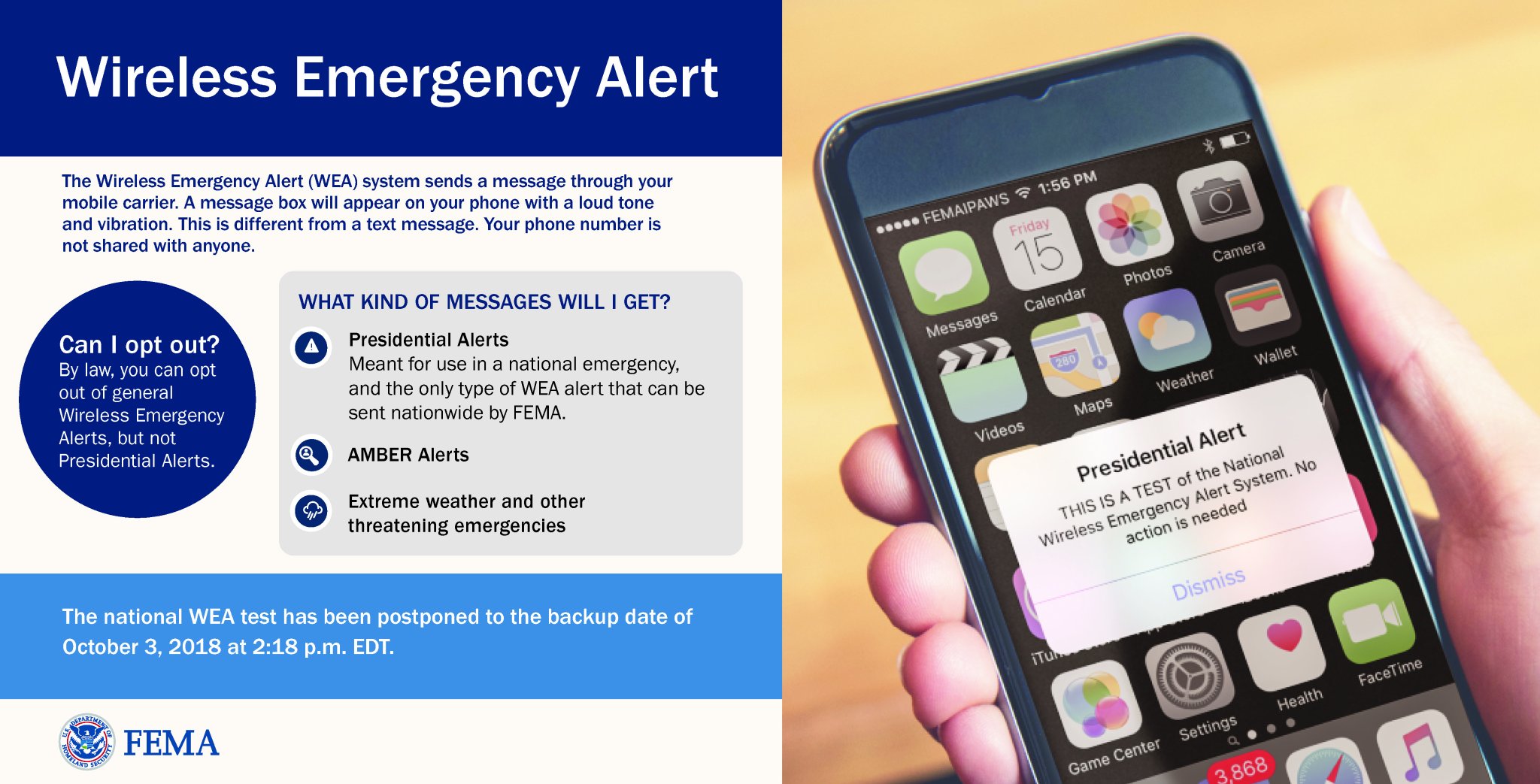 Lincoln County Sheriff's Office informs the public of a Federal Communications test at 11:18 a.m. Wednesday, Oct. 3 following the postponement of the test from Thursday, Sept. 20, due to Hurricane Florence.
Additional state and federal information regarding this national test is posted on the County website at http://www.co.lincoln.or.us/emergencymanagement/page/federal-communications-test. Included is a reference document of how emergency communication/notification systems are coordinated in Lincoln County.
Our goal is to inform the public in advance that the cell phone test message they will receive on Wednesday, Oct. 3, from the Federal government, not your local Lincoln Alerts program.
Who is Affected?
Mobile (cell phones) that are:
Turned on
Within range of an active cell phone tower
Whose wireless carrier participates in the Federal Wireless Emergency Alert program
Radio and television stations that receive the Federal Emergency Alert System (EAS) messages
What to Expect?
At 11:18 a.m. mobile (cell phone) devices will receive a text message that "should" state: "Presidential Alert – THIS IS A TEST of the National Wireless Emergency Alert System. No action is needed."
At 11:20 a.m. radio and television stations should receive an automated EAS message similar to the monthly test messages that regularly occur.
When will this occur?
Wednesday, Oct. 3, at 11:18 and 11:20 a.m.
What Else Should I Know or Do?
If you do not receive a message do not be alarmed – there is no action to take if you do not receive the message.
Tune in to your local radio station at 11:20 a.m. and listen to the national EAS test.
If you have not signed up for your LOCAL (Lincoln Alerts) community emergency notification system, consider doing so or update your information if needed.
Where do I get more information about this test and the IPAWS system?
Links to other Federal and State information on your County website at: http://www.co.lincoln.or.us/emergencymanagement/page/federal-communications-test
Thursday's FEMA Emergency Alert test delayed by Hurricane Florence