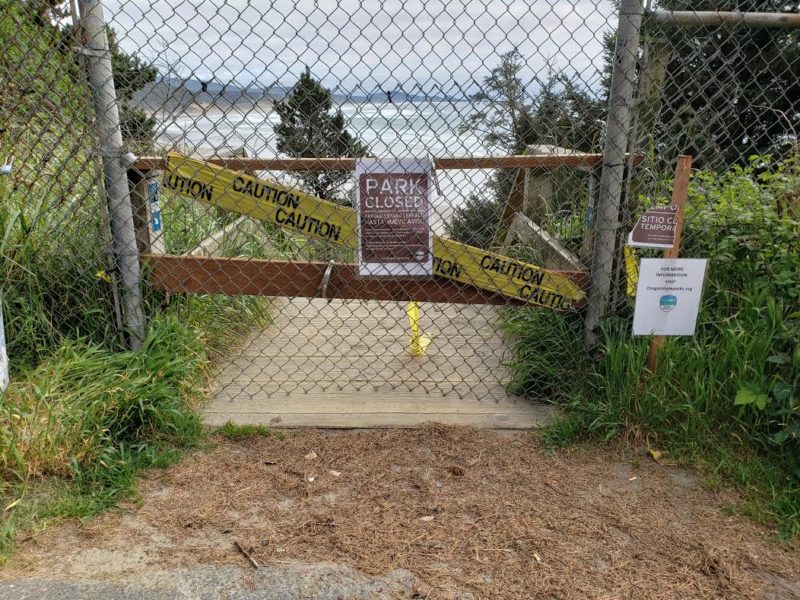 Two Cottage Grove surfers were cited for trespassing Monday after a Lincoln County Sheriff's deputy spotted them climbing over a fence at a beach access point in Otter Rock.
The Lincoln County Sheriff's Office received a report from nearby residents at 1:32 p.m. that two men were disregarding park signage and chain link fencing erected to block the public beach access area due to COVID-19. The two men were seen passing their surfboards over, climbing the fence and heading down to the beach.
Two hours later, Deputy Jack Dunteman observed two adult males matching the earlier description climbing back over the fence from the beach area. The two adults were identified as 20-year-old Mac Gause and 19-year-old Konnor Owens, both of Cottage Grove.
Law enforcement officials said the men knew the park was closed as they confirmed being contacted by a local citizen prior to climbing the fence and were told they would be trespassing.
Deputies have been actively patrolling the area following increased reports of trespassing from public and private property owners.
Lincoln County Sheriff's Office says it has taken a moderate approach of education first, enforcement second and said this incident was an example of individuals openly disregarding a barricaded area as well as warnings from a nearby resident.
Gause and Owens were cited to appear in Lincoln County Circuit Court on the charge of criminal trespass in the second degree.
Sheriff Curtis Landers issued a warning to the public Friday, April 17, stating the Lincoln County Sheriff's Office would enforce Governor Kate Brown's Executive Order and Lincoln County's order #3-23-85.