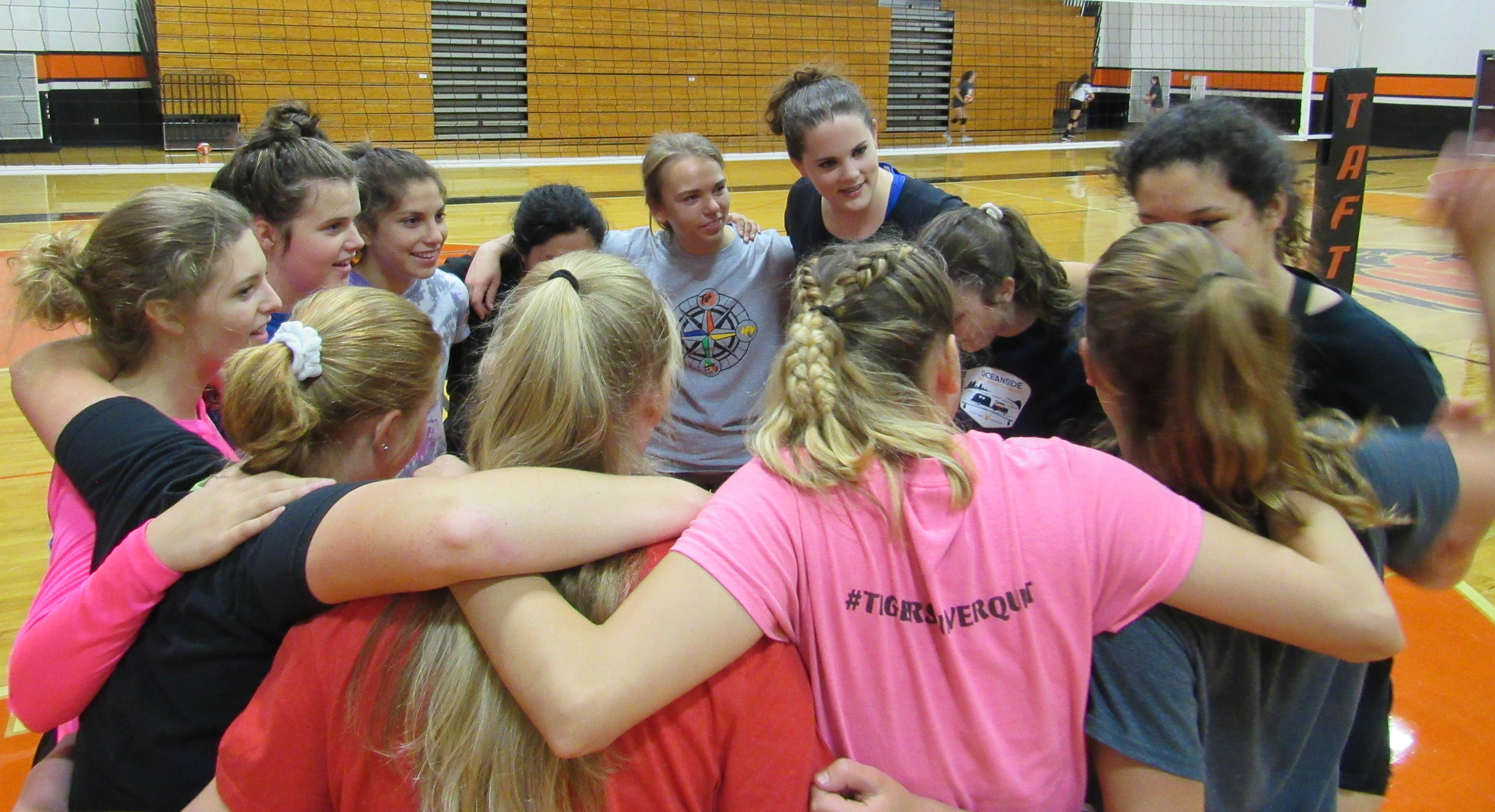 A base group of experienced returning players and a crop of fresh faces promise to provide an interesting mix for the Taft High volleyball team in its 2018 debut in the newly formed Class 3A Cascade Range League.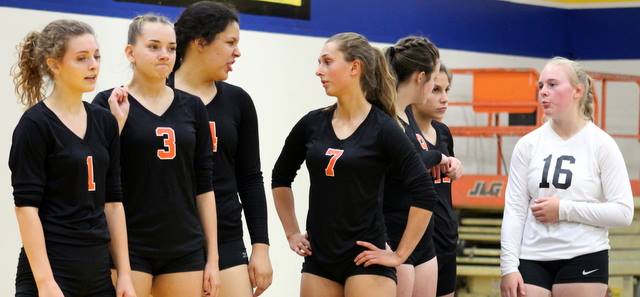 Four key players return to lead the Tigers, while several underclassmen will immediately step into pivotal roles when the Tigers open play Saturday morning in a nonleague four-team tournament in Warrenton.
"Our goals this season are to grow as a program," second-year Taft Coach Kelsey Hart said. "We have a very young team, so our goal will be to increase our skills and build a strong team culture."
Senior Maleah Smith should be among the players to lead the way on the front row for Taft.
"She's got a great passion for blocking, and has been working hard on her attacks," Hart said.
Fellow senior Caitlyn Rundstrom could be Taft's strongest player physically, and the most versatile on the scoring end.
"She's got a cannon for an arm, and has very powerful attacks and serves," Hart said. "I'm excited for all of the offensive options she gives us."
Strong-serving senior Savannah Russo will patrol the outside and is expected to give the Tigers an immediate spark from the service stripe.
"She has always been a very consistent, reliable player," Hart said. "She brings a great amount of control and steadiness to our team. And, her serves are killer."
Aggressive net play will dictate the Tigers' ability to force the action this season, Hart said.
"I think we will have a strong offense from our front row," she said. "Specifically, our seniors [Maleah, Caitlyn and Savannah] will be very strong and play key roles in our offense."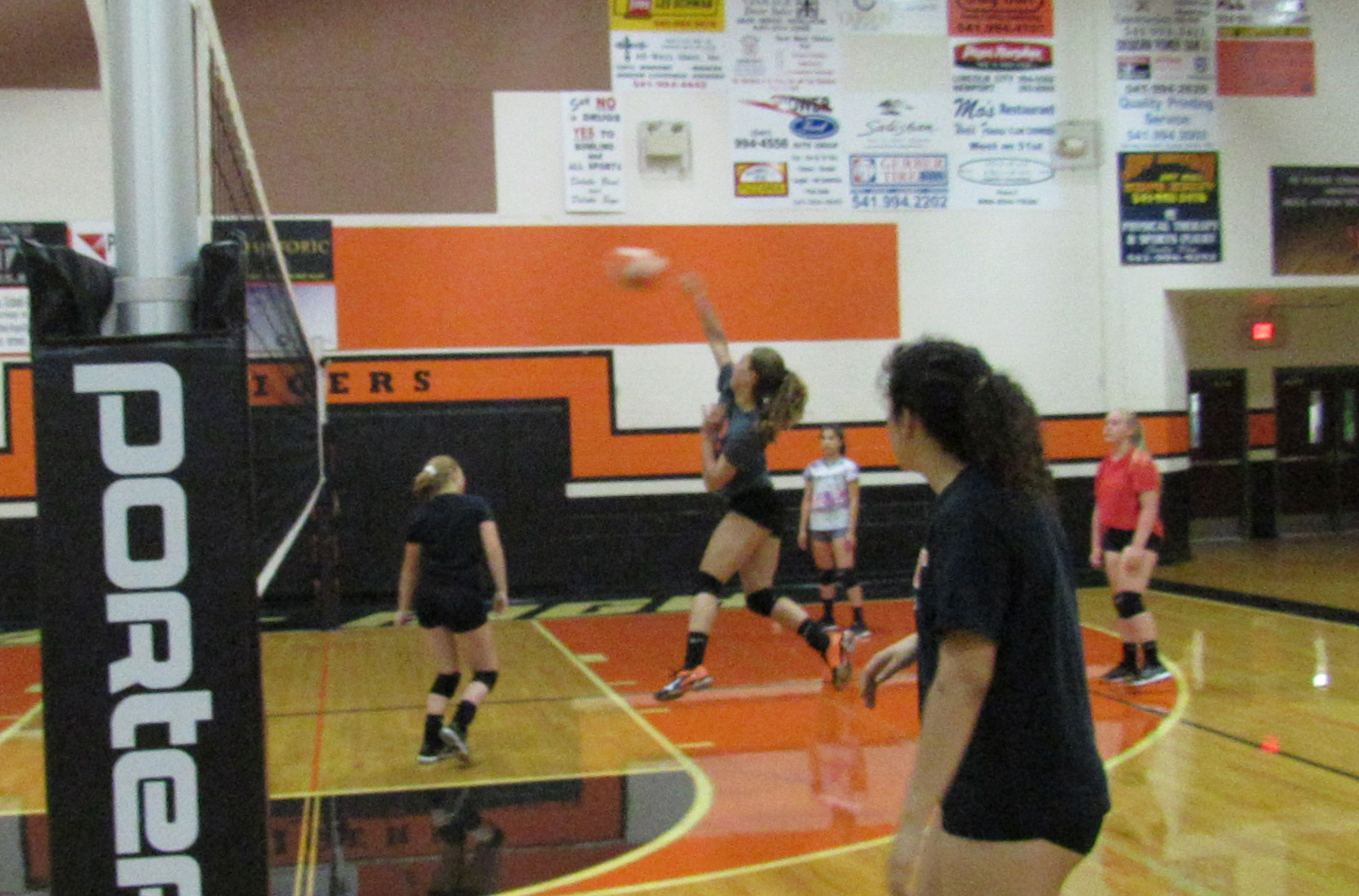 Another senior, Lilly Salsbery, is expected to oversee the offense.
"She is our returning setter, and has been doing a great job running the floor at practice," Hart said. "She does a great job making sure everyone is in the right place, communicating about sets-plays, and just generally being a good leader."
A trio of new faces will complement the Tigers' play, including promising ninth-grader Lily Hatton.
"As a freshman on varsity, she has some big shoes to fill, but her hands are great and she's learning to be a confident leader on the court," Hart said.
Defensive specialist Corey Van Damme will likely prove a commodity along the baseline.
"Her movement and presence in the back row will help our team be successful this year," Hart said.
Another freshman, Shelline Nerup, gives the Tigers a new look near the net.
"Her skills are still raw, but with the improvement she's made in the last week, I am very excited for the contributions she'll make to our offense in the front row," Hart said.
Two more seniors – defensive specialist Jazmyn Reyes-Cornejo and middle blocker and right-side player Charlotte Huppert – join sophomore outside/right side hitter Makena Cole, sophomore right side/defensive specialist Jordyn Ramsey and freshman outside/defensive specialist Logan Jack as key components to the Tigers' hopes for success.
"Our team is very young, so our biggest challenge will be to quickly bring up the skill levels of our younger players," Hart said. "I am looking to my seniors and juniors to help mentor our younger players."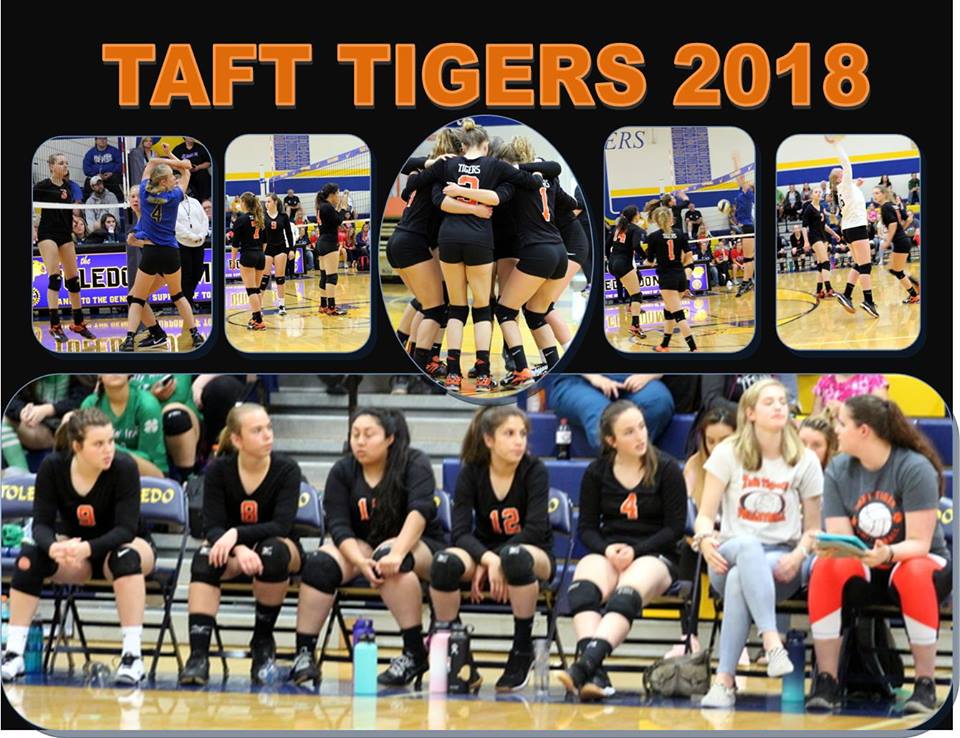 "I am excited to see where this season takes our program," Hart said. "We have a huge potential for growth this year. Our group of young women is committed to getting better, working as a team, and improving our program."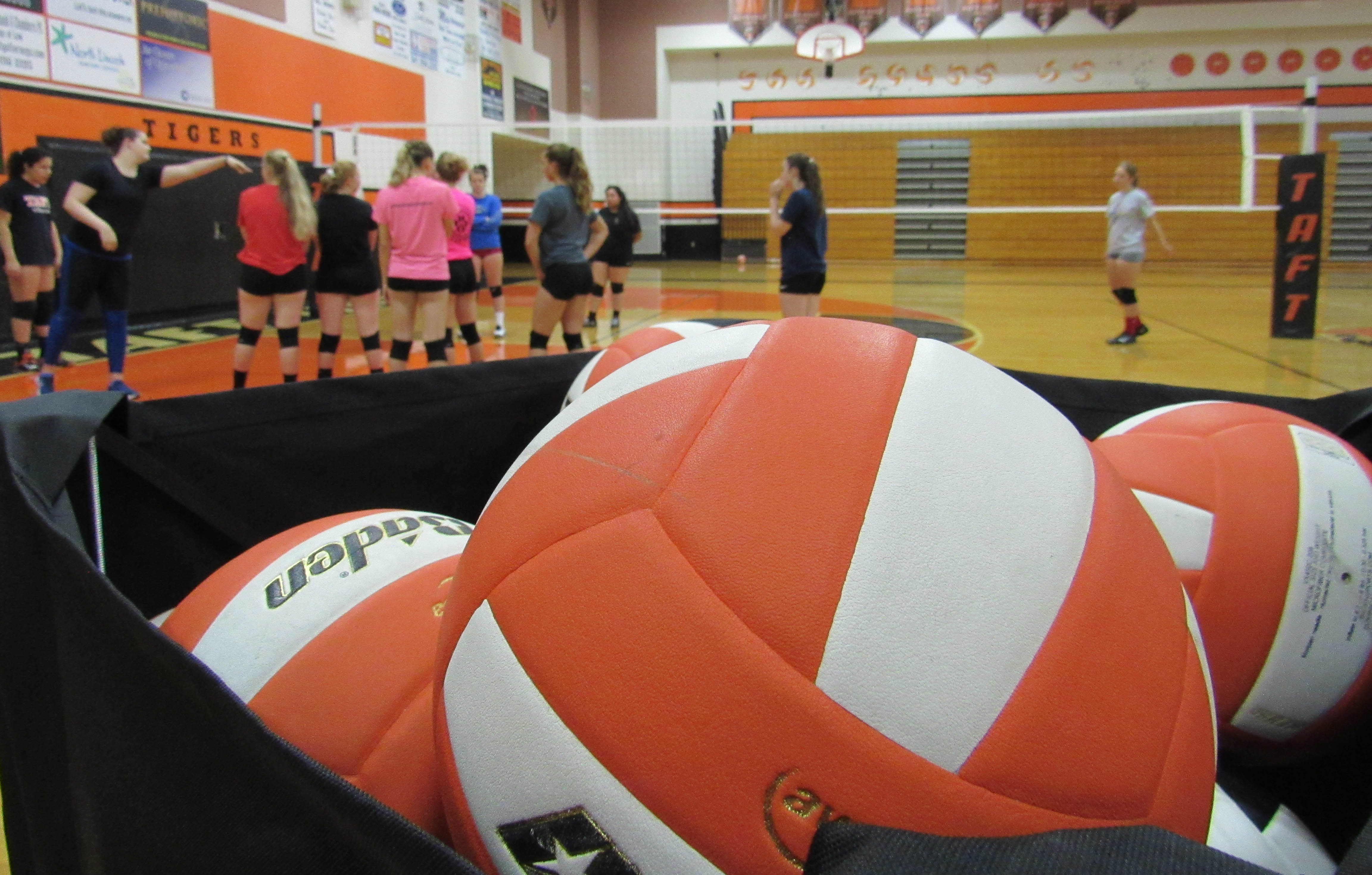 Roster
| | | | | | |
| --- | --- | --- | --- | --- | --- |
| No | | Name | Position | Grade | |
| 1 | | Lilly Salsbery | S | 12 | |
| 3 | | Caitlyn Rundstrom | OH/RS | 12 | |
| 4 | | Logan Jack | RS/OH | 9 | |
| 5 | | Charlotte Huppert | RS/MB | 12 | |
| 7 | | Savannah Russo | OH | 12 | |
| 8 | | Shelline Nerup | MB/OH | 9 | |
| 9 | | Makena Cole | RS/OH | 10 | |
| 11 | | Lily Hatton | S | 9 | |
| 12 | | Jordyn Ramsey | DS/RS | 10 | |
| 14 | | Maleah Smith | MB | 12 | |
| 16 | | Corey Van Damme | L | 11 | |
| 17 | | Jazmyn Reyes-Cornejo | DS | 12 | |
Junior varsity roster pending
Lincoln County Jamboree recap
The Tigers, who open their 2018 volleyball season Saturday morning in Warrenton, joined squads from Newport, Waldport and host Toledo on Thursday for the Lincoln County Jamboree.
Taft Coach Kelsey Hart said the preseason exhibition matches served as an adequate barometer as to where her team stands and what it needs to work on in its four nonleague matches before the Cascade Range League opener Sept. 13 at home against Rainer.
"We came out a bit rough, and didn't do some of the key things we've been working on, namely communication, keeping a positive attitude and ball control," Hart said. "The girls had a brief team meeting between games 1 and 2, and came out looking like the team I knew they could be."
Hart said she was particularly proud of the way the Tigers performed against Newport and Waldport.
"Both teams had solid front-row hitters, but Corey [Van Damme], Savannah [Russo], and Caitlyn [Rundstrom] really stepped up their defense and passing," she said. "Once we improved our defense and ball control, we were able to get more balls to our setters."
Hart said senior setter Lilly Salsbery and freshman setter Lily Hatton "made great decisions about where to send the ball," and senior outside players Rundstrom and Russo "had some amazing attacks."
"I'm super-excited to see what they can do Saturday," she said.
If there was a trouble spot, Hart said it came from behind the baseline, where the Tigers' serving was off target early against Toledo. However, senior middle blocker Maleah Smith produced a big run of serves that gave Taft a solid lead against Waldport.
"While we have a whole list of things we need to work on, I am beyond proud of my team and am so excited to see where this season takes us," Hart said.
The Tigers will get a quick examination at where they stand in comparison to two of their four conference opponents beginning at 8:30 a.m. Saturday in Warrenton as the host Warriors and Clatskanie are co-members of the newly formed Coastal Range League. Toledo (Class 2A Sunset) and Jewell (Class 1A Casco) will also participate.
Schedule
8/23 5 p.m. vs. Lincoln County Jamboree
8/25 8 a.m. @ Warrenton
9/11 6 p.m. @ Yamhill-Carlton
9/18 5:30 p.m. @ Clatskanie*
10/4 5:30 p.m. vs. Clatskanie*
10/6 8 a.m. @ Western Christian
* Denotes league match
Class 3A Coastal Range League