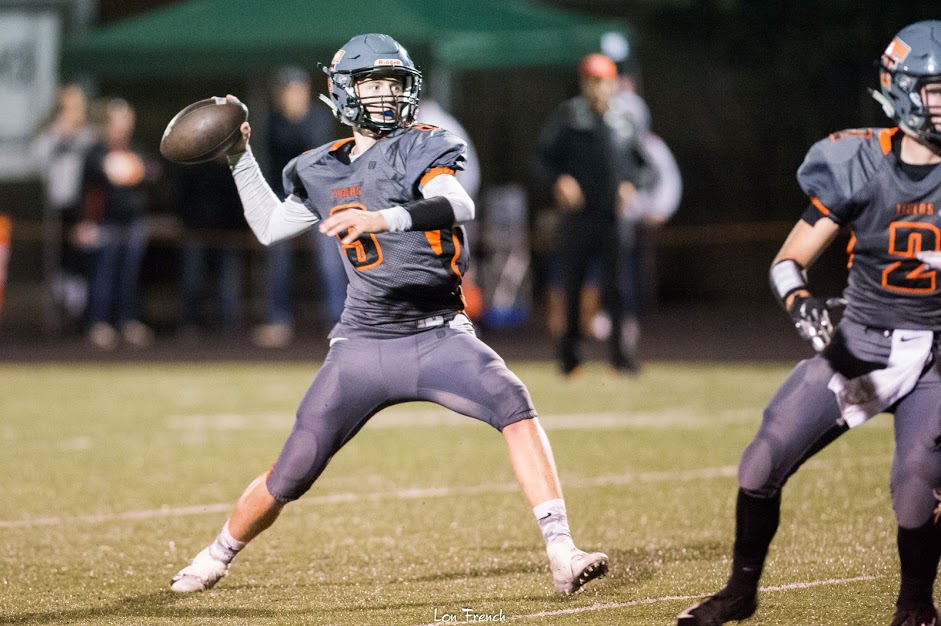 Tune in tonight for Homepage's live, breaking, play-by-play coverage of the Tigers' league-opening game
Just when you thought things couldn't get much tougher for the Taft High football team, enter the No. 1 team in the state for a league opener against an injury-depleted lineup looking to turn its fortunes around.
The 1-3 Tigers, who have already played two perennial State playoff powers and a couple who competed in bigger conferences until recently, are well aware of the mighty Warriors, having shared conference affiliation with them throughout the years in all sports and both genders.
"We know a lot about Amity," said Taft Coach Jake Tolan, whose Tigers host the Warriors at 7 p.m. at Voris Field. "We know what they will run both offensively and defensively."
So what is it that has allowed the Warriors to amass a 206-34 (51.5 to 8.5 points per game) scoring advantage over four outclassed opponents this season?
"What they do is actually very simple, but they do it very well," Tolan said. "They are No. 1 for a reason and haven't really been tested yet this year. We hope to go out and just compete."
"Unlike last year where we gave up a bunch of rushing yards to them, this week we've worked a lot on assignment football — making sure all 11 guys are focused on individual assignments on each play in hope to be able to at least slow them down," Tolan said.
Amity has rolled past St. Mary's Medford, 51-7; Neah-Kah-Nie, 60-20; Salem Academy, 47-7; and Coquille, 48-0, with three of the games on the road. Playing its fourth game of the year away from home, Coach Joel Magill's squad has just three games scheduled this season in its friendly confines – until the playoffs, that is.
As if the presence of the state's top-ranked Class 3A team wasn't enough, the Tigers will be missing four starters due to injuries incurred in previous games. Missing in the Special District 1 West Conference opener will be defensive lineman Tyrese Hellman and defensive back Darius Smith, who are out on concussion protocol; lineman Jace Fostveit with a wrist sprain; and defensive end Micah Davis, who has been lost for the season with a leg injury.
"So a lot of this week has also been focused on getting replacement players in the right spots so they can be successful," Tolan said.
Things don't get any easier foe the Tigers after Friday either. Taft hits the road for two league games (Clatskanie and Willamina) before returning home to close out the regular season with two more (Dayton and Rainier), including matchups against the second- and third-ranked teams in the state.
Class 3A Special District 1 West Standings
Taft Roster
Coach: Jake Tolan
| | | | | | | |
| --- | --- | --- | --- | --- | --- | --- |
| No. | | Name | Position | Grade | Height | |
| 2 | | Logan McLendon | WR/DB | Sr. | 5-8 | |
| 3 | | Kaden Hindman | WR/S | Fr. | 5-9 | |
| 4 | | Devon Lindquist | WR/S | Sr. | 5-10 | |
| 6 | | Zane Rowley | WR/DB | So. | 5-4 | |
| 7 | | Chris Lopez | WR/DB | Sr. | 5-9 | |
| 8 | | David Jin | QB/DB | Sr. | 5-10 | |
| 9 | | Kameron Kessler | WR/S | Sr. | 6-1 | |
| 11 | | Fco Ramos | WR/DB | So. | 5-7 | |
| 14 | | Tristan Beach | WR/DB | Jr. | 5-10 | |
| 15 | | Connor Bailey | WR/DB | Jr. | 5-10 | |
| 16 | | Darius Smith | WR/DB | So. | 5-9 | |
| 19 | | Antonio Suarez | QB/LB | So. | 5-10 | |
| 20 | | JJ French | RB/LB | So. | 5-10 | |
| 22 | | Tyee Fisher | WR/S | Sr. | 6-5 | |
| 23 | | Clay Nelson | WR/LB | Sr. | 6-0 | |
| 24 | | Trenton Hall | WR/LB | Jr. | 5-9 | |
| 25 | | Kaden White | WR/DB | Fr. | 5-7 | |
| 28 | | Logan Gilleo | RB/LB | Jr. | 6-0 | |
| 50 | | Dylan Rodriguez | OL/DL | Fr. | 5-8 | |
| 53 | | Micah Davis | OL/DE | Jr. | 5-10 | |
| 54 | | Eriq Aquino | OL/DL | Sr. | 6-1 | |
| 55 | | Elin Fitch | OL/DE | Jr. | 6-3 | |
| 56 | | Malachi LaFrenz | OL/DL | Sr. | 6-2 | |
| 57 | | Jace Phippen | OL/DL | Jr. | 5-10 | |
| 60 | | Chris Byrum | OL/DL | Sr. | 5-8 | |
| 61 | | Victor Carrasco | C/DE | Sr. | 6-2 | |
| 62 | | Brendan Welch | OL/DL | So. | 5-9 | |
| 66 | | Tyrese Hellman | OL/DL | Jr. | 6-1 | |
| 70 | | Josiah LaFrenz | OL/DL | So. | 6-3 | |
| 74 | | Sebastian Welch | OL/DL | So. | 5-9 | |
| 75 | | Dakota Steen | OL/DL | Fr. | 6-0 | |
Amity Roster
Coach: Joel Magill
| | | | | | | |
| --- | --- | --- | --- | --- | --- | --- |
| No. | | Name | Position | Grade | Height | Weight |
| 1 | | Payton Richardson | WR/CB | 11 | 6-4 | 170 |
| 4 | | Tyler Parr | QB/LB | 12 | 6-1 | 200 |
| 7 | | Eli Jackson | WR/CB | 12 | 6-4 | 170 |
| 8 | | Harvey Hoff | RB/LB | 12 | 5-6 | 155 |
| 10 | | Noah Groom | QB/DB | 9 | 5-7 | 130 |
| 11 | | Dylan Nyseth | TE/LB | 11 | 5-9 | 155 |
| 12 | | Keenan Graham | QB/DB | 10 | 6-1 | 150 |
| 14 | | Michael Duncan | WR/K | 12 | 5-9 | 150 |
| 16 | | Roberto Olague | RB/LB | 10 | 5-8 | 150 |
| 17 | | Cody Dyche | RB/LB | 11 | 6-1 | 191 |
| 18 | | Alrik Moore | WR/DB | 9 | 5-8 | 140 |
| 20 | | West Streeter | RB/LB | 12 | 5-7 | 200 |
| 21 | | Braxton Morgan | RB/LB | 9 | 5-8 | 155 |
| 22 | | Wyatt Hatch | RB/LB | 9 | 5-9 | 155 |
| 23 | | Cameron Weigart | WR/CB | 11 | 5-9 | 145 |
| 24 | | Brian Hatch | RB/LB | 12 | 5-7 | 150 |
| 25 | | Seth Valencia | RB/NG | 12 | 5-6 | 155 |
| 30 | | Nas Abzakh | RB/LB | 11 | 5-9 | 150 |
| 32 | | Enrique Martinez | RB/LB | 9 | 5-10 | 168 |
| 33 | | Jonathan Mather | RB/LB | 12 | 6-0 | 190 |
| 36 | | George Hatch | QB/DB | 10 | 5-11 | 146 |
| 40 | | Logan Grove | RB/LB | 9 | 5-9 | 155 |
| 42 | | Sergio Alba | TE/LB | 9 | 5-7 | 160 |
| 44 | | Russel Brown | RB/LB | 11 | 5-11 | 175 |
| 50 | | Nick McMullen | OG/DL | 10 | 5-10 | 230 |
| 51 | | Hunter Barber | C/DL | 9 | 5-6 | 170 |
| 52 | | Jordan Dyche | OT/NG | 12 | 5-6 | 250 |
| 54 | | Kyle Rice | OT/DT | 9 | 6-0 | 185 |
| 55 | | Jeffrey Coleman | OG/DT | 12 | 6-0 | 255 |
| 56 | | Christian Wald | OG/LB | 12 | 5-9 | 190 |
| 57 | | Blake Wilson | OG/LB | 10 | 5-11 | 165 |
| 58 | | Wyett Yocum | OL/DL | 9 | 5-10 | 200 |
| 60 | | Robby Scharf | OG/DT | 12 | 6-0 | 260 |
| 62 | | Phillip West | OL/LB | 10 | 6-1 | 195 |
| 64 | | Ashton Pappas | OL/RB | 10 | 5-7 | 175 |
| 65 | | Khaled Aydallad | OG/LB | 11 | 5-10 | 165 |
| 73 | | Justin Vido | C/DT | 12 | 5-9 | 295 |
| 75 | | Jacob Bernards | OT/DE | 11 | 6-3 | 273 |
| 76 | | Lucas May | OL/DL | 11 | 6-3 | 289 |
| 77 | | Federico Donati | K | 11 | 5-9 | 165 |
| 78 | | Andrew Paine | OL/DL | 12 | 6-2 | 300 |
| 80 | | Hayden Reeves | WR/DB | 10 | 5-9 | 135 |
| 81 | | Trevor Smith | WR/LB | 12 | 6-1 | 195 |
| 85 | | Brady Hall | WR/DE | 9 | 5-8 | 165 |
| 87 | | Josh Wart | TE/LB | 10 | 6-5 | 200 |
| 88 | | Diego Briones | TE/LB | 9 | 5-9 | 185 |