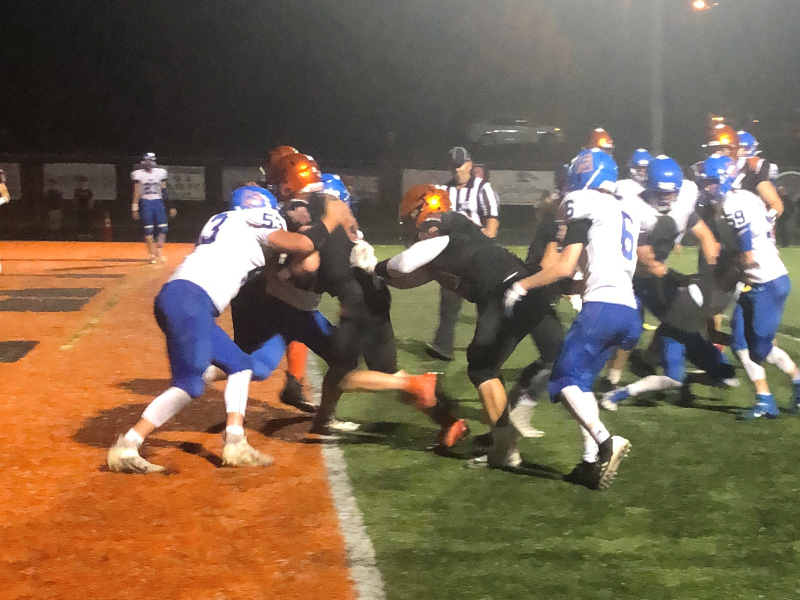 Junior running back JJ French rushed for over 100 yards and two touchdowns, and senior wide receiver Jordan Hall added another Friday to lead Taft High to a 24-6 nonconference football victory over visiting Knappa.
"We made many mistakes on offense that we need to clean up and learn from, but got enough big plays to walk away with a win," Taft coach Jake Tolan said. "Our depth was a key tonight. This is the first time in four years as the head coach that we have 45 kids in our program and have the ability to sub kids throughout the game and keep fresh legs on the field."
The Class 3A Tigers jumped on top 8-0 in the first quarter and 14-0 in the second period, then held on for a 14-6 halftime lead over the Class 2A Loggers.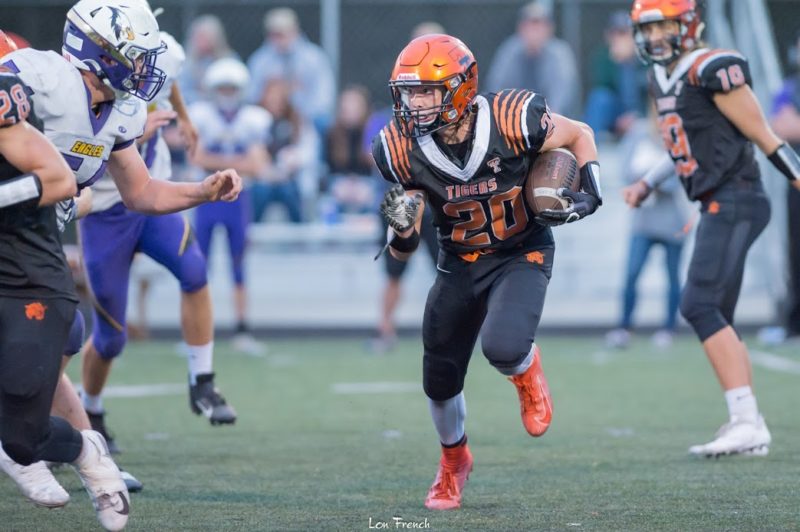 French got the Tigers on the board first with a 17-yard TD run with 3:23 remaining in the first quarter. A two-point conversion pass from junior Fco Ramos to senior Trenton Hall made it 8-0 Taft.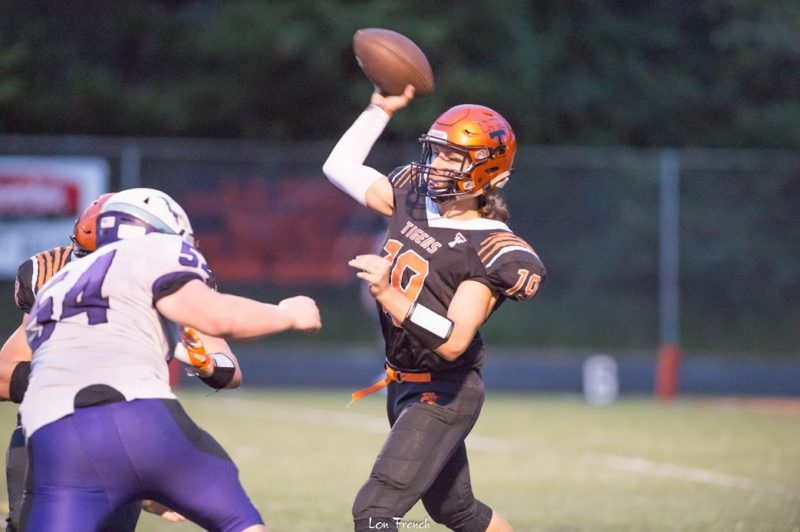 The teams traded turnovers on ensuing possessions before junior quarterback Antonio Saurez connected with Jordan Hall for a score and 14-0 lead after a failed extra-point try.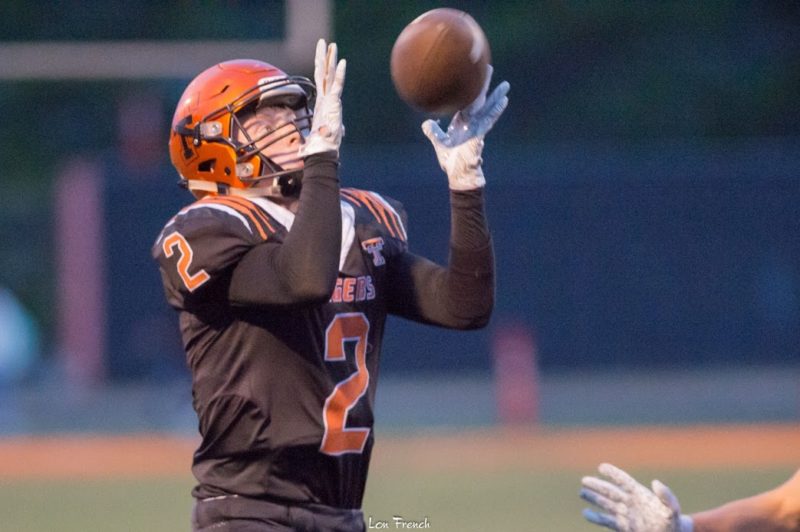 The Loggers made it 14-6 two minutes before halftime when senior Mason Westerholm connected with junior Devin Hoover for a 13-yard score, but the PAT attempt was blocked.
Fisher hauled in a 40-yard pass as time ran out on the halftime clock in the Tigers' bid to extend their 14-6 lead.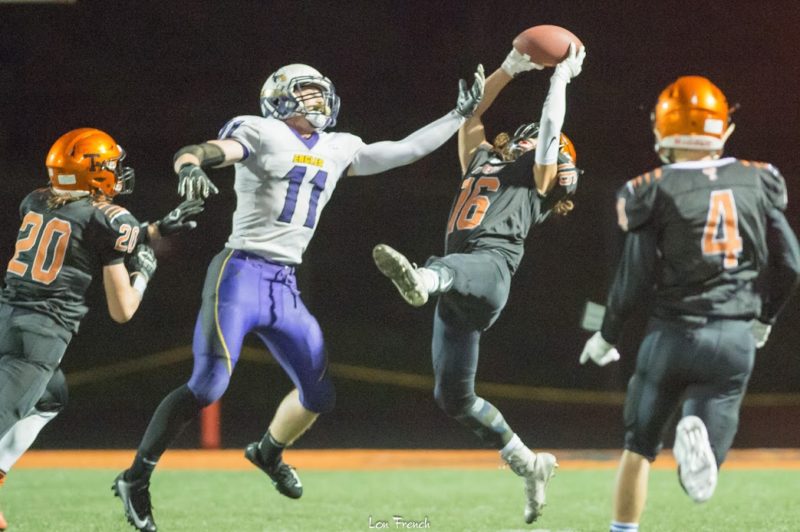 Taft junior defensive back Darius Smith put an end to a second-half possession by the Loggers with his third interception of the season at 9:23 of the third quarter.
With the score 14-6 following a scoreless third quarter, French ran 50 yards to the Knappa 25 before Saurez moved the ball to the 7 on two quarterback keepers midway through the final period. French ran it in from there, and senior running back Trenton Hall added a two-point conversion run for a 22-6 Taft lead with 7:46 to play.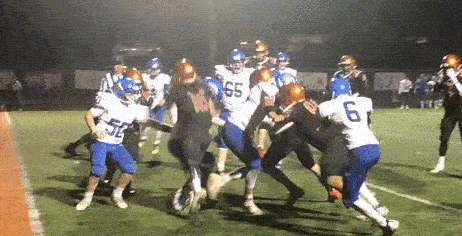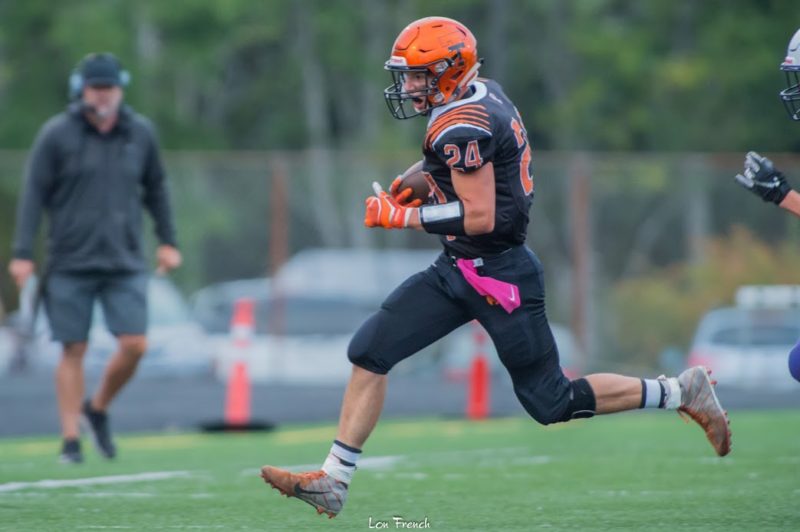 Jordan Hall intercepted a pass at the Knappa 33 with 4:53 to play before French scooped up a loose ball and returned it to the 2-yard line for first-and-goal as the game clock clicked down, but a fumble returned the ball to the Loggers, who surrendered a safety on a bad snap to make the final 24-6.
"Once again, our defense came up big tonight, creating multiple turnovers and only gave up one touchdown against a team that last year scored over 50 points on us," Tolan said of a 52-32 road defeat to the Loggers a season ago. "Even more importantly was that our defense was able to slow Knappa down and get stops while our offense struggled at times moving the ball."
Taft, a member of the 3A Special District 1 West, improved to 2-1 following a 14-6 season-opening home victory over Harrisburg and a 33-18 road defeat to Sutherlin. The Tigers won just one of nine games all of last season.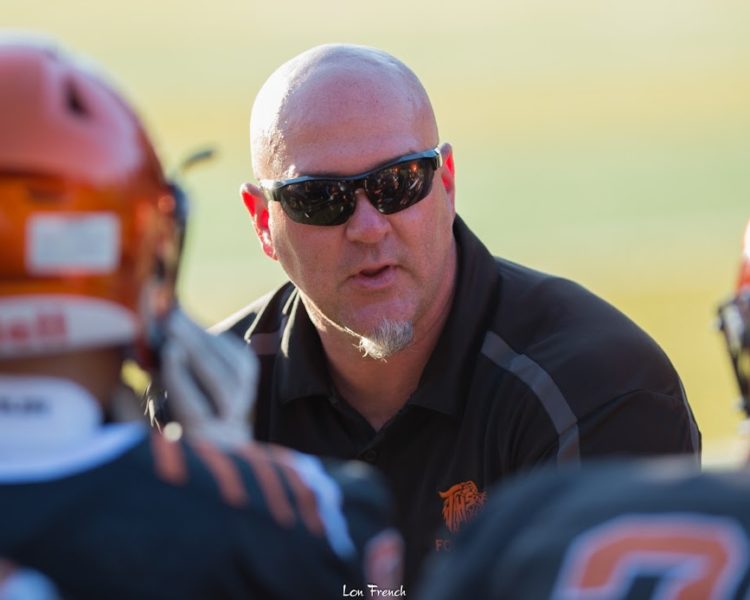 Knappa, of 2A Special District 1, which defeated Grant Union 24-14 in its opener and lost to Toledo 22-12 last week, fell to 1-2.
The Tigers return to action at 7 p.m. Friday, Sept. 27, at Yamhill-Carlton of the 3A PacWest Conference.
Taft, which moved into the Top Ten in the OSAA rankings at No. 10 with the win, opens SD1 league play Friday, Oct. 4, at Amity.
Class 3A Special District 1 West Standings
PS=Points Scored; PA=Points Against