Shake out the pom poms, strike up the band. The Taft Tigers return home Friday night with hopes of revisiting the winning feeling of a big victory to open the season following a difficult road loss last week.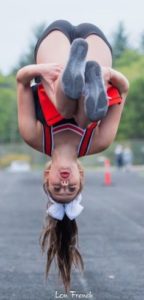 Trenton Hall, Fco Ramos and JJ French scored touchdowns for the Tigers, but host Sutherlin gained a small measure of revenge last week in a 33-18 road win that evened Taft's record at 1-1 entering Friday's 7:30 p.m. contest against the Class 2A Loggers at Voris Field.
"I give a lot of credit to Sutherlin," said Taft head coach Jake Tolan, whose Tigers enjoyed their only victory of the season last year with a 14-13 home victory over the Bulldogs. "They played a nearly perfect game."
Taft committed four turnovers, while Sutherlin surrendered possession just once in the Class 3A nonconference game, which came on the heels of a 14-6 Taft home upset of Harrisburg to open the season.
7:30 p.m., KBCH (1400-AM)

w/Eric Goss and Boone Marker
"Defensively, they did a solid job not giving up any big offensive passing plays, which was something that really helped us in our win against Harrisburg," said Tolan, whose Tigers lost two fumbles, threw two interceptions and played undisciplined at times with numerous unsportsmanlike conduct and personal foul penalties. "Their coverage kept our receivers from getting behind them and their defensive line was able to put pressure on our quarterback all night.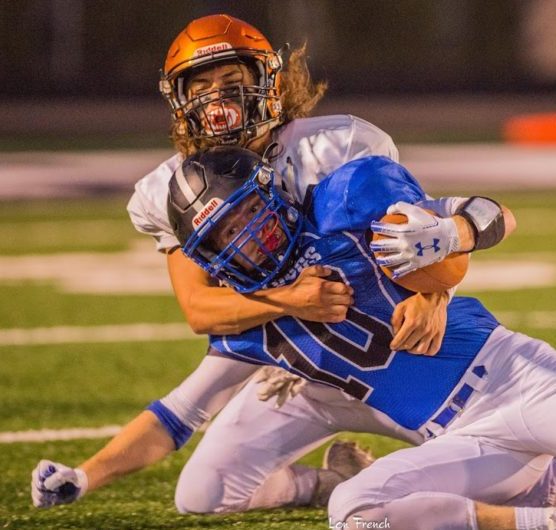 "Even though Sutherlin played a solid game, I feel like we beat ourselves. At times, we let the emotions of the game affect us and, as a result, committed some costly penalties. We were penalized quite a few times in the first half on big plays, some of which I felt were questionable."
Taft also played without two of its best linemen in Tony Garcia and Tyrese Hellman — "two players I'm sure would have helped slow down Sutherlin's running attack," Tolan said.
However, the Tigers had plenty to be excited about on their own side of the ball, Tolan said.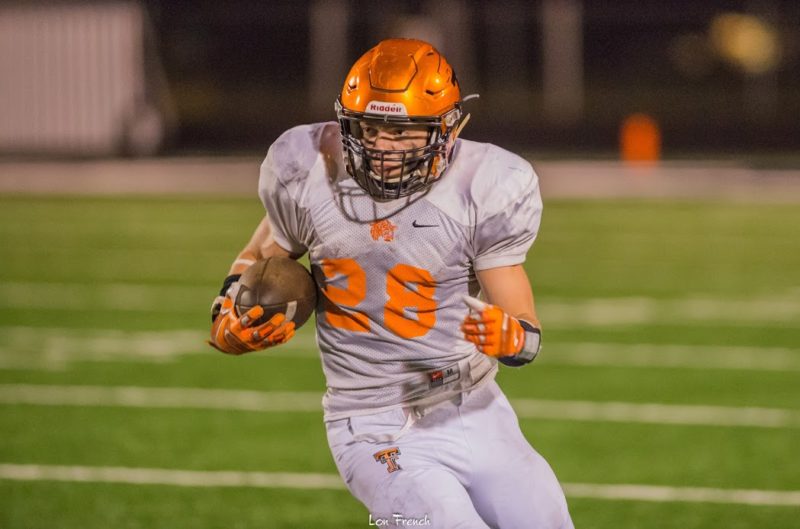 "I was most pleased with our running game and felt it had the most positive impact on the game," he said. "I thought our offense was very effective running the ball and our running backs — JJ French, Logan Gilleo and Trenton Hall — all ran hard all night."
"We have to get back to working hard in practice and giving more effort," he said. "We understand that our schedule is difficult and every week we play a tough opponent."
Photos by Lon French
Tolan said the Tigers must be wary of Knappa's size despite its standing as a Class 2A school.
"We know they are big up front, well coached, and have a lot of weapons on offense," Tolan said.
The Loggers' reliance on its size and strength up front is indicative in its designation of leadership roles to Ryson Patterson and Jaxson Goodman. The senior linemen share team captain roles with speedy, shifty senior running back Eli Takalo.
"Knappa is coming off of a loss to Toledo, so we know they have extra motivation for this game," Tolan said. "Our commitment in practice will be to continue getting better on our offensive line, as well as putting the best defensive game plan together for a totally different offense than the one we faced against Sutherlin."
Knappa Roster
Head Coach: Aaron Barendse
| No. | | Name | Position | Grade | | |
| --- | --- | --- | --- | --- | --- | --- |
| 2 | | Gunnar Jenson | WR/LB | 9 | | |
| 3 | | Tucker Regier | RB/DB | 9 | | |
| 4 | | Cameron Miethe | RB/DB | 11 | | |
| 5 | | Kanai Phillip | WR/DB | 12 | | |
| 6 | | Trevor Ogier | WR/DB | 10 | | |
| 7 | | Eli Takalo | RB/DB | 12 | | |
| 8 | | Mark Miller | QB/DB | 10 | | |
| 9 | | Ryan Gebhardt | WR/DB | 11 | | |
| 10 | | Josh Bangs | RB/DB | 9 | | |
| 12 | | Jacob Morey | WR/DB | 10 | | |
| 15 | | Josiah Miller | WR/DB | 9 | | |
| 21 | | Tanner Jackson | WR/DB | 10 | | |
| 22 | | Devyn McCall | WR/LB | 10 | | |
| 23 | | Devin Hoover | WR/DB | 11 | | |
| 32 | | Spencer Teague | WR/LB | 12 | | |
| 33 | | Gauge Perdue | WR/LB | 10 | | |
| 34 | | Jonny Lenhard | RB/LB | 10 | | |
| 50 | | Kaleb Goozee | OL/DL | 9 | | |
| 51 | | Andrew Miller | OL/LB | 10 | | |
| 52 | | Parker Schaelling | OL/DL | 9 | | |
| 53 | | Ryson Patterson | OL/DL | 12 | | |
| 57 | | Isaac Goozee | OL/DL | 11 | | |
| 59 | | Andrew Pedersen | OL/LB | 12 | | |
| 64 | | Kaleb Roe | OL/DL | 12 | | |
| 65 | | Dylan Anderson | OL/DL | 11 | | |
| 66 | | Jaxson Goodman | OL/DL | 12 | | |
| 70 | | Carter Morrill | OL/DL | 10 | | |
| 72 | | Addison Pietila | OL/DL | 10 | | |
| 75 | | Logan Morrill | OL/DL | 10 | | |
| 88 | | Mason Westerholm | WR/LB | 12 | | |
Taft Roster
| No. | Name | Position | Grade | Height | Weight |
| --- | --- | --- | --- | --- | --- |
| | Colby Helms | RB/LB | 11 | 5-10 | 190 |
| | William Calderon | K/DB | 11 | 5-7 | 150 |
| 1 | Cayden Edmonds | WR/DB | 10 | 5-8 | 130 |
| 2 | Jordan Hall | WR/LB | 12 | 5-11 | 165 |
| 3 | Kaden Hindman | WR/S | 10 | 5-10 | 170 |
| 4 | Trenton Fisher | WR/DB | 12 | 5-11 | 135 |
| 5 | Brendan Welch | WR/LB | 11 | 5-10 | 175 |
| 6 | Austin Winters | WR/LB | 10 | 5-10 | 140 |
| 7 | Sam Allan | WR/DB | 9 | 6-0 | 140 |
| 8 | Josh Ruiz | RB/DE | 10 | 6-1 | 200 |
| 10 | Braxton Brockett | RB/LB | 9 | 5-7 | 130 |
| 11 | Fco Ramos | WR/S | 11 | 5-9 | 160 |
| 12 | Gavin Koceja | QB/DB | 9 | 5-10 | 140 |
| 13 | Bear Reyes | WR/LB | 9 | 5-7 | 150 |
| 14 | Tristan Beach | WR/LB | 12 | 6-0 | 165 |
| 15 | Haden Chavez | WR/LB | 9 | 5-8 | 165 |
| 16 | Darius Smith | WR/DB | 11 | 5-9 | 170 |
| 17 | Afton Dean | WR/LB | 10 | 6-0 | 200 |
| 19 | Antonio Suarez | QB/LB | 11 | 5-10 | 175 |
| 20 | JJ French | RB/LB | 11 | 5-10 | 175 |
| 21 | Alex Carrasco | RB/LB | 9 | 5-4 | 160 |
| 23 | Roman Pena | WR/DB | 9 | 5-9 | 135 |
| 24 | Trenton Hall | RB/LB | 12 | 5-11 | 175 |
| 26 | Devin Evjen | RB/LB | 9 | 5-8 | 180 |
| 28 | Logan Gilleo | RB/LB | 12 | 6-0 | 195 |
| 44 | Alec Bosworth | OL/DL | 12 | 6-1 | 235 |
| 51 | Dylan Rodriquez | OL/DE | 10 | 5-9 | 160 |
| 52 | Jose Magallanes | OL/DL | 9 | 5-4 | 150 |
| 53 | Micah Davis | RB/DE | 12 | 5-11 | 180 |
| 55 | Elin Fitch | OL/DE | 12 | 6-4 | 185 |
| 56 | Jesse Carrillo | OL/DL | 10 | 5-10 | 220 |
| 57 | Jace Phippen | OL/DL | 12 | 5-11 | 230 |
| 62 | Damian Hill | OL/DL | 9 | 6-0 | 250 |
| 66 | Tyrese Hellman | OL/DL | 12 | 6-2 | 240 |
| 69 | Raiden Hansen | OL/DL | 9 | 6-4 | 290 |
| 70 | Oscar Sanchez | OL/DL | 9 | 5-10 | 225 |
| 74 | Bash Welch | OL/DL | 11 | 5-10 | 305 |
| 77 | Dakotah Steen | OL/DL | 10 | 6-4 | 350 |
| 99 | Tony Garcia | OL/DE | 12 | 5-11 | 260 |