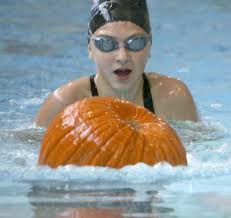 The Lincoln City Swim Club's annual Pumpkin Sprint meet promises to make a big splash on the local economy this weekend when 10 teams from throughout the state converge at the Lincoln City Community Center pool.
Events will be held Saturday and Sunday from 9 a.m. to approximately 2 p.m., with "pumpkin relays" scheduled for approximately noon Saturday.
Pig n' Pancake strawberry waffles, breakfast items and Mexican food will be served, and a raffle for floats by Kelly Howard with Lincoln City Glass Center conducted.