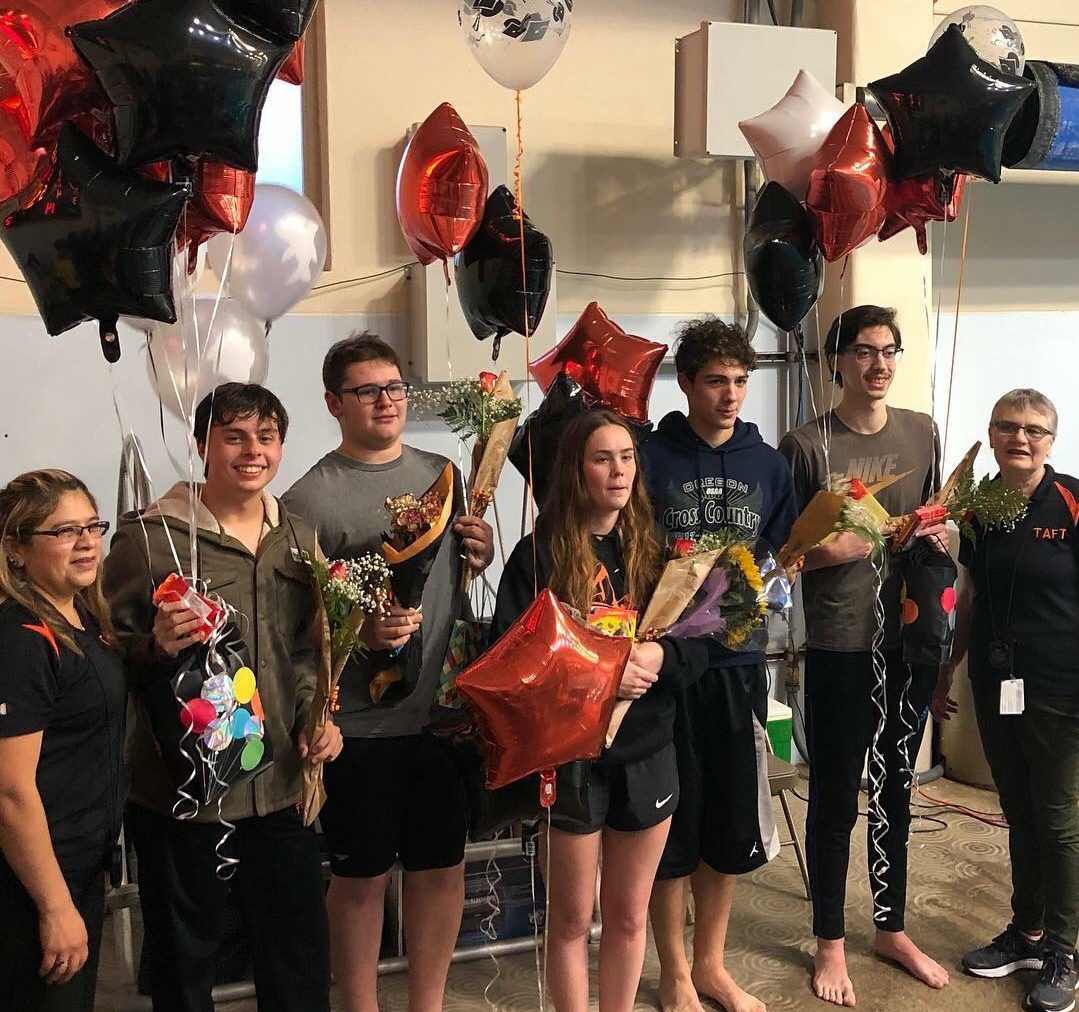 Led by five departing seniors, 19 of Taft High's 22 participants took Thursday's "Last Chance" home swim meet to heart by posting their season-best times in preparation for next weekend's District championships.
While Class 4A Marshfield of the Coos Bay/North Bend area won the boys and girls titles, the Class 3A Taft boys placed second and the girls third as the regular season winds down toward the competition that truly counts.
"Marshfield is a tough team to compete against. They have some fast kids," Taft coach Lissa Parker said.
Making his last swims in his final home meet before the Special District 1 Championships Friday and Saturday in Newport, senior Joram Hoff won the 100-yard backstroke and 200-yard individual medley for the boys.
Taft's other four seniors also bowed out in style, all posting season-best times in their farewell swims at the Lincoln City Community Center pool.
Senior Tanner Landry was second in the 100 freestyle and third in the 200 free; Lydia Prins was second in the 100 back; Micah McLeish helped the Tigers win the 200-yard medley relay; and Sam Anderson notched his lifetime-best times in the 50 free and 100 back.
Junior sprinter Sammy Halferty won the 50 free and freshman Aubrey Sciarrotta the 100 back for the girls.
"The boys came close and had some very competitive races. It was a bit harder for the girls, as we were down two yesterday, so we had to scratch a couple of personal events and make some changes to the relay," Parker said.
Junior Hunter Lundstedt was second in the 50 free and 100 breaststroke for the Taft boys, while freshman Sam Cortes placed second in the 100 back and 100 butterfly.
Freshman Dylan Barrera placed third in the 200 IM and 400 free.
Halferty placed third in the 100 breast and junior Napy Meyer third in the 100 fly.
The Taft boys (Hoff, Lundstedt, Landry and McLeish) won the 200 medley relay, while the Tigers placed second in the girls 200 medley relay (Sciarrotta, Prins, Meyer and Halferty), boys 200 free relay (Lunstedt, Barrera, Landry and Cortes) and 400 free relay (Cortes, McLeish, Jose Segura and Hoff).
Juniors Bryanna Paget, Ethan Price, Degan Sawyer and Ayden Woodard; sophomores Isabell Mackie and Isabelle Serrato; and freshman Angel Moreno joined Anderson, Barrera, Cortes, Halferty, Hoff, Landry, Lundstedt, McLeish, Meyer, Prins, Sciarrotta and Segura with personal-best times for Taft.
"The most encouraging thing about yesterday's meet is that if you look at their personal bests, most all of the swimmers were dropping time, which is a good sign going into Districts," Parker said.