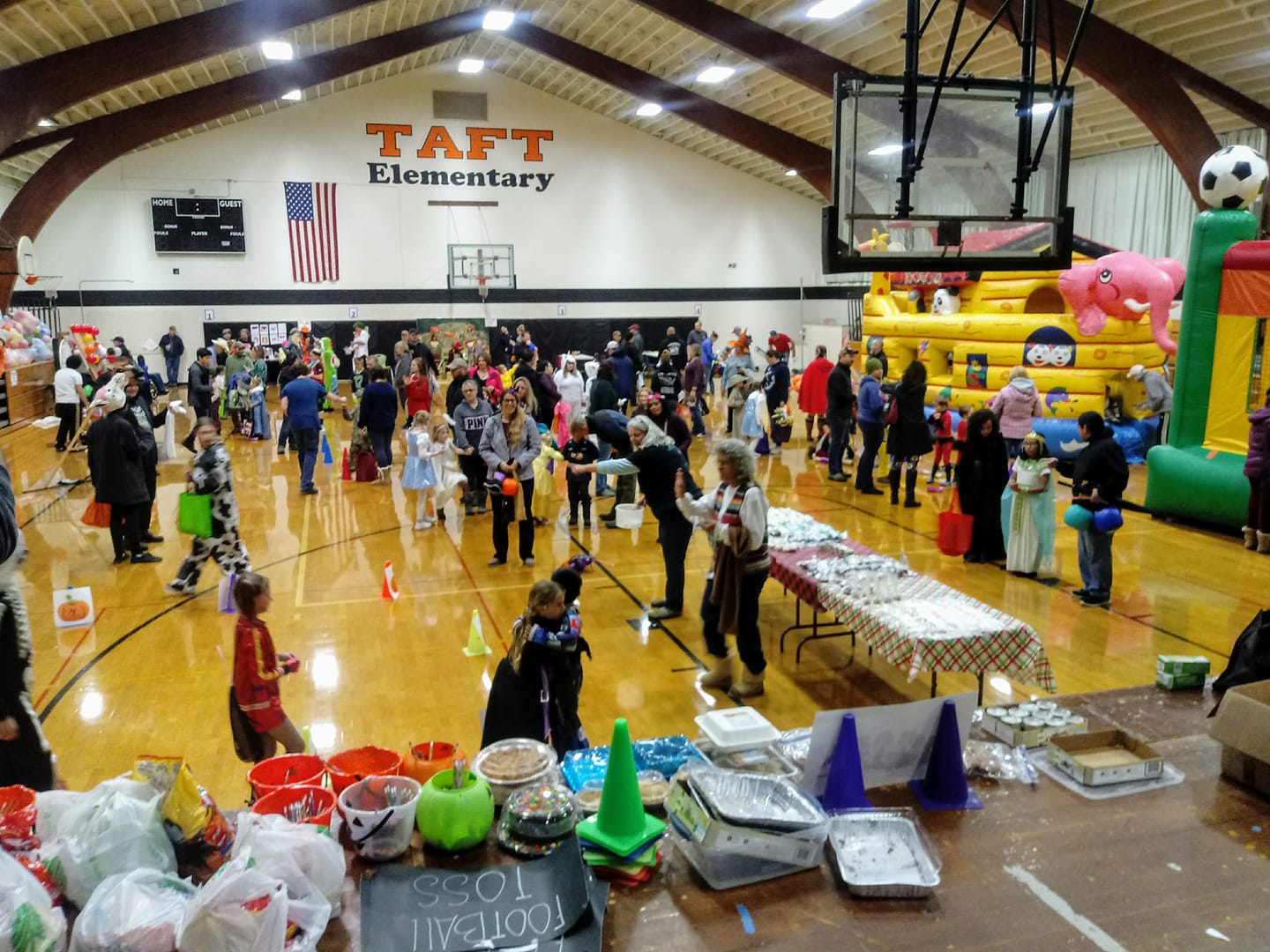 "Spooky Spectacular" was a welcome respite from the Halloween rain Wednesday for a record number of trick-or-treaters.
Parked cars lined High School Drive on both sides as far as Oregon Coast Community College. Scores of families ran through the pouring rain to the Taft Elementary School entrance.
The carnival held in the gym was filled with costumed kids playing games and featured two bouncy houses. Local church pastor Mich Conte and his wife Ashlee, with the help of many volunteers including the North Lincoln Ministerial Association, ran the games and provided donations with their network.
Patrons walked the length of the school with stops at classrooms to trick-or-treat for candy, toothbrushes, floss and pencils.
Lincoln City Mayor Don Williams ran the pop-a-balloon game, where winners (everyone) received candy.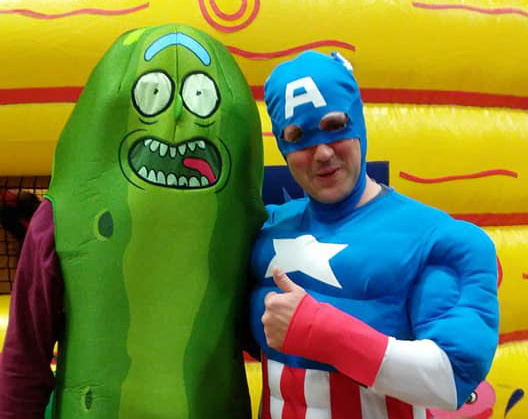 City Council candidate Mitch Parsons went as Rick Sanchez's Pickle Rick from the TV series "Rick and Morty," with his son, Zayden, dressed as Morty.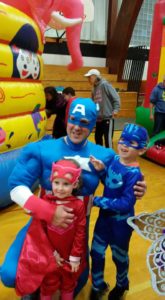 Homepage Publisher Justin Werner was superhero Captain America.
Taft High students Tyee Fisher and David Jin represented the Tigers varsity football team and passed out candy.
Taft track runner Jordyn Ramsey posed as world-famous chef Gordon Ramsay.
School Resource Officer Logan Smith also handed out treats and gave tips on staying safe for the holiday.
The event was started more than a decade ago by the Bay Area Merchants Association (BAMA) and Kip Ward, then-owner of The Eventuary and Historic Anchor Inn. It was called "Haunted Hotel" before changing its name to  "Spooky Spectacular" when it outgrew the hotel venue.
According to longtime volunteer and former Taft High 7-12 Principal Majalise Tolan, the school's journalism department staged a fundraiser "haunted house" upstairs at the hotel.
Ward and fellow BAMA members collected candy year-round about town, held a free barbecue with donations benefiting pets in need (now the Beach Bark), and children and families would trick-or-treat.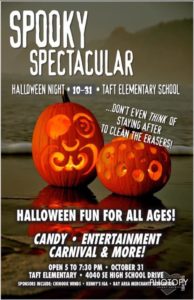 There was face painting, horse/pony rides, s'mores, a fortune teller, mad scientist, scary story telling and a cake walk sponsored by Dan and Kathy Draper from Captain Dan's Pirate Pastry. Numerous volunteers manned the hotel room doors.
Today, the event, which features many of the same attractions, operates entirely off community donations and volunteers, Tolan said.
"We do not use school district funds, and any person working it is completely on volunteer time," she said.
Kenny's IGA let participants collect donations at its storefront, and local pastor Conte, his wife Ashlee and many volunteers supplied the carnival, adding bouncy houses for the first time this year. Dignitaries such as Mayor Williams have volunteered for years.
Chinook Winds Casino Resort has been a financial supporter, and Kenny's IGA owners Elizabeth and Andy Morgan, Don and Debbie Williams and Garage Door Sales owners Rick and Heather Hatton have made candy runs when supplies run low.
"It is really an amazing and safe event for Lincoln City to be proud of," Tolan said. "This year, we hardly even advertised because it has just become 'what we do.' It really is a beautiful thing to watch so many people have fun together because of the work of so many."