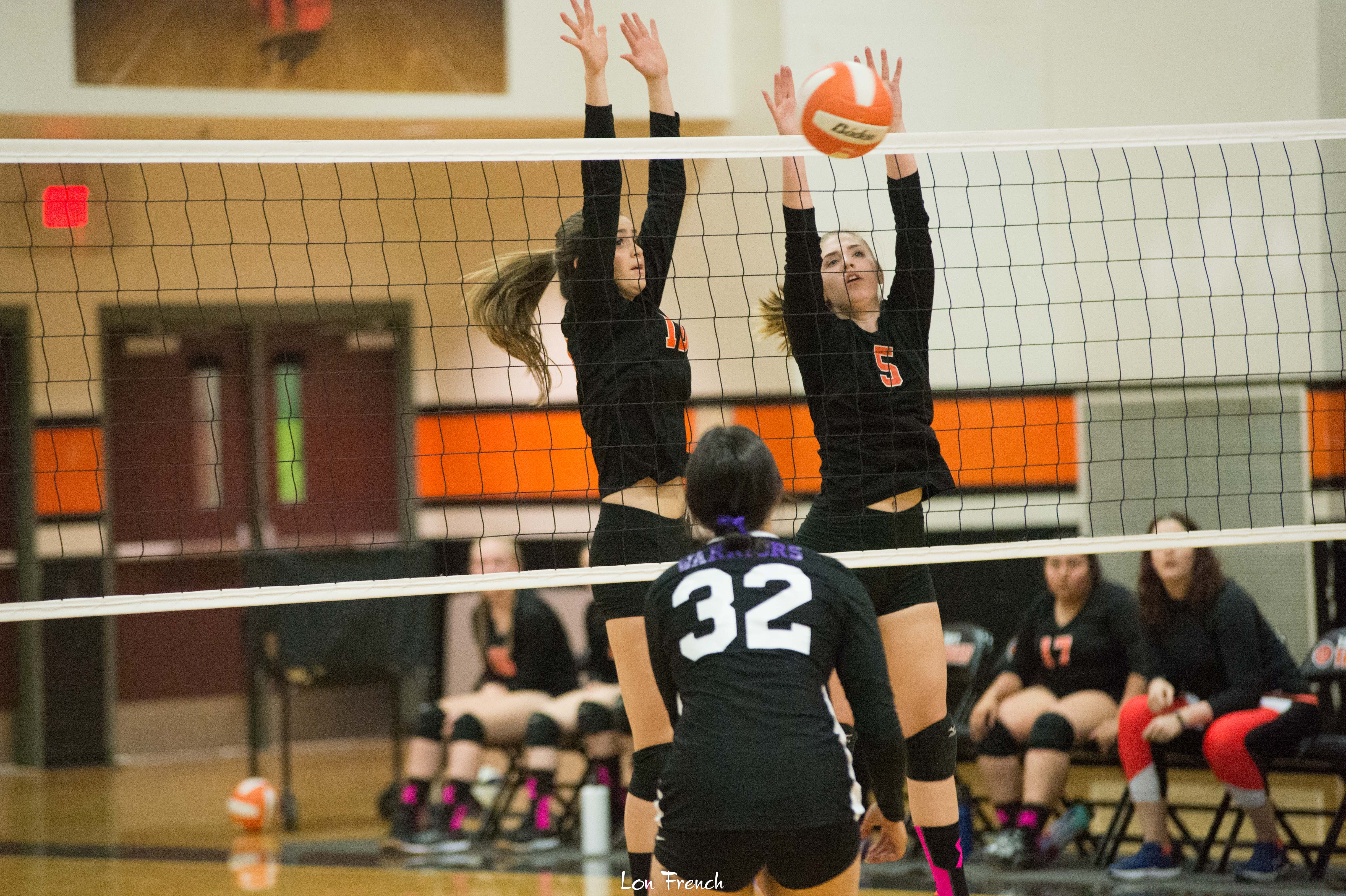 PHOTOS BY LON FRENCH
Taft High bid farewell to six graduating players Tuesday night in a 3-0 league home loss to Warrenton on Senior Night in the high school gym.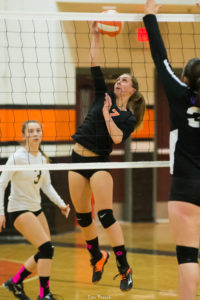 Lilly Salsbery, Charlotte Huppert, Savannah Russo, Maleah Smith, Jazmyn Cornejo and Autumn Barela played their last home games for the Tigers, who finished the regular season 2-16 overall and 1-7 in the five-team Coastal Range League. Second-place Warrenton improved to 11-5, 6-2.
The Tigers fell 25-18, 25-14, 25-18, but still play in a 5 p.m. playoff game Thursday against Warrenton at Willamina.
Taft's season was salvaged on Oct. 4, when the Tigers defeated Clatskanie 3-1 at home for their first league victory following 37 defeats since a 3-1 home win over Horizon Christian-Tualatin on Oct. 5, 2015. The win snapped a 29-match overall losing streak.
Taft Coach Kelsey Hart's media comments
"Last night was a great game for us, despite not ending in a win. The girls kept their attitudes up, and didn't let long point streaks from the other team beat them down.
"My setters, senior Lilly Salsbery and freshman Lily Hatton, did a great job giving the ball to all of our different hitters, as well as giving us some very aggressive serves. Outside hitter Charlotte Huppert had a good hitting night, giving us some kills at very helpful times. Savannah Russo, our other outside hitter and a phenomenal night, leading our team with 8 kills. She moved the ball around and kept the other team on their toes.
"Freshman middle hitter, Shelline Nerup, had an amazing kill from the right side during game three; she sliced the ball cross court and put a vicious snap on it. We've been waiting for that type of swing from her, and I can't wait to work with her on it to make that how she swings for most of her attacks. It was a glimpse into what kind of hitter she'll be as she progresses through the rest of her high school career.
"Senior Autumn Barela came up from the JV team to participate in Senior Night with the Varsity team, and started in her first ever Varsity game. She had expressed some worry about it, but right out of the gate she had some amazing passes, and one dig of a hard hit ball that went perfectly to our setter zone.
"Jazmyn Reyes-Cornejo, a senior defensive specialist (back row passer) did a great job coming off of having a broken pinky, and being confident to go in and give us some great defensive passes and digs, which we needed against the hard-hitting offense from Warrenton. Our freshman libero, Addie Gates, did a great job going in and running our back court for all three sets, she has grown as a libero and a passer quite a bit this season.
"Sophomore middle blocker, Keeara Harmon had a great blocking night. While she didn't have any stuff blocks, she did get her hands on WAY more balls to slow them down, which allowed our defense to pick them up and get the ball to our setters. She has gotten so much better from the start of this season to now, not just in her blocking, but in her confidence on the court.
"Jordyn Ramsey, one of our sophomore defensive specialists, did a great job getting balls up in the back row, and giving us some extremely consistent, and deceptively aggressive serves. Freshman Logan Jack came off the bench to play right side hitter in game three, and had some great defensive saves.
"As it was Senior Night, and what the girls thought was their last game of the season, the girls were understandably emotional in the post-game huddle. Had it been our final game, despite it being a loss, I think it would have been a good game to end our season on.
"The girls played like a team, kept their attitudes up, embraced players who aren't always on the court, didn't cast blame on themselves or others, etc. They put together all of the skills we've been working hard on.
"I'm a very proud coach, and have loved seeing every minute of their growth this season. This season we saw our first league win in four years. The girls finished in second place at a competitive tournament. I would be happy with how our season ended if this was our last game. But it's not! Taft will be playing in a playoff game against Warrenton on Thursday at Willamina High School. The winner of that game will play second-place Willamina. We'll be looking to have fun playing one more match, and doing our best to get to the Willamina game."