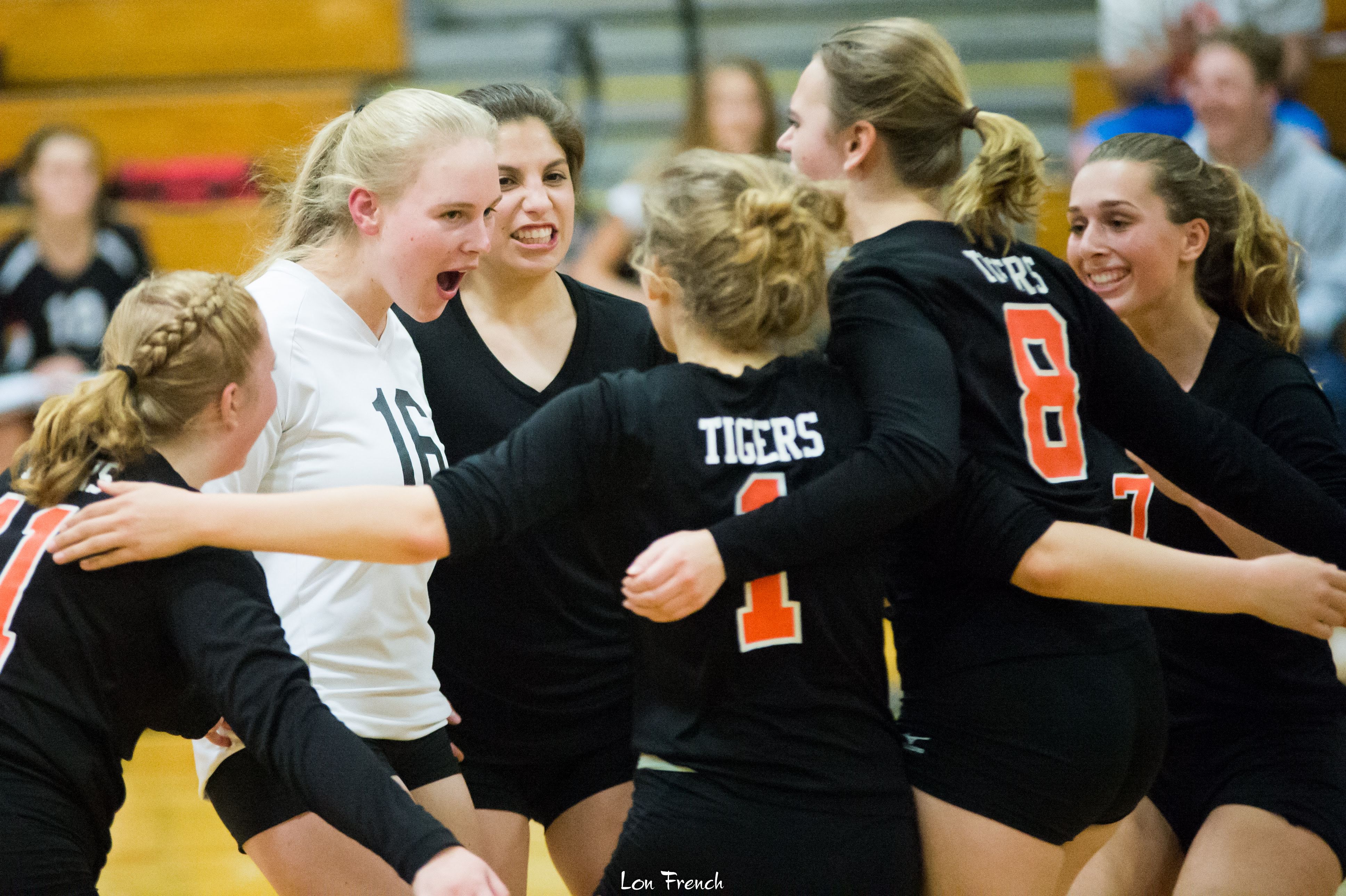 Photos by Lon French
As victories go, some are more memorable than most. Others can last a lifetime.
The Taft High volleyball team experienced a win for the memory banks Thursday, defeating Clatskanie 3-1 at home in a Class 3A Coastal Range League match that marked the Tigers' first conference volleyball victory in almost three years to the day.
The 25-21, 25-11, 19-25, 25-20 win was Taft's first of the season and its first league victory following 37 straight defeats since a 3-1 home win over Horizon Christian-Tualatin on Oct. 5, 2015.
"It was a huge team effort, and I don't think we could have done it without the contributions of everyone on our team," Taft Coach Kelsey Hart said. "I am so proud of our team, and so thankful for everyone that came out to support us tonight. The energy in the gym tonight was just what we needed."
The Tigers went 1-17 overall and 0-14 in league play last season, and 0-17, 0-14 in 2016. Taft had lost 29 straight matches overall.
"I honestly can't speak to any one or two players that excelled," Hart said. "Every player tonight helped propel our team to victory. Everyone played their hearts out."
Taft improved to 1-12, 1-5 with Thursday's victory, while Clatskanie fell to 1-10, 1-5.
"Setters Lilly Salsbery and Lily Hatton were flying around the court, getting balls to our hitters," Hart said. "Savannah Russo, Charlotte Huppert, Keeara Harmon and Shelline Nerup did a great job as our offense. They moved balls around the court and kept the other team on their toes. Corey Van Damme, Jordyn Ramsey, Addie Gates and Logan Jack had great contributions from the back row."
Clatskanie defeated Taft 3-1 at home on Sept 18.
Hart's media press quotes:
"This was our first win in years and it felt so good! Our students, staff, families and fans did a tremendous job coming out to support us. The gym was loud and energetic, which helped keep our players pumped throughout the match.
"I'm so proud of all of my players, everyone of which contributed to our win. While I wish we'd had more wins earlier in the season, it was great for our first win to be at home with all the support we had. The girls felt like rock stars."