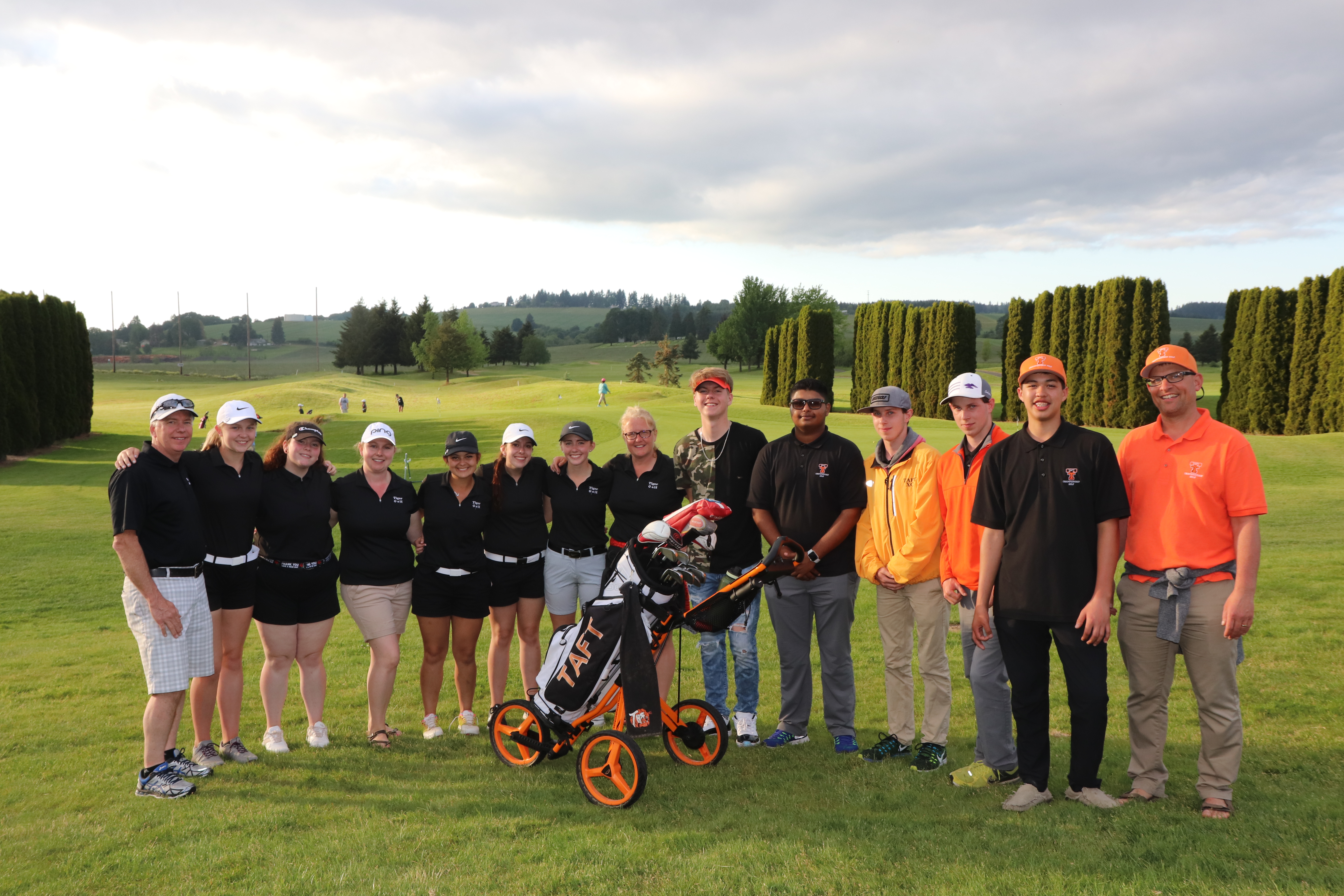 The Taft High girls golf team made the biggest march up the leaderboard Tuesday to finish sixth behind champion St. Mary's in the OSAA Class 4A/3A/2A/1A State Girls Golf Championships in Banks.
The Tigers, behind a 10th-place finish from three-time Special District 2 champion Maya Hatton's 85-87–172, finished at 820, a 44-shot improvement from Monday's opening round at 5,416-yard par-72 Quail Valley Golf Course.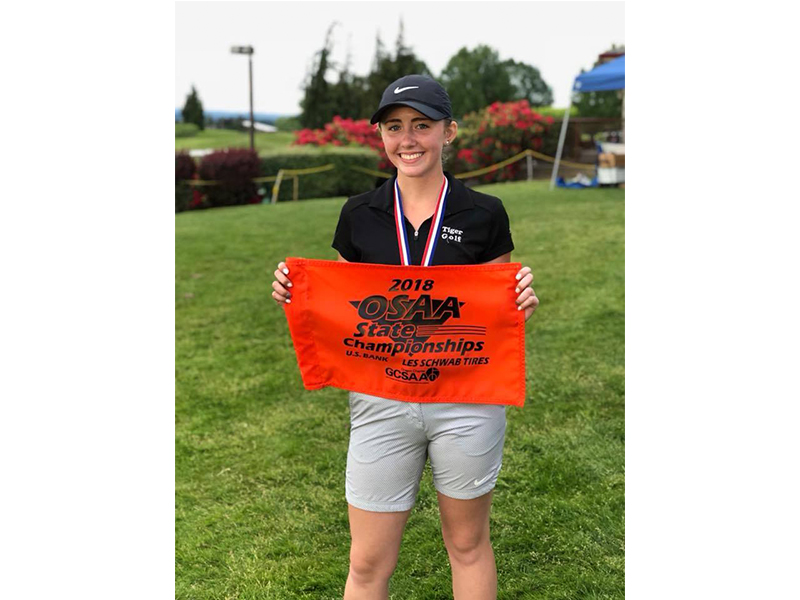 The Taft boys (791) placed ninth behind winning Bandon (610) in the 3A/2A/1A competition.
St. Mary's freshman Baylee Hammericksen shot 70-72—142 to earn medalist honors for the girls, while Bandon freshman Sonny Kennon shot 65-71—136 to win the boys title.
Junior Violet Palmerini placed 33rd for Taft in girls play at 202; junior Olivia Baker tied for 47th at 219; sophomore Sammy Halferty was 54th at 227; and senior Jocelyn Arguello 64th at 283.
Junior Logan Merry led the Taft boys on a 6,346-yard layout by placing 23rd at 178; senior Bonny Patel tied for 31st at 183; junior William Brooks and senior Dawson Wood tied for 44th at 215; and senior Ean Wood finished 56th at 254.
Coach Hatton takes a look at the Taft girls golf season and the State tournament:
"Junior Violet Palermini was the shining star in her round of 93 — crushing her all-time low of 101 Day Two of the District tournament a week ago. I was so proud of her two-day State achievement.
"Maya Hatton had a solid two-day tournament once again earning her All-State honors by placing 10th individually among the 68 competitors for the fourth year in a row. She had tough pairings each day playing with athletes averaging more than 20 strokes higher than her, but she managed her patience, game and character and fought to stay on top.
"Her scores of 85-87 for the two-day state tournament isn't her best score showing, but her ability to play at a different pace with no one to push her impressed not only me, but those watching her. At the end of her round, she knew she may not earn a state medal for the fourth year in a row, but she didn't focus on herself, but rather congratulated her teammates on amazing rounds and her fellow competitors as well.
"Her team surrounded her as the scores and individual standings came in. When we found out she once again earned an all-state tournament team honor the attention was turned on her and her accomplishment. This team showed great sportsmanship and really grew together this season and it showed on and off the course.
"Sammy Halferty and Olivia Baker both turned their tournament around by improving their second day rounds. Sammy improved 19 strokes on her Day One and Olivia improved by 11 strokes. Jocelyn Arguello also improved on her first day round by 11 strokes.
"This was an awesome end to a rewarding 20-plus years with the Tiger golf program — 20 seasons as head coach. After finishing Day 1 in 10th place and then witnessing the Tiger athletes improve four places with exceptional play and sportsmanship was a coach's dream.
"The best part of the final day at State was sharing it with the entire boys golf team who arrived at the golf course at 7:20 a.m. and stayed after the completion of their tournament to support the girls. The team was led by their coach, Andy Morgan, walking the course supporting the Lady Tigers by encouraging words and cheering. Their show of support and sportsmanship was heartwarming."
Coach Morgan takes a look at the Taft boys golf season and the State tournament:
"We didn't do much very well as far as our potential is concerned."
"Bonny Patel played well on the second day of the tournament. Bonny improved from his disappointing Day One score, which was a team focus. Dawson Wood continued to show improvements, while his brother played to his average.
"Where Ean struggled with improving scores, he made up for it with attitude and support of his teammates. Ean knew his average, and set realistic goals. I think he would have enjoyed some better results, but he stayed focused on his game.
"Brother Dawson was looking for better scores after a fantastic practice round, but he should be proud of his results. He did improve on Day Two, which was a team goal.
"William Brooks turned in scores that were above his goals, but showed that he could bounce back from a difficult District tournament. William learned some more about himself, and will respond well to a second year in the State tournament as he looks to lead the future of Tiger golf.
"Team leader Logan Merry had a very disappointing State tournament. He was noticeably discouraged, but presented himself as a gracious competitor and showed an enormous amount of composure and maturity as he failed to reach his personal expectations. The putter gave Logan trouble, an experience that was surprisingly new to him.
"Collectively, the Tigers had their worst weekend of the season. We couldn't put a finger on the trouble. The team was loose, cohesive and well rested. It was just an example of bad play at the worst possible time.
"While it is always disappointing to fall short of your goal, we knew we were underdogs going into the State finals.  Our goal was to win, but our expectation was to put in our best team effort.
"Had we all played beyond our potential, which was the hope, we would have likely failed to break the top three this year. There were some very good scores turned in, and we may have needed some higher final scores to break into the leaderboard.
"We are a bit disappointed in our play, but the experience was fantastic. The team grew athletically, and as young men, eager to grow. Taft will be losing three golfers to graduation, and one to a transfer due to family relocation.  It will be hard to match this year's performance next year.
"I certainly plan to return as coach. There are only two returning players, and we will have to actively recruit within our school. This current team has demonstrated success, and we will attempt to build on that.
"I spoke with legendary coach of the state champion teams of the 80's and 90s, Jim Sullivan. Jim gave me some advice, relating to building a championship program.
"He emphasizes the importance of empowering the young men to lead from within the golf program — teaching them to excel on the course, and in the classroom — preparing them to be productive members of their community.
"Golf will simply be a product of great young men. I will use this advice as I work with the next generation of Taft championship golf. My goal will be to provide young men with opportunity, allowing them to lead each other to another run of District and State championships. There is plenty of talent in this community."