The Taft High girls got three individual wins and two relay titles to place first, while the boys won three races to finish second Thursday in the Taft Invitational swim meet at the Lincoln City Community Center pool.
The Class 3A Tigers defeated Gladstone 354-283 in girls action, while Class 4A Newport won the boys competition 404-257 over Taft.
"The girls had a full complement of the team there and did very well and benefited from both relays scoring a lot of points," Taft coach Lissa Parker said. "We had many strong top-four swims as well for the girls."
Senior Lydia Prins won the 200-yard individual medley, junior Sammy Halferty won the 100-yard breaststroke and sophomore Napy Meyer won the 100-yard butterfly for the Taft girls.
Senior Joram Hoff won the 100-yard backstroke and 200-yard IM and sophomore Jose Segura won the 100-yard breaststroke for the boys.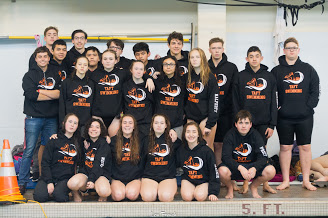 Freshmen Charlotte Lundstedt (200 freestyle) and Aubrey Sciarrotta (100 free) joined Halferty (200 IM), Meyer (400 free) and Prins (100 back) with runner-up finishes for the Taft girls.
Sophomores Brieanna LeBoeuf (100 free) and Isabelle Serrato (400 free), junior Bryanna Paget (100 fly), Lundstedt (100 breast) and Sciarrotta (50 free) finished third for the girls.
Freshman Dylan Barrera (100 fly), juniors Micah McLeish (200 free) and Segura (200 IM) placed third for the boys.
The girls 200-yard medley (Sciarrotta, Halferty, Prins, Lundstedt) and 400-yard free (Sciarrotta, Meyer, Prins, Halferty) relay teams were also victorious.
The Tigers placed second in the girls 200 free relay (LeBoeuf, Serrato, Paget, Lundstedt) and 200 boys medley relay (Hoff, Lundstedt, Segura, McLeish).
Freshman Angel Moreno, sophomores Kealy Boyd and Isabell Mackie, juniors Ethan Price, Degan Sawyer and Hannah Weaver, and senior Sam Anderson joined Barrera, Halferty, Hoff, LeBoeuf, Lundstedt, McLeish, Meyer, Paget, Prins, Sawyer, Sciarrotta and Segura with personal-best times.
"Most all of the swimmers for both girls and boys posted best times yesterday [19 of 21], which is a positive note for this time of the season as we are working hard," Parker said.
Taft was missing star freshman Sam Cortes and Tanner Landry due to illness, but junior Hunter Lunstedt returned to the lineup to swim in one relay while finishing up rehab on a shoulder injury. Junior Mike Young also has had some shoulder issues, but is going to be cleared to compete soon, Parker said.
"Regardless, the Newport boys are a powerhouse and give us some strong competition as they always seem to come from behind to finish strong in their relays," Parker said.
Taft returns to the pool Wednesday for a three-way meet at Seaside.
Photos by Lon French