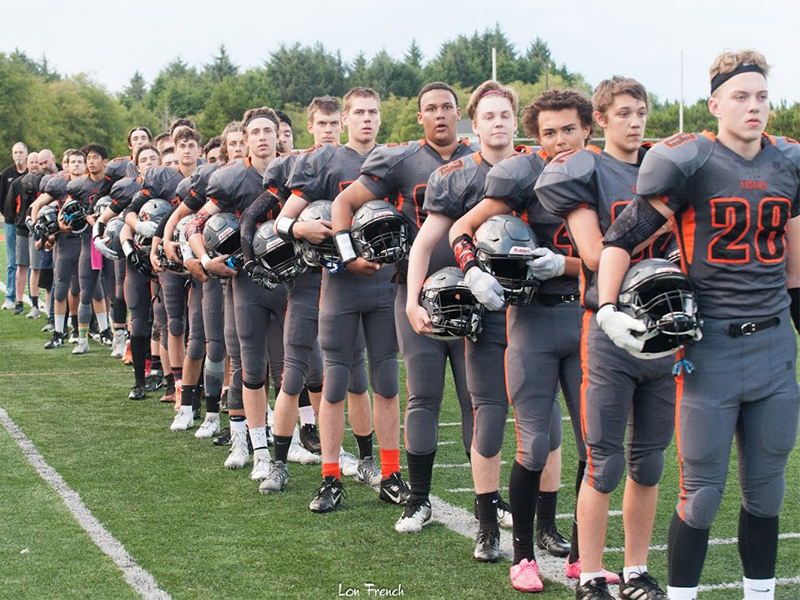 Taft High fell behind by four touchdowns twice in the first half, but outscored Class 2A power Knappa 26-20 in the second half before falling to the Loggers 52-32 Friday in a non-league road football game.
Senior quarterback David Jin threw TD strikes to senior Tyee Fisher, junior Logan Gilleo and sophomore Fco Ramos and ran for two scores as the Tigers continued to show second-half resiliency after sluggish second-quarter showings in their two road defeats.
"It was a great second-half effort, both offensively and defensively, that got us back into the game," Taft coach Jake Tolan said. "We made some halftime adjustments and were able to come out of halftime getting some huge defensive stops that we turned around into points."
Two crucial second-half lapses cost the Tigers a chance to close the gap to within a score after batting to within striking distance, Tolan said.
"Twice in the second half we were able to cut their lead to 14 points, but couldn't get one more stop or one more big play," he said. "Two plays that were critical moments that we didn't execute well on were the long passing score we gave up right before halftime and the pick-6 in the fourth quarter."
Class 3A Special District 1 West member Taft (1-2) returns to action at 7 p.m. Friday, Sept. 21, against SD1 East representative Yamhill-Carlton (1-2) at Voris Field.
First Quarter
The Tigers, wearing their road whites, took possession on the opening kick at their own 30-yard line. Taft senior quarterback David Jin gained nine yards on the game's first play before junior running back Logan Gilleo gained a first down on the next carry. Senior Kam Kessler then fumbled the exchange with Jin and the Loggers recovered at the Taft 48.
Knappa junior quarterback Eli Takalo went the distance for a touchdown on the third play from there, and a two-point conversion pass made it 8-0 Knappa early in the period.
Taft took the ensuing kick at its own 21, before the Class 2A Loggers, featuring eight two-way starters, forced the Tigers into a fourth down situation that Taft senior running back Logan McLendon converted into a first down with a short gain.
The third-ranked Loggers, 2-0 following a 70-28 victory at Toledo last week, used a penalty to force Taft into a third-and-16 inside Knappa territory. A tipped pass intended for McLendon forced another fourth down situation before Jin ran six yards short of first-down distance to surrender possession to the Loggers at the 35.
Taft forced a punt at the five-minute mark and took possession at its own 47. Jin connected with Gilleo for 11 yards on third down and a first down at the Loggers 39. Jin and Kessler combined for eight yards on first down and senior receiver Tyee Fisher caught another Jin toss for a first down in the red zone.
Junior Trenton Hall caught a pass from Jin to inch closer to the end zone before Knappa stopped play with its first timeout of the game. Jin threw incomplete to Gilleo on third down to force the fourth fourth-down situation of the game for Taft, and then overthrew Fisher to yield possession to the Loggers at their own 24.
Knappa converted a third-and-1 on a 22-yard gain by Takalo to the Taft 38. The Tigers forced a third-and-long before the Loggers came up a yard short and Taft stiffened to regain possession at its own 31. The clock then expired to end the quarter.
Second Quarter
The Loggers, who reached the State semifinals last season, forced Taft into its fifth fourth-down conversion try to start the quarter and took possession at the Taft 38. Takalo then went 28 yards to the end zone to make it 16-0 Knappa following a successful two-point conversion run.
The teams traded three-and-outs before a dropped snap on a Knappa punt changed possession on a tackle by Hall and gave Taft the ball inside the Loggers 10. Three errant plays left Taft with a fourth-and-goal at the 8 before the Tigers surrendered the ball back to Knappa for the fourth time in six fourth-down tries.
Knappa senior running back Luke Goozee gained 34 yards to get the Loggers out of poor field position, then moved into Taft territory on the next play midway through the quarter. Takalo and junior wide receiver Kanai Phillip then combined for a 30-yard score to make it 24-0 Knappa with about five minutes remaining before halftime.
The Loggers held the Tigers to a second straight three-and-out before Knappa took a Taft punt to its own 33. The Loggers managed a first down at their 44 and Goozee moved the ball inside Taft territory with a run up the middle.
After Takalo drew the Tigers offside, Taft took its second timeout as the first-half clock ticked down inside of four minutes. Goozee then ran 15 yards to inside the Taft 20. The Loggers ran 15 yards on third-and-5 for a score, but a penalty for an illegal block brought the play back to the 29. Knappa then surrendered possession on downs on an incomplete pass on fourth down.
Jin and Gilleo connected for about 20 yards to the 35, and sophomore Fco Ramos caught a pass from Jin for a first down to the Knappa 15, where the Tigers called their final timeout with 31 seconds remaining in the half. Jin overthrew McLendon on second down with 21 seconds left, before hitting Fisher for a score to make it 24-6 with 17 seconds remaining. A two-point conversion pass failed.
Knappa answered with a 48-yard scoring pass by Takalo to senior wideout Tyler Green to make it 32-6 as the first-half clock expired.
Third Quarter
Leading 32-6, Knappa fumbled the opening kick of the second half and Hall made his second opportunistic play of the game by recovering at the Loggers 30-yard line. Fisher's fourth catch of the game put the Tigers at the 19 before Jin and Gilleo moved the ball to the 11 on two runs. Ramos then caught a first-down pass from Jin to the 3 before Jin ran it in for a touchdown to make it 32-12 after a failed two-point conversion attempt.
Knappa was unable to move the ball and punted to Taft midway through the quarter. Ramos had 15 yards added to a reception on a facemask penalty before Jin hit McLendon to the 39. McLendon hauled in another Jin pass to move inside the Loggers 5 at 6:22 of the period. Taft sophomore JJ French came up just short of a score on the ensuing play before a tipped pass from Jin was intercepted in the end zone at the 5:30 mark by Takalo, who also plays defensive back.
Knappa, starting at its own 23 after the interception return out of the end zone, failed to move the ball and surrendered possession on a punt to McLendon, who returned it 46 yards to the Loggers 19. Jin ran into the end zone from there following a block from Gilleo to make it 32-18 after a two-point conversion pass to Fisher fell incomplete.
Taft's defense, which shut out Sutherlin in the second half of a 14-13 victory last week, made things difficult on Knappa on the next possession, and got the ball back to the offense on downs at their own 31 on the next series.
Knappa took possession on a punt on the next possession and Takalo ran for his third rushing touchdown and fifth overall following a personal foul penalty for a 40-18 lead as the third-quarter clock wound down.
Fourth Quarter
The Loggers blew through the line to pressure and intercept Jin deep in Taft territory and returned it for a score to make it 46-18 to open the quarter.
Taft reached midfield on a flare pass on its second play of the ensuing possession, and a key block by junior Connor Bailey sprung Gilleo for a 27-yard score on a pass from Jin. The TD made it 48-26 after a two-point conversion catch by McLendon.
Taft recovered an onside kick just inside midfield before Jin and Bailey connected for a gain of six at 9:11 of the period. Following a first down, Ramos caught a 32-yard strike from Jin to make it 46-32 after a two-point conversion attempt was intercepted by Goozee.
Goozee ran 28 yards on the Loggers' next possession to the Taft 30 at the 7:30 mark. Taft jumped offside to give Knappa a first down inside the 20 at 6:23. Goozee busted up the middle from the 5 for a score to make it 52-32 at 4:48 after the conversion run failed.
Taft's French returned the ensuing kick 18 yards to the 40 to start the Tigers' next possession, but surrendered the ball on downs after going nowhere on four downs. French made back-to-back-tackles to hold the Loggers at bay on the next series, forcing a punt to the Taft 20 with 3:11 left.
Ramos caught a first-down pass at 2:33 before Jin ran to the Knappa 49. Jin was then sacked for the first time in the game for a loss of 12 with 1:35 to play. An 11-yard scramble made it fourth-and-1 before a desperation pass intended for Ramos was intercepted with 46 seconds to play.
This play-by-play post was updated live after every quarter and periodically throughout the game
More Coach Tolan post-game remarks:
"Overall, I'm proud of my team for showing the character and determination to battle back from being down 6-32 at halftime. I'm proud that we outscored them 26-20 in the second half and our defense and special teams allowed us to do that.
"Going forward, I need to find a way to get my team motivated or more ready, I guess, for the first half — and maybe not even the first half, but more just the second quarter. Our second quarter in our losses this year have really cost us wins, so trying to avoid the second quarter fatigue or let-up is what my focus will be going into next week.
"We will watch film this weekend and go back to work next week preparing for a home matchup against Yamhill-Carlton."
Class 3A Special District 1 West Standings
Schedule
All games 7 p.m.
8/31 @ Harrisburg L 60-29
9/14 @ Knappa L 52-32
9/21 vs. Yamhill-Carlton
*denotes league game
Taft Roster
Coach: Jake Tolan
| | | | | | | |
| --- | --- | --- | --- | --- | --- | --- |
| No. | | Name | Position | Grade | Height | |
| 2 | | Logan McLendon | WR/DB | Sr. | 5-8 | |
| 3 | | Kaden Hindman | WR/S | Fr. | 5-9 | |
| 4 | | Devon Lindquist | WR/S | Sr. | 5-10 | |
| 6 | | Zane Rowley | WR/DB | So. | 5-4 | |
| 7 | | Chris Lopez | WR/DB | Sr. | 5-9 | |
| 8 | | David Jin | QB/DB | Sr. | 5-10 | |
| 9 | | Kameron Kessler | WR/S | Sr. | 6-1 | |
| 11 | | Fco Ramos | WR/DB | So. | 5-7 | |
| 14 | | Tristan Beach | WR/DB | Jr. | 5-10 | |
| 15 | | Connor Bailey | WR/DB | Jr. | 5-10 | |
| 16 | | Darius Smith | WR/DB | So. | 5-9 | |
| 19 | | Antonio Suarez | QB/LB | So. | 5-10 | |
| 20 | | JJ French | RB/LB | So. | 5-10 | |
| 22 | | Tyee Fisher | WR/S | Sr. | 6-5 | |
| 23 | | Clay Nelson | WR/LB | Sr. | 6-0 | |
| 24 | | Trenton Hall | WR/LB | Jr. | 5-9 | |
| 25 | | Kaden White | WR/DB | Fr. | 5-7 | |
| 28 | | Logan Gilleo | RB/LB | Jr. | 6-0 | |
| 50 | | Dylan Rodriguez | OL/DL | Fr. | 5-8 | |
| 53 | | Micah Davis | OL/DE | Jr. | 5-10 | |
| 54 | | Eriq Aquino | OL/DL | Sr. | 6-1 | |
| 55 | | Elin Fitch | OL/DE | Jr. | 6-3 | |
| 56 | | Malachi LaFrenz | OL/DL | Sr. | 6-2 | |
| 57 | | Jace Phippen | OL/DL | Jr. | 5-10 | |
| 60 | | Chris Byrum | OL/DL | Sr. | 5-8 | |
| 61 | | Victor Carrasco | C/DE | Sr. | 6-2 | |
| 62 | | Brendan Welch | OL/DL | So. | 5-9 | |
| 66 | | Tyrese Hellman | OL/DL | Jr. | 6-1 | |
| 70 | | Josiah LaFrenz | OL/DL | So. | 6-3 | |
| 74 | | Sebastian Welch | OL/DL | So. | 5-9 | |
| 75 | | Dakota Steen | OL/DL | Fr. | 6-0 | |
Knappa Roster
| | | | | | | |
| --- | --- | --- | --- | --- | --- | --- |
| No. (Home/Away) | | Name | Position | Grade | | |
| 2/2 | | Kayden Stuhr | WR/LB | 11 | | |
| 4/4 | | Cameron Miethe | WR/DB | 10 | | |
| 5/5 | | Kanai Phillip | WR/DB | 11 | | |
| 6/6 | | Nicolai Ogier | RB/LB | 9 | | |
| 7/7 | | Eli Takalo | QB/LB | 11 | | |
| 8/8 | | Luke Goozee | RB/LB | 12 | | |
| 9/9 | | Pavlo Miller | WR/DB | 10 | | |
| 10/14 | | Mark Miller | QB/DB | 9 | | |
| 11/11 | | Joe Ramvick | WR/LB | 11 | | |
| 12/12 | | Trevor Ogier | WR/DB | 9 | | |
| 15/15 | | Tyler Green | WR/DB | 12 | | |
| 21/21 | | Tanner Jackson | WR/DB | 9 | | |
| 23/23 | | Devin Hoover | WR/DB | 10 | | |
| 32/32 | | Spencer Teague | WR/LB | 11 | | |
| 33/33 | | Gauge Perdue | WR/DB | 9 | | |
| 34/26 | | Johnny Lenhard | RB/LB | 9 | | |
| 36/36 | | Jacob Morey | WR/DB | 9 | | |
| 42/42 | | Addison Pietila | WR/DB | 9 | | |
| 51/51 | | Ashton Zsarko | OL/DL | 10 | | |
| 53/53 | | Ryson Patterson | OL/LB | 11 | | |
| 55/55 | | William Shadley | OL/DL | 12 | | |
| 57/57 | | Isaac Goozee | OL/DL | 10 | | |
| 59/59 | | Andrew Pedersen | OL/DL | 11 | | |
| 64/63 | | Kaleb Roe | OL/DL | 11 | | |
| 65/65 | | Dylan Anderson | OL/DL | 10 | | |
| 66/66 | | Jaxson Goodman | OL/DL | 11 | | |
| 67/67 | | Dominic Rizzo | OL/DL | 12 | | |
| 70/70 | | Carter Morrill | OL/DE | 9 | | |
| 75/75 | | Logan Morrill | OL/DE | 9 | | |
| 82/82 | | Devyn McCall | WR/DB | 9 | | |
| 88/88 | | Federico Pineda | WR/DB | 9 | | |