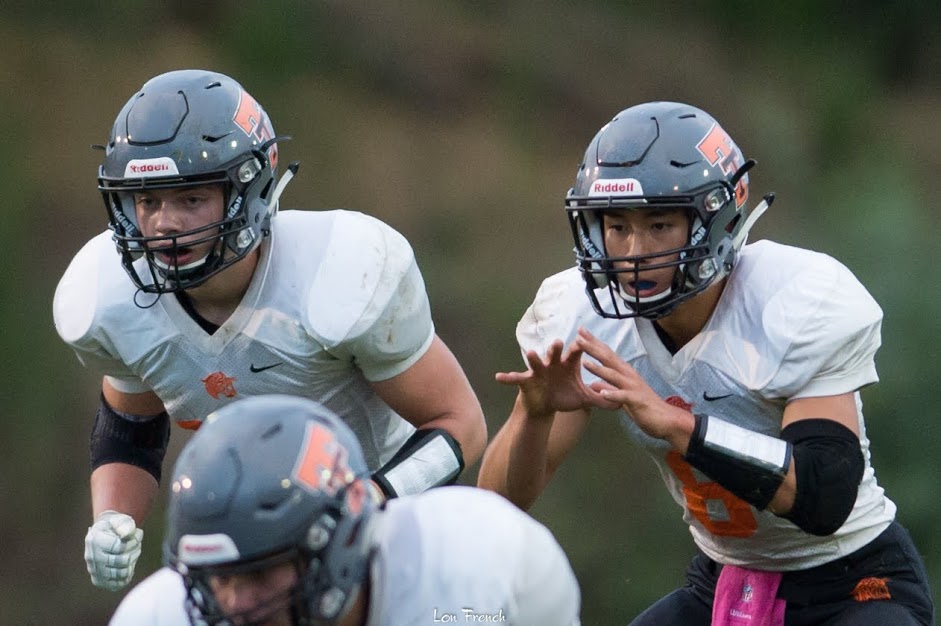 Visiting Tigers growl loudest
Taft High watched a 25-14 halftime lead go by the wayside Friday as Yamhill-Carlton rode the dual running punch of junior quarterback Jaime Garcia and senior running back Owen Amerson to 14 unanswered second-half points for a 28-25 Class 3A football victory at Voris Field.
"We felt great going into halftime up 25-14," Taft coach Jake Tolan said. "However, we didn't execute well offensively in the second half and made some mistakes and dropped some balls, which made it difficult to sustain drives."
Yamhill-Carlton won the battle of two teams that share the nickname Tigers despite a blockbuster opening half that started with a 77-yard fumble return for a touchdown by Taft running back/linebacker JJ French.
Taft senior quarterback David Jin hooked up with senior wide receiver Tyee Fisher for a 2-yard score to make it 13-0 shortly thereafter, before Garcia scampered 15 yards to trim the margin to 13-7 late in the opening quarter.
After Garcia ran 47 yards to the Taft 2, YC seized a 14-13 lead on a TD burst by Amerson early in the second quarter. Taft responded for a 19-14 lead when Fisher caught a 15-yard touchdown from Jin 5:22 before halftime.
Taft turned to trickery to make it 25-14 just before intermission when senior receiver Kam Kessler hit French for the speedy sophomore's second touchdown of the game.
The host Tigers were unable to score after that, however, while Garcia scored from the 9-yard line to cut Taft's lead to 25-21 with 3:42 left in the third period. Sophomore Mikel Rivas returned an interception 25 yards for the game's winning score with 3:23 to play in the quarter.
"Defensively, we only gave up one score in the second half, YC's other score coming off of an interception, but we committed too many penalties that allowed YC to keep their drives going," Tolan said. "We are all disappointed because we believe that we beat ourselves."
Special District 1 West Division member Taft, which opens conference play next week at home against Amity, fell to 1-3, while SD1 East representative Yamhill-Carlton improved to 2-2.
First Quarter
Taft received the opening kick and assumed possession at its own 33, where senior quarterback David Jin was intercepted on the game's second play from scrimmage and returned 29 yards to the Taft 29. Taft sophomore JJ French then scooped up a fumble and ran 77 yards for a touchdown to make it 7-0 after senior place-kicker DeVon Lindquist added the point-after.
Taft held Yamhill-Carlton (YC) on the ensuing series to force a punt. The Tigers held YC on the next series and took advantage of good field position to move into the red zone. Jin was unable to get around the corner from the 2 on third down before he found senior wide receiver Tyee Fisher in the corner of the end zone for a 13-0 lead after Lindquist missed right on the extra point.
With rain in the forecast, Taft, which had several early tackles for losses negated by offside penalties, held YC to fourh-and-3, where junior quarterback Jamie Garcia was pressured by sophomore Tyrese Hellman and junior Trenton Hall, then sacked by Hall. Jin fumbled the ball right back to YC on the first play from there, where YC advanced the ball to midfield with 3:03 left in the quarter.
Senior wideout Joey McGhehey then combined with Garcia for a first down inside the Taft 30 and YC's third first down of the drive advanced the ball to the 15. Garcia then scampered in for a touchdown on an option on the next play. The extra-point made it 13-7 Taft inside of two minutes to play.
Taft took possession near midfield following the kick before letting the clock run out on the opening quarter.
Second Quarter
Taft surrendered possession on a punt to the YC 20 to start the quarter. YC managed a first down behind the running of Garcia and senior Owen Amerson to move inside Taft territory before Garcia and McGhehey teamed for a first down at the Taft 49. Garcia then broke 47 yards to the Taft 2 after finding no one open and scrambling from the pocket. Amerson burst across from there to make it 14-13 YC after the point-after.
French returned the ensuing kickoff 29 yards to the Taft 42, where Jin hit junior receiver Connor Bailey inside of YC territory. Fisher then gained another first down on a pass from Jin to the 32. YC held Taft junior running back Logan Gilleo just short of a first down on a third-down screen to make it fourth-and-4 at the 24, where a hard count drew YC offside for a first down at the 19. Jin then found Fisher for a 15-yard TD for his second score of the night 19-14 after Lindquist's PAT was blocked at the 5:22 mark.
YC drew Taft offside on fourth-and-6 near midfield on the next possession before Amerson, needing less than a yard, was stuffed up the middle for no gain to turn the ball over on downs. Gilleo came up just shy of a first down on a third-down pass from Jin, then barely got the first down on another short reception on the next play. Jin then hooked up with senior wide receiver Kam Kessler to the YC 14 with 1:55 remaining in the half.
Jin was injured on the next play as the clock closed inside of a minute and Taft called its first timeout of the game. Jin departed and Fisher came on at QB in the absence of sophomore backup Antonio Suarez. Kessler then hit French for his second touchdown of the game on a trick play on the first play from there to make it 25-14 following a Lindquist miss.
Garcia and McGhehey hooked up near midfield with 55 seconds to play until intermission. Another offside penalty against Taft, its sixth of the game, moved the ball into Taft territory. Hall tackled Garcia for little gain before YC called timeout with 35.5 seconds to play to bring up fourth-and-2, giving Taft possession at its own 43.
Fisher then handed the ball off to Gilleo as Taft ran out the first-half clock.
Halftime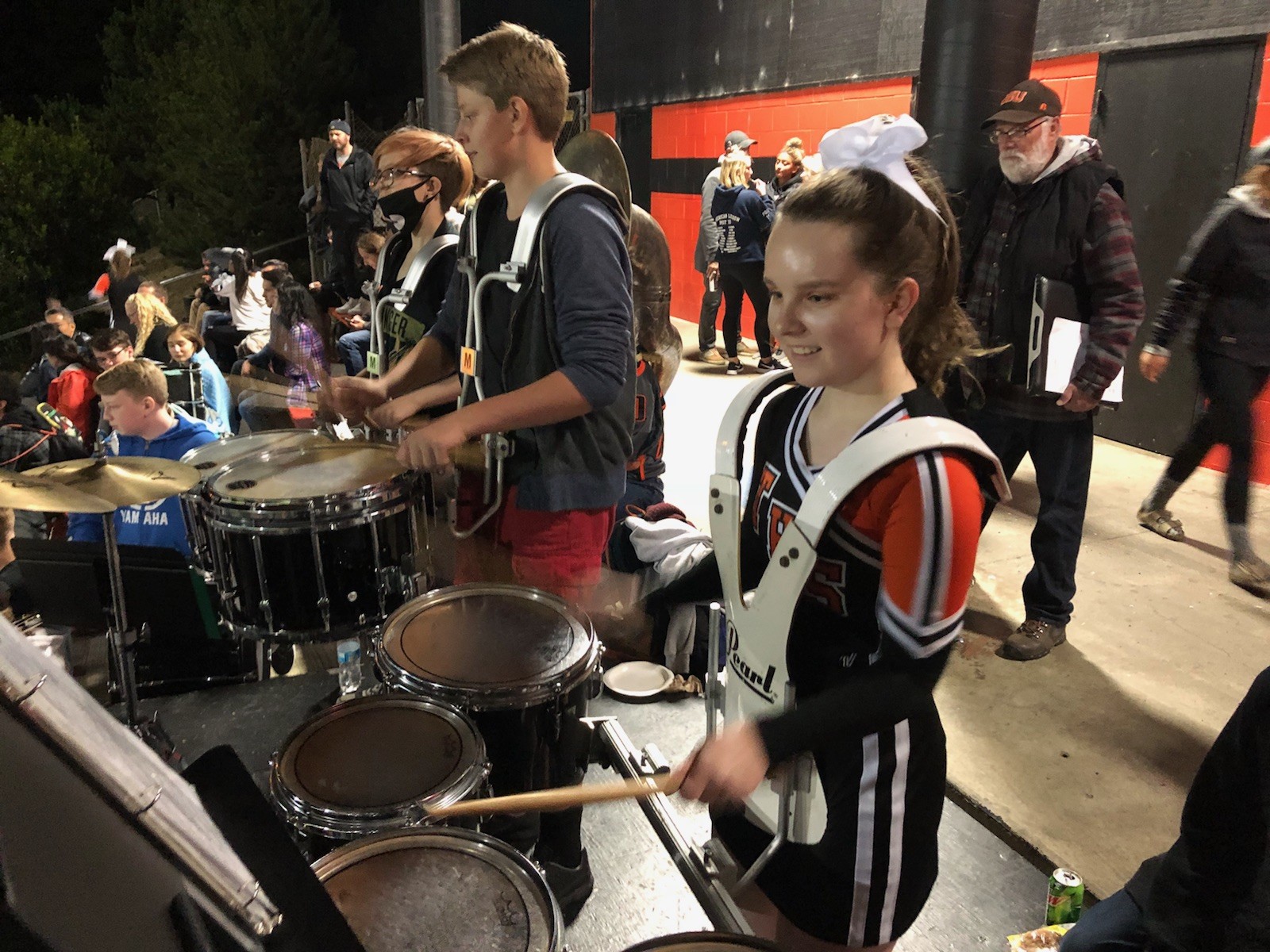 Third Quarter
Yamhill-Carlton received the second-half kick and took possession at its own 20 after the ball rolled out of the end zone. YC took three plays to get a first down before Hall dropped YC for a 5-yard loss. Kessler, who had three fumble recoveries entering the game, then intercepted Garcia to give Taft possession.
Returning to action at QB, a holding penalty prevented Jin and Taft from moving the ball and the Tigers punted to the YC 31. A bad snap lost six yards as Hall stormed in on Garcia again and a motion penalty made it third-and-12 at the 29, where an incompletion forced a punt.
Gilleo gained 10 yards to midfield on a flare pass from Jin at 7:50 of the quarter before two incomplete passes brought up fourth down and a punt through the end zone.
YC moved inside Taft territory behind Garcia and Amerson before the Tigers' seventh offside penalty of the game moved the ball inside the Taft 30. Another offside call gave YC a first down at the 25 before Garcia bulled ahead to the 22. Garcia and McGhehey hooked up for 12 yards to the 9. Garcia scored from there to cut Taft's lead to 25-21 with 3:42 left in the period.
YC sophomore Michael Revis then intercepted Jin and returned it 25 yards for a score to make it 28-25 Yamhill-Carlton with 3:23 to play in the quarter.
With a mist falling, Jin was sacked for the first time in the game for a loss of 5, bringing on Fisher to punt 48 yards to the YC 22.
Amerson and Garcia combined to rush for two first downs before Hall again broke into the backfield to make a tackle for a loss. McGhehey was then separated from the ball by French for an incompletion before an illegal man downfield and reception by McGhehey inside of Taft territory ran out the third-quarter clock.
Fourth Quarter
YC punted to start the period and Jin hit senior wideout Logan McLendon for a first down at the 39. Taft was held to a three-and-out and Fisher punted 35 yards to the YC 21 with 10:22 to play.
YC used two first downs to keep the clock moving, but two illegal blocks by YC slowed the drive before Amerson was stopped on third down to bring up fourth-and-8 near midfield. Following a punt, Taft took possession at its own 20 on a touchback with 6:42 left.
After Jin gained four yards for a first down at the 30 Fisher took the ball on a reverse for 13 yards to the 41 with 5:42 remaining.
French gained six yards to the 48 before a motion penalty — Taft's 14th for 77 yards — brought up fourth down and another Fisher punt from his own 41.
YC, facing third down, called timeout as the clock counted down to three minutes, before Jacob Jarvis caught a Garcia pass for an 8-yard gain and a first down inside of 2:30.
Taft called timeout with 2:12 left before Gilleo dropped Garcia for a loss and Taft called its final timeout with 2:08 to play. Garcia then ran for a first down with 2:01 remaining.
With Taft out of timeouts, Garcia took a knee to run out the clock for a 28-25 YC victory.
This post was updated live after each quarter and periodically throughout the game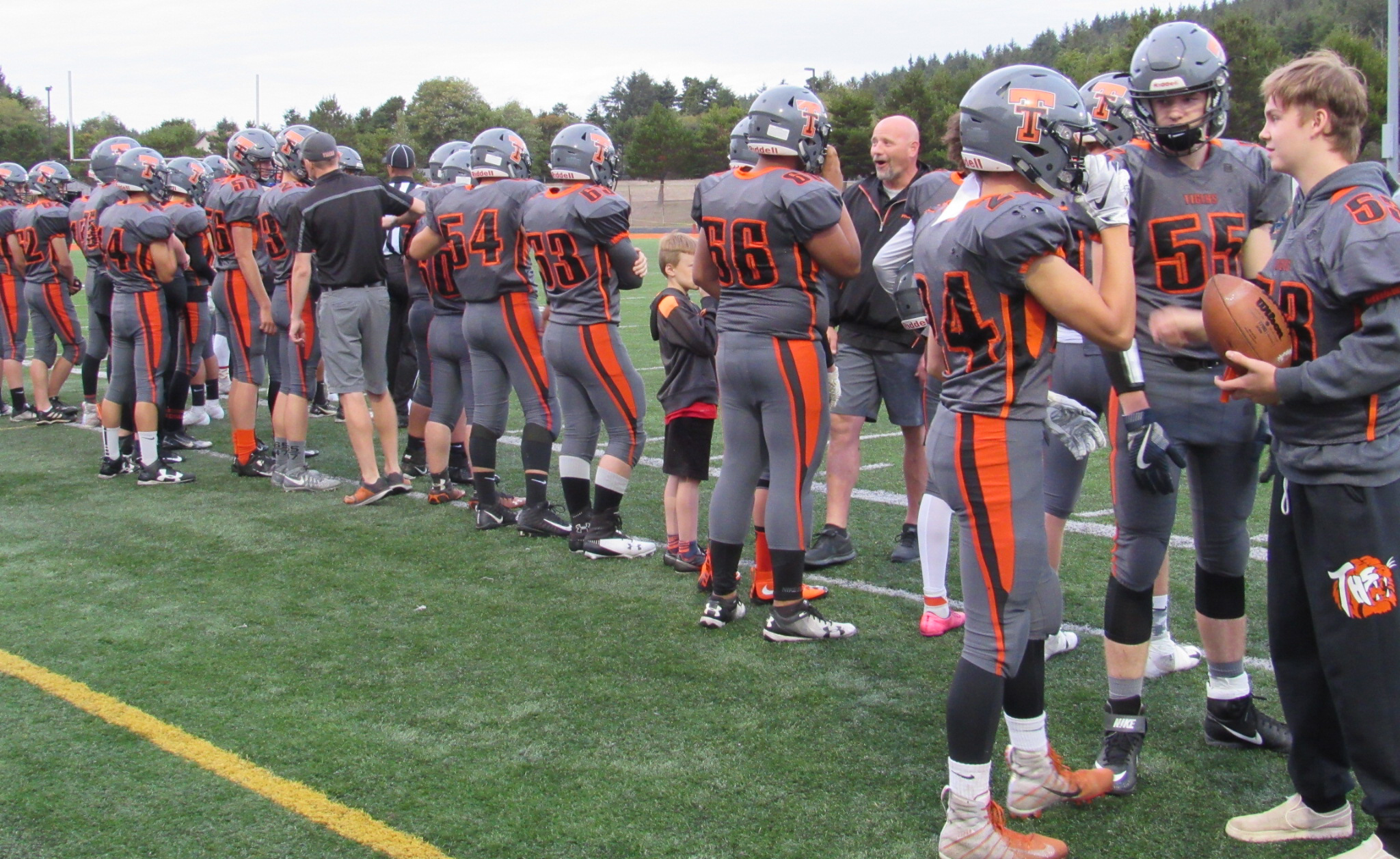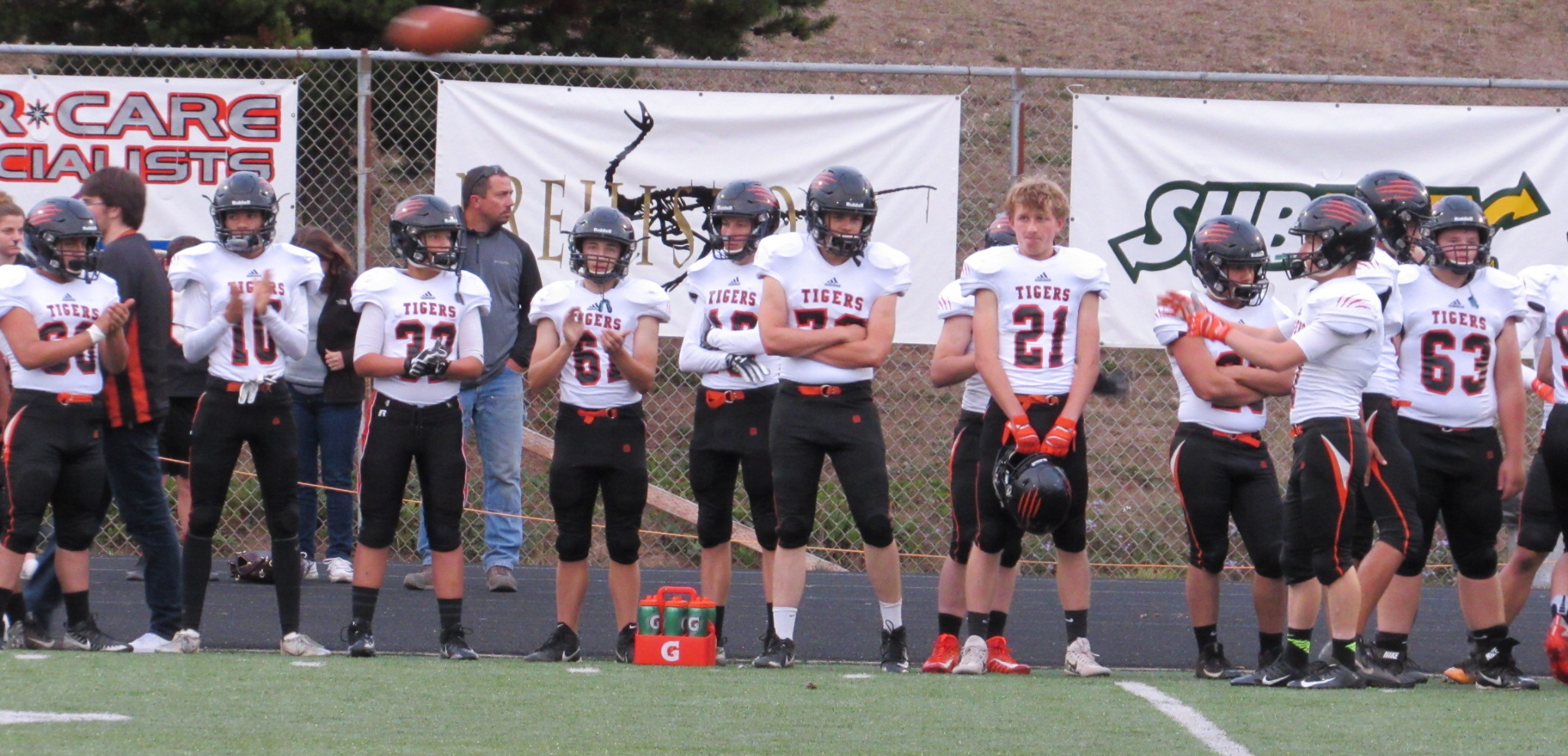 Taft Roster
Coach: Jake Tolan
| | | | | | | |
| --- | --- | --- | --- | --- | --- | --- |
| No. | | Name | Position | Grade | Height | |
| 2 | | Logan McLendon | WR/DB | Sr. | 5-8 | |
| 3 | | Kaden Hindman | WR/S | Fr. | 5-9 | |
| 4 | | Devon Lindquist | WR/S | Sr. | 5-10 | |
| 6 | | Zane Rowley | WR/DB | So. | 5-4 | |
| 7 | | Chris Lopez | WR/DB | Sr. | 5-9 | |
| 8 | | David Jin | QB/DB | Sr. | 5-10 | |
| 9 | | Kameron Kessler | WR/S | Sr. | 6-1 | |
| 11 | | Fco Ramos | WR/DB | So. | 5-7 | |
| 14 | | Tristan Beach | WR/DB | Jr. | 5-10 | |
| 15 | | Connor Bailey | WR/DB | Jr. | 5-10 | |
| 16 | | Darius Smith | WR/DB | So. | 5-9 | |
| 19 | | Antonio Suarez | QB/LB | So. | 5-10 | |
| 20 | | JJ French | RB/LB | So. | 5-10 | |
| 22 | | Tyee Fisher | WR/S | Sr. | 6-5 | |
| 23 | | Clay Nelson | WR/LB | Sr. | 6-0 | |
| 24 | | Trenton Hall | WR/LB | Jr. | 5-9 | |
| 25 | | Kaden White | WR/DB | Fr. | 5-7 | |
| 28 | | Logan Gilleo | RB/LB | Jr. | 6-0 | |
| 50 | | Dylan Rodriguez | OL/DL | Fr. | 5-8 | |
| 53 | | Micah Davis | OL/DE | Jr. | 5-10 | |
| 54 | | Eriq Aquino | OL/DL | Sr. | 6-1 | |
| 55 | | Elin Fitch | OL/DE | Jr. | 6-3 | |
| 56 | | Malachi LaFrenz | OL/DL | Sr. | 6-2 | |
| 57 | | Jace Phippen | OL/DL | Jr. | 5-10 | |
| 60 | | Chris Byrum | OL/DL | Sr. | 5-8 | |
| 61 | | Victor Carrasco | C/DE | Sr. | 6-2 | |
| 62 | | Brendan Welch | OL/DL | So. | 5-9 | |
| 66 | | Tyrese Hellman | OL/DL | Jr. | 6-1 | |
| 70 | | Josiah LaFrenz | OL/DL | So. | 6-3 | |
| 74 | | Sebastian Welch | OL/DL | So. | 5-9 | |
| 75 | | Dakota Steen | OL/DL | Fr. | 6-0 | |
Yamhill-Carlton Roster
| | | | | | | |
| --- | --- | --- | --- | --- | --- | --- |
| No. | | Name | Position | Grade | | |
| 3 | | Levi Durrell | QB/DB | 9 | | |
| 4 | | Jamie Garcia | QB/DB | 11 | | |
| 5 | | Joey McGhehey | WR/DB | 12 | | |
| 7 | | Cole Norwood | WR/LB | 12 | | |
| 9 | | Jakob Jarvis | WR/DB | 11 | | |
| 10 | | Quinten Ramsey | WR/DB | 10 | | |
| 11 | | Trent Blakely | WR/DB | 10 | | |
| 12 | | Ramon Avila | WR/LB | 11 | | |
| 13 | | Mikel Rivas | WR/LB | 10 | | |
| 15 | | Owen Amerson | RB/LB | 12 | | |
| 16 | | Colby Stehr | WR/DB | 11 | | |
| 20 | | Rey Risch | RB/LB | 12 | | |
| 21 | | Decker Richmond | WR/DB | 12 | | |
| 24 | | Jacob Preston | RB/LB | 9 | | |
| 25 | | Eli Potter | WR/DB | 10 | | |
| 32 | | Brodin Tuning | WR/DB | 9 | | |
| 53 | | Mason Dailey | OL/LB | 10 | | |
| 60 | | Julian Lugo | OL/DL | 11 | | |
| 61 | | Ryan LeFebvre | OL/DL | 11 | | |
| 62 | | Wyatt Hurley | OL/DL | 9 | | |
| 63 | | Sam Dixon | OL/DL | 11 | | |
| 64 | | Dustin Talbott | OL/DL | 11 | | |
| 70 | | Dylan McGinnis | OL/DL | 11 | | |
| 71 | | Tiger Reimann | OL/DL | 9 | | |
| 72 | | Oliver Smith | OL/DL | 12 | | |
| 73 | | Hunter McLean | OL/DL | 9 | | |
| 74 | | Kole Whiting | OL/DL | 9 | | |
| 75 | | Pedro Tavera | OL/DL | 11 | | |
| 76 | | Ian Cooper | OL/DL | 9 | | |
| 77 | | Andrew Kern | OL/DL | 9 | | |
| 78 | | Nevin Jarvis | OL/DL | 10 | | |
| 79 | | Caden Coleman | OL/DL | 9 | | |
| 87 | | Trey Richmond | TE/DL | 10 | | |
| 88 | | Hunter Stephenson | TE/LB | 10 | | |