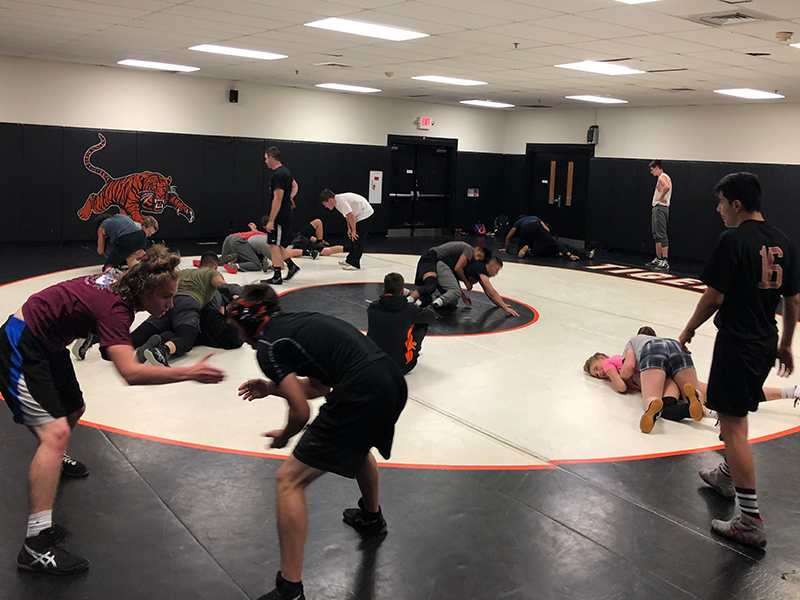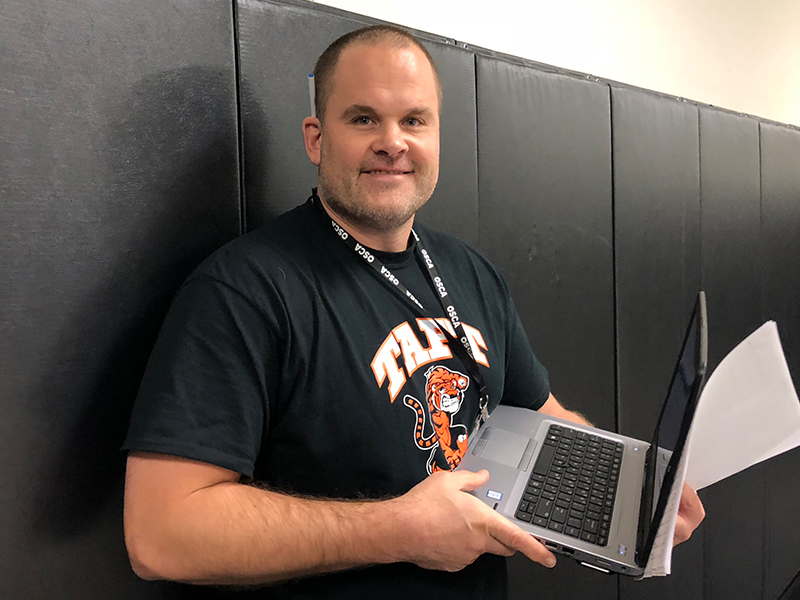 A promising start to the year last week at Tillamook and daily progress on the mat has Taft wrestling coach Robb Ellis encouraged about possible record participation at State in the 2018-19 season.
Taft, which will compete Saturday against Amity, Central Linn, Philomath/Alsea, Sheridan and host Scio, started the season with 26 wrestlers and has 23 currently competing, Ellis said.
"Usually, in wrestling, your goal is to finish with about two-thirds of what you started with," said Ellis, whose Tigers began with 26 wrestlers and ended with 18 a season ago.
Ten Tigers are wrestling for the first time and can look to returners Jose Flores and Biz Byrum as inspiration, he said.
"They went to State as first-time wrestlers last year, so it is not impossible," he said. "Usually, athletes who are talented in other sports have an advantage when they try wrestling for the first time. It can be tough to go out and be competitive when sometimes you face wrestlers who have devoted their lives to it.
"Many wrestlers who have wrestled year round at tournaments have a huge advantage over wrestlers who are just trying to learn the sport. Often, though, if wrestlers work hard during the season and focus on conditioning, lifting and eating well, they can still be competitive and have a chance to qualify and even place at State."
Ellis points to senior team leader Cody Knott as an example.
"He is a well-rounded kid who also competes heavily in baseball and has many other hobbies," he said. "Even though he hasn't made wrestling his life focus, he was able to place sixth at State his 10th-grade season and has an excellent chance to place again."
Ellis said Taft upped the ante a bit in the offseason this year by attending a Nestucca wrestling camp that had Oregon State wrestlers teaching. In addition, Richard Jensen, a well-known wrestler and motivational speaker, conducted a camp for Taft, and 10 Tigers participated in a July tournament in Washington, where most wrestled 12 to 15 matches over 2½ days.
"I think the work in the offseason will pay off on the mat this year," Ellis said.
Depth and leadership could also prove valuable, he said, and have factored into the goals he has established for the program.
Foremost is to qualify six wrestlers to State at Veterans Memorial Coliseum in Portland, one better than the five the Tigers sent last year, which tied the school record.
"To go to State, a wrestler has to place third or better in your weight class at the District tournament," he said. "We have all five State qualifiers back from last year, and three or four others with the talent to qualify. No guarantees, though."
Taft's second goal is to place fourth or better among the seven teams in Special District 1, which features defending Class 3A State champion Willamina and powerful programs in Rainier and Dayton.
The Tigers will showcase their talents to local fans Jan. 5 at the Taft Holiday Crab Pools Invitational, which will feature Amity, Nestucca, Newport, Reedsport, Sheridan, Siletz Valley, Toledo, Waldport, Willamina/Falls City and Yamhill-Carlton.
Coach's Capsule Comments
Cody Knott (Sr.) — Placed sixth at State as sophomore, but got mono early in junior season and was not at 100 percent at State. Back at full strength and should return to the 152-pound class with good seeding at Districts and State.
Devon Lindquist (Sr.) — Placed second at Districts last year and third at a tough recent tournament at Tillamook. Looking strong to place sixth or better at State. Wrestling at 152, but will likely cut down to 138 and have good seeding from last year.
Jace Fostveit (Sr.) — State qualifier who placed second at season-opening match at Tillamook and looked stronger than ever. Wrestling at 195, but can also return to 182 for good seeding at Districts and State.
Jose Flores (So.) — Went to State at 113 as a first-year wrestler. His State weight plan will allow him to drop to 106 for Districts and State, giving him a huge advantage.
Biz Byrum (Sr.) — Placed fourth at Districts last year. Went to State at 182 as an alternate first-year wrestler. Hard worker who keeps getting better. May drop to 160 for Districts this year.
Jacob Mayoral (Sr. ) — Had State-level talent last year in a very competitive 145-pound bracket at Districts and did not qualify. OSAA weight plan allows him to go down to 138, which could help him qualify this year.
David Jin (Sr.) – Taft football quarterback who showed State-level talent last year but season ended early with a broken ankle. Looked good at the Tillamook tournament and has shot of qualifying for State at 160.
Gio Salazar (Sr.) — Came close to going to State by placing fourth at Districts. Hard worker who will return to 126, giving him a good shot at getting third or better and going to State.
Class 3A Special District 1
Standings
Schedule
Day
Time
Event
Host
Friday, Nov. 30
Tillamook Invite (Tillamook High School)
Taft, Tillamook
Tillamook
Saturday Dec. 8
8 a.m.
Scio high School (Scio High School)
Amity, Central Linn, Philomath / Alsea, Scio, Sheridan, Taft
Scio
Friday Dec. 14
5 p.m.
Derek Blake Invitational
Amity, Colton, Seaside, Stayton, Taft, Vernonia, Yamhill-Carlton
Yamhill-Carlton
Saturday, Dec. 15
10 a.m.
Bill Hagerty Invitational (Nestucca)
Amity, Neah-Kah-Nie, Nestucca, Sheridan, Taft
Nestucca
Friday, Dec. 21
TBD
Gladstone Invitational (Gladstone High School)
Astoria, Gladstone, Molalla, Scappoose, Taft
Gladstone
Saturday, Jan. 5
10 a.m.
Taft Holiday Crab Pools Invitational (Taft 7-12)
Amity, Nestucca, Newport, Reedsport, Sheridan, Siletz Valley, Taft, Toledo, Waldport, Willamina / Falls City, Yamhill-Carlton
Taft
Thursday, Jan. 10
5:00 p.m.
League Duals – Willamina (@ Willamina High School)
Clatskanie, Dayton, Taft, Willamina / Falls City
Willamina / Falls City
Saturday, Jan. 12
9 a.m.
Alsea Bay Classic (Waldport HS)
Grants Pass, Jefferson, Kennedy, Lowell, Newport, North Lake, Oakridge, Reedsport, Sheridan, Taft, Toledo, Waldport
Waldport
Saturday, Jan. 19
9:30 am
Junction City (Junction City High School)
Benson, Churchill, Junction City, Lakeridge, Madison, Pleasant Hill, Roosevelt, Sheridan, Southridge, Taft
Junction City
Thursday, Jan. 24
5 p.m.
League Duals – Dayton
Dayton, Taft, Warrenton
Dayton
Thursday, Jan. 31
5 p.m.
League Duals – Taft (@ Taft High School)
Dayton, Rainier, Taft
Friday, Feb. 15 — 3 p.m., District Meet @ Warrenton (Amity, Rainier, Taft, Warrenton)
Roster
Coach: Robb Ellis
| | | | | | | |
| --- | --- | --- | --- | --- | --- | --- |
| | | Name | | Grade | | |
| | | Alec Bosworth | | 11 | | |
| | | Autumn Barela | | 12 | | |
| | | Biz Byrum | | 12 | | |
| | | Cody Knott | | 12 | | |
| | | David Jin | | 12 | | |
| | | Devon Lindquist | | 12 | | |
| | | Elin Fitch | | 11 | | |
| | | Eriq Aquino | | 12 | | |
| | | Gio Salazar | | 12 | | |
| | | Jace Fostveit | | 12 | | |
| | | Jace Phippen | | 11 | | |
| | | Jacob Mayoral | | 12 | | |
| | | Jared Bryan | | 12 | | |
| | | Jeff Adair | | 11 | | |
| | | Jesse Carrillo | | 9 | | |
| | | Jose Flores | | 10 | | |
| | | Kaden White | | 9 | | |
| | | Kadence James | | 9 | | |
| | | Kevin Acosta | | 10 | | |
| | | Riley Ellis | | 9 | | |
| | | Victor Carrasco | | 12 | | |
| | | William Calderon | | 10 | | |
| | | Zane Rowley | | 10 | | |