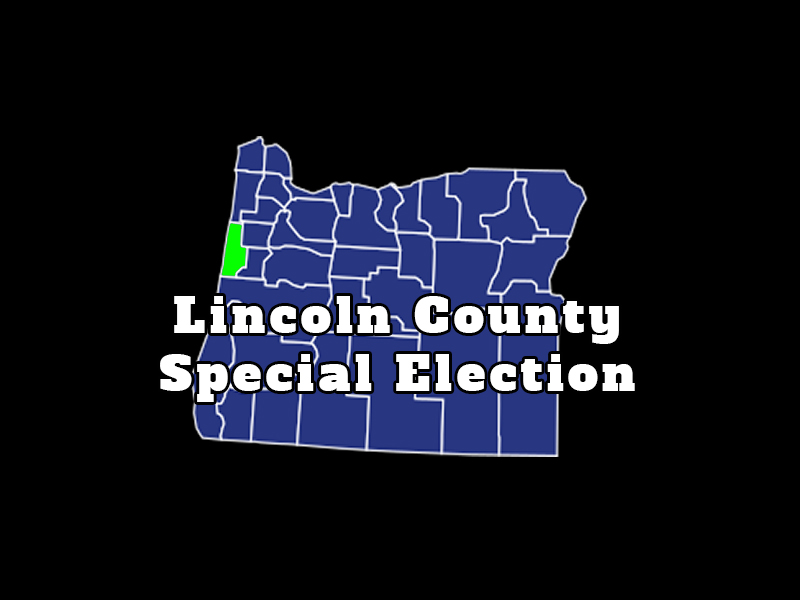 All three incumbents for North Lincoln Fire & Rescue's Board of Directors were reelected Tuesday night in Lincoln County's May 2019 Special Election.
Long-serving members Alan Lee and Ron W. Woodard II of Lincoln City, and Tim J. Beatty of Neotsu, were well ahead and all but officially reelected with 99 percent of the votes (7,615) counted.
Woodard, leading 964-655 at the time of the 9:30 p.m. posting, was opposed in Position 1 by Otis resident George Blacketer, past president and current vice president of the NLFR Volunteer Association and a volunteer lieutenant at Otis Station 1300.
Beatty. leading 990-578, was opposed in Position 2 by Otis resident Roy Cabal, a security guard at Chinook Winds Casino Resort and a former EMT and NLFR lieutenant who helps with the local Boy Scouts.
Lee, ahead 962-561, was opposed in Position 3 by Dan Stuebgen, who owns businesses in Lincoln City and Pacific City.
The four-year terms of Jamie Wright in Position 4 and Danny Curler in Position 5 were not up for reelection.
Complete election results as of 8 p.m.:
Linn-Benton-Lincoln Education Service District, Zone 7

| | | |
| --- | --- | --- |
| | | |
Oregon Coast Community College District, Zone 3

| | | |
| --- | --- | --- |
| | | |
Oregon Coast Community College District, Zone 4

| | | |
| --- | --- | --- |
| | | |
Oregon Coast Community College District, Zone 6

| | | |
| --- | --- | --- |
| | | |
Oregon Coast Community College District, Zone 7

| | | |
| --- | --- | --- |
| | | |
Lincoln County School District, Zone 1

| | | |
| --- | --- | --- |
| | | |
Lincoln County School District, Zone 2

| | | |
| --- | --- | --- |
| | | |
Lincoln County Library District, Zone 3

| | | |
| --- | --- | --- |
| | | |
Lincoln County Library District, Zone 4

| | | |
| --- | --- | --- |
| | | |
Lincoln County Library District, Zone 5

| | | |
| --- | --- | --- |
| | | |
Greater Toledo Pool Recreation District, Position 4

| | | |
| --- | --- | --- |
| | | |
Greater Toledo Pool Recreation District, Position 5

| | | |
| --- | --- | --- |
| | | |
Port of Alsea, Position 2

| | | |
| --- | --- | --- |
| | | |
Port of Alsea, Position 4

| | | |
| --- | --- | --- |
| | | |
Port of Newport, Position 1

| | | |
| --- | --- | --- |
| | | |
Port of Newport, Position 3

Rob Halverson
Stewart Lamerdin
Port of Newport, Position 5

| | | |
| --- | --- | --- |
| | | |
Port of Toledo, Position 2

| | | |
| --- | --- | --- |
| | | |
Port of Toledo, Position 4

| | | |
| --- | --- | --- |
| | | |
Port of Toledo, Position 5

| | | |
| --- | --- | --- |
| | | |
North Lincoln Health District, Position 1

| | | |
| --- | --- | --- |
| | | |
North Lincoln Health District, Position 4

| | | |
| --- | --- | --- |
| | | |
North Lincoln Health District, Position 5

| | | |
| --- | --- | --- |
| | | |
North Lincoln Health District, Position 6

| | | |
| --- | --- | --- |
| | | |
Pacific Communities Health District, Position 1

| | | |
| --- | --- | --- |
| | | |
Pacific Communities Health District, Position 2

| | | |
| --- | --- | --- |
| | | |
Alsea Rural Fire Protection District, Position 2

| | | |
| --- | --- | --- |
| | | |
Alsea Rural Fire Protection District, Position 4

| | | |
| --- | --- | --- |
| | | |
Alsea Rural Fire Protection District, Position 5

| | | |
| --- | --- | --- |
| | | |
Central Oregon Coast Fire & Rescue District, Position 4

| | | |
| --- | --- | --- |
| | | |
Central Oregon Coast Fire & Rescue District, Position 5

| | | |
| --- | --- | --- |
| | | |
Depoe Bay Rural Fire Protection District, Position 2

| | | |
| --- | --- | --- |
| | | |
Depoe Bay Rural Fire Protection District, Position 4

| | | |
| --- | --- | --- |
| | | |
Depoe Bay Rural Fire Protection District, Position 5

| | | |
| --- | --- | --- |
| | | |
Newport Rural Fire Protection District, Position 1

| | | |
| --- | --- | --- |
| | | |
Newport Rural Fire Protection District, Position 2

| | | |
| --- | --- | --- |
| | | |
Newport Rural Fire Protection District, Position 3

| | | |
| --- | --- | --- |
| | | |
North Lincoln Fire & Rescue District, Position 1

George Blacketer
Ron W Woodard, II
North Lincoln Fire & Rescue District, Position 2

| | | |
| --- | --- | --- |
| | | |
North Lincoln Fire & Rescue District, Position 3

| | | |
| --- | --- | --- |
| | | |
Seal Rock Rural Fire Protection District, Position 2

Larry Henson
Karl T Kowalski
Tina Fritz
Seal Rock Rural Fire Protection District, Position 3

Larry Silverthorn
Dustin Joll
Paul Rimola
Seal Rock Rural Fire Protection District, Position 4

Erik Dedijer-Small
Peter Benjamin
Siletz Rural Fire Protection District, Position 1

| | | |
| --- | --- | --- |
| | | |
Siletz Rural Fire Protection District, Position 2

| | | |
| --- | --- | --- |
| | | |
Toledo Rural Fire Protection District, Position 3

| | | |
| --- | --- | --- |
| | | |
Toledo Rural Fire Protection District, Position 4

| | | |
| --- | --- | --- |
| | | |
Toledo Rural Fire Protection District, Position 5

| | | |
| --- | --- | --- |
| | | |
Yachats Rural Fire Protection District, Position 1

Drew Tracy
Cy Kauffman
A'lyce A Ruberg
Yachats Rural Fire Protection District, Position 2

| | | |
| --- | --- | --- |
| | | |
Yachats Rural Fire Protection District, Position 3

Ernest I Smith
Donald Tucker
Beverly Beach Water District, Position 4

| | | |
| --- | --- | --- |
| | | |
Beverly Beach Water District, Position 5

| | | |
| --- | --- | --- |
| | | |
Carmel Beach Water District, Position 1

| | | |
| --- | --- | --- |
| | | |
Carmel Beach Water District, Position 2

| | | |
| --- | --- | --- |
| | | |
Carmel Beach Water District, Position 3

| | | |
| --- | --- | --- |
| | | |
Carmel Beach Water District, Position 5

| | | |
| --- | --- | --- |
| | | |
Kernville-Gleneden Beach-Lincoln Beach Water District, Position 1

| | | |
| --- | --- | --- |
| | | |
Kernville-Gleneden Beach-Lincoln Beach Water District, Position 3

| | | |
| --- | --- | --- |
| | | |
Kernville-Gleneden Beach-Lincoln Beach Water District, Position 4

| | | |
| --- | --- | --- |
| | | |
Kernville-Gleneden Beach-Lincoln Beach Water District, Position 5

| | | |
| --- | --- | --- |
| | | |
Lower Siletz Water District, Position 1

| | | |
| --- | --- | --- |
| | | |
Lower Siletz Water District, Position 4

| | | |
| --- | --- | --- |
| | | |
Lower Siletz Water District, Position 5

| | | |
| --- | --- | --- |
| | | |
Otter Rock Water District, Position 2

| | | |
| --- | --- | --- |
| | | |
Otter Rock Water District, Position 3

| | | |
| --- | --- | --- |
| | | |
Otter Rock Water District, Position 4

Buck Boston
Ricardo (Coach) Alcocer
Otter Rock Water District, Position 5

| | | |
| --- | --- | --- |
| | | |
Panther Creek Water District, Position 1

| | | |
| --- | --- | --- |
| | | |
Panther Creek Water District, Position 4

| | | |
| --- | --- | --- |
| | | |
Panther Creek Water District, Position 5

| | | |
| --- | --- | --- |
| | | |
Seal Rock Water District, Position 4

| | | |
| --- | --- | --- |
| | | |
Seal Rock Water District, Position 5

| | | |
| --- | --- | --- |
| | | |
Southwest Lincoln County Water District, Position 3

| | | |
| --- | --- | --- |
| | | |
Southwest Lincoln County Water District, Position 4

| | | |
| --- | --- | --- |
| | | |
Southwest Lincoln County Water District, Position 5

| | | |
| --- | --- | --- |
| | | |
Devils Lake Water Improvement District, Position 1

| | | |
| --- | --- | --- |
| | | |
Devils Lake Water Improvement District, Position 2

| | | |
| --- | --- | --- |
| | | |
Devils Lake Water Improvement District, Position 3

| | | |
| --- | --- | --- |
| | | |
Bear Creek Hideout No 2 Special Road District, Position 2

| | | |
| --- | --- | --- |
| | | |
Bear Creek Hideout No 2 Special Road District, Position 3

| | | |
| --- | --- | --- |
| | | |
California Street Special Road District, Position 1

| | | |
| --- | --- | --- |
| | | |
California Street Special Road District, Position 3

| | | |
| --- | --- | --- |
| | | |
Little Switzerland Special Road District, Position 1

| | | |
| --- | --- | --- |
| | | |
Little Switzerland Special Road District, Position 3

| | | |
| --- | --- | --- |
| | | |
NE San Marine Special Road District, Position 1

| | | |
| --- | --- | --- |
| | | |
NE San Marine Special Road District, Position 3

| | | |
| --- | --- | --- |
| | | |
New Bridge Special Road District, Position 1

| | | |
| --- | --- | --- |
| | | |
New Bridge Special Road District, Position 2

| | | |
| --- | --- | --- |
| | | |
Panther Creek Special Road District, Position 1

| | | |
| --- | --- | --- |
| | | |
Panther Creek Special Road District, Position 3

| | | |
| --- | --- | --- |
| | | |
Starr Creek Special Road District, Position 2

| | | |
| --- | --- | --- |
| | | |
Surfland Special Road District, Position 2

| | | |
| --- | --- | --- |
| | | |
Westwood Village Special Road District, Position 1

| | | |
| --- | --- | --- |
| | | |
Westwood Village Special Road District, Position 2

| | | |
| --- | --- | --- |
| | | |
Westwood Village Special Road District, Position 3

| | | |
| --- | --- | --- |
| | | |
Cape Foulweather Sanitary District, Vote for Three

Mary Conser
Don Chapin
Kenneth L Hunt
Gleneden Beach Sanitary District, Vote for Three

Kent Stevens
Phillip Jensen
Gary Wakeman
Salishan Sanitary District, Position 1

| | | |
| --- | --- | --- |
| | | |
Salishan Sanitary District, Position 2

| | | |
| --- | --- | --- |
| | | |
Salishan Sanitary District, Position 3

| | | |
| --- | --- | --- |
| | | |
Siletz Keys Sanitary District, Position 4

| | | |
| --- | --- | --- |
| | | |
Siletz Keys Sanitary District, Position 5

| | | |
| --- | --- | --- |
| | | |
Measure 21-195 – City of Yachats – Measure proposing amendments to the City of Yachats Charter

| | | |
| --- | --- | --- |
| | | |
Measure 21-193 – Seal Rock Rural Fire Protection District – Five-year Local Option Levy to Hire Firefighters

| | | |
| --- | --- | --- |
| | | |
Measure 21-192 – Yachats Rural Fire Protection District – Renewal of local option tax for the Yachats RFPD

| | | |
| --- | --- | --- |
| | | |
Measure 21-194 – Bear Valley Special Road District – Ten-Year Capital Improvement Tax For Roads

| | | |
| --- | --- | --- |
| | | |