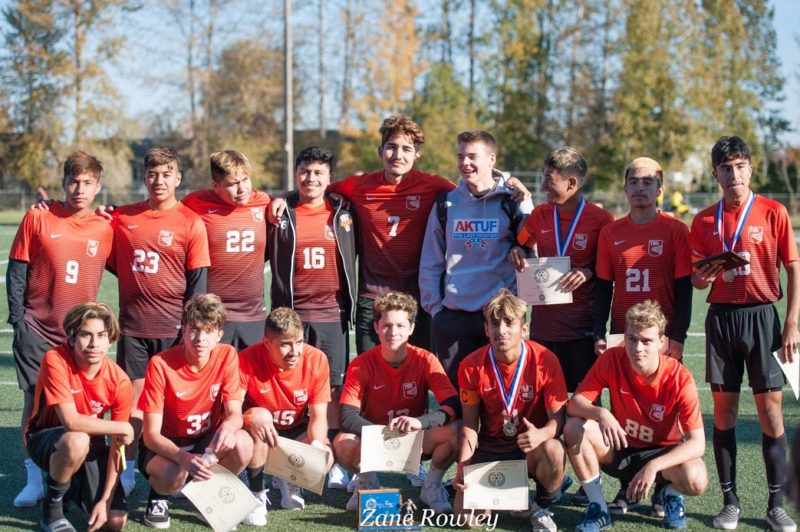 Hoping there's no place like home, Taft High will make its sixth straight appearance in the 16-team OSAA State Boys Soccer Championships with hopes of advancing into the semifinals or beyond for the first time in recent memory.
The unbeaten Class 3A/2A/1A Special District 2 champion Tigers — 15-0 overall and 14-0 in league play — have made numerous State tournament showings over the past several years and are counting on hometown support to initiate a path to the elusive Final Four.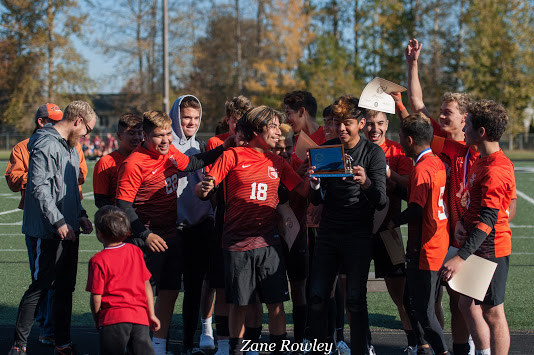 "We are all very much looking forward to beginning our route to State," SD2 Coach of the Year Ryan Ulicni said of Wednesday's 5 p.m. first-round match with Central Linn. "Knowing we will be hosting the first game is a great confidence boost."
Photos by Lon French and Zane Rowley
Season statistics — if not history — and a homefield berth at Voris Field indicate perhaps this is the year the Tigers will catapult into the State semifinals . . . or beyond.
Seeded fourth, Taft will enter the game having outscored its opposition 104-8 this season. The Cobras (8-3-4 overall, 6-2-4 Special District 3) have outscored their 15 opponents 47-30.
OSAA BOYS STATE SOCCER CHAMPIONSHIP BRACKET 
While Taft has developed a formidable program with extensive State tournament exposure under Ulnici and former coaches Ray Santos and Justin and Nicole James, it has suffered instant elimination with first-round ousters in three of the past five seasons and quarterfinal defeats in the other two years.
Seeded 15th, the Tigers lost 3-1 in the first round at Portland Adventist Academy in 2014;
Seeded 11th, they lost 4-0 in the first round at Riverside in 2015;
Seeded 10th, they defeated Creswell 2-1 on road in the first round, then lost 4-3 at No. 2 Portland Adventist in the second round in 2016;
Seeded second, they defeated Nyssa 7-0 at home in the first round, but lost 3-2 to Riverside at home in the quarterfinals in 2017;
Seeded 12th, they lost 3-2 at Riverside in the first round last season.
This year, the Tigers feature nine players who earned all-league distinction, led by league Player of the Year Edson Fuentes, the team's senior scoring leader.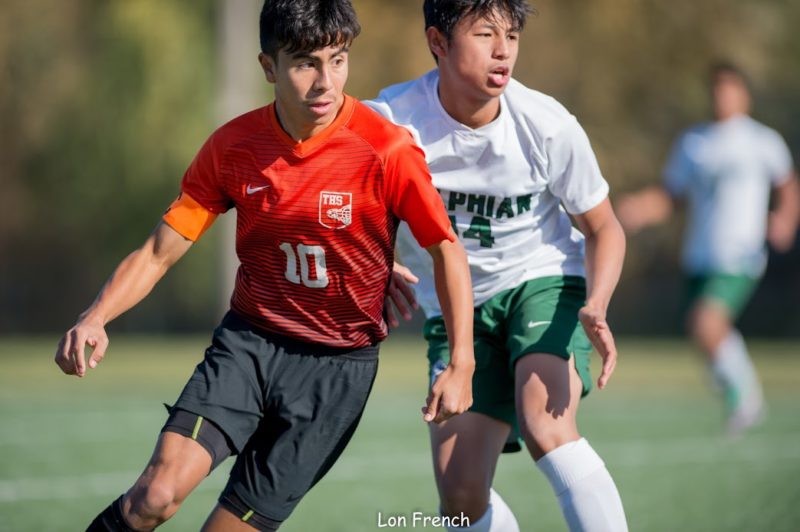 Juniors William Calderon and Jose Flores joined Fuentes on the league's first team, while senior Estib Hernandez, junior Alex Del Valle and sophomore Sam Cortes were second-team selections. Juniors Ivan Cortez, Mauricio Rivas and Ethan Thomas were honorable mention.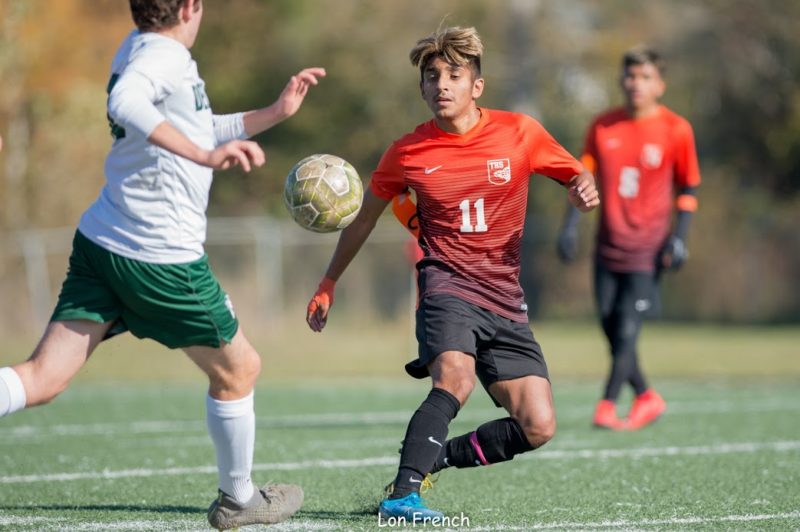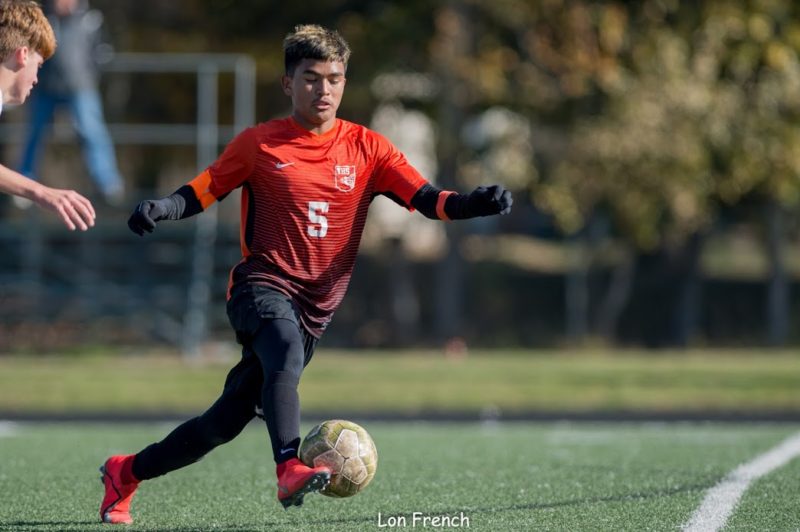 Wednesday's winner will play the winner of No. 12 Delphian at No. 5 Riverdale at an undetermined time and site Saturday, Nov. 9. Taft defeated Delphian 3-0 last Saturday to claim the SD2 title and round out its perfect regular and league postseason.
Perennial power Catlin Gabel is seeded first in the 16-team tournament, which concludes with the championship game Saturday, Nov. 16, at Liberty High School. Oregon Episcopal is seeded second, Brookings Harbor third and Taft fourth.
Catlin Gabel defeated Oregon Episopal 1-0 for last year's State championship.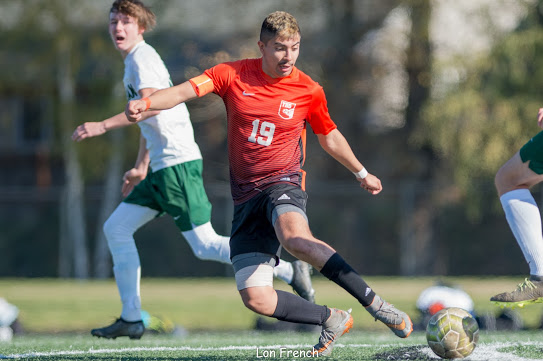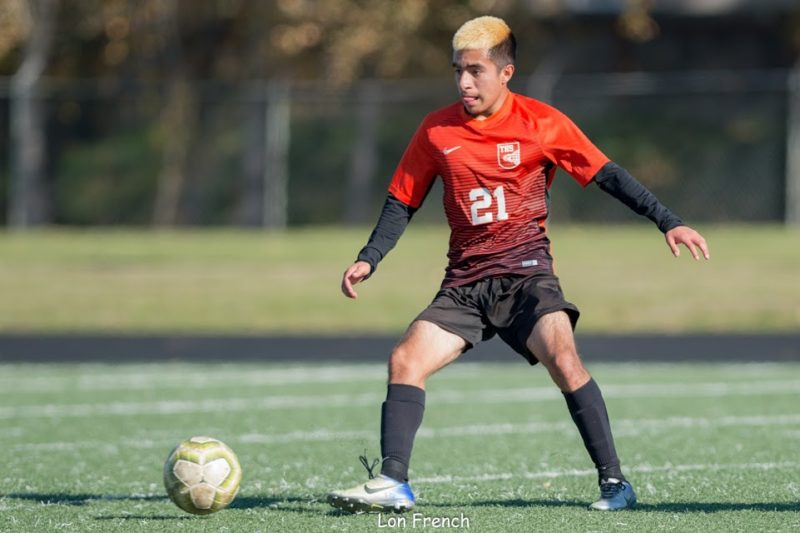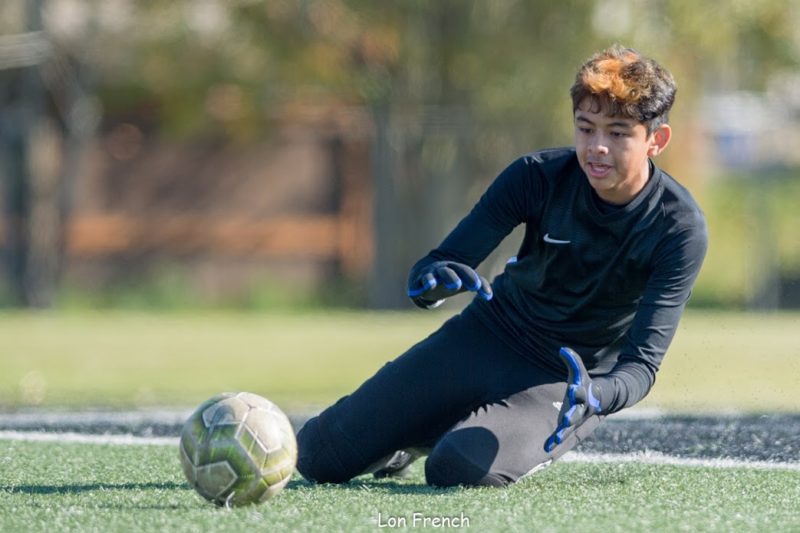 Class 3A/2A/1A Special District 2 Standings
GS=Goals Scored; GA=Goals Allowed

Tigers Roster
Coach: Ryan Ulicni
| No. | | Name | Position | Grade | |
| --- | --- | --- | --- | --- | --- |
| 00 | | Sam Cortes | GK/GK | 10 | |
| 0 | | Riley Ellis | GK/M | 10 | |
| 4 | | Ivan Cortez | D/D | 11 | |
| 5 | | Jose Flores | M/M | 11 | |
| 7 | | J.J. Lupercio | D/D | 10 | |
| 8 | | Kevin Acosta | M/M | 11 | |
| 9 | | Sammy Vasquez | F/M | 10 | |
| 10 | | Edson Fuentes | F/F | 12 | |
| 11 | | William Calderon | M/F | 11 | |
| 16 | | Joseph Cruz | M/M | 11 | |
| 19 | | Estib Hernandez | D/D | 12 | |
| 21 | | Alex Del Valle | M/D | 11 | |
| 22 | | Angel Islas | D/D | 10 | |
| 23 | | Adrian Moreno | D/D | 10 | |
| 29 | | Diego Gomez | M/F | 9 | |
| 33 | | Mauricio Rivas | M/M | 11 | |
| 50 | | Kaden Wright | M/M | 12 | |
| 88 | | Matias Vesma | M/F | 12 | |
Class 3A/2A/1A Special District 3 Standings

Cobras Roster
Coach: Hans Schneiter
| No. | | Name | Position | Grade | |
| --- | --- | --- | --- | --- | --- |
| 1 | | Cory Stutz | M | 11 | |
| 2 | | Wyatt Thompson | M | 11 | |
| 3 | | Bren Schneiter | M | 9 | |
| 4 | | Zach Leopard | D/F | 9 | |
| 5 | | Bryan Sedano | M | 9 | |
| 6 | | Toben Mast | D | 11 | |
| 7 | | Colton Running | F/D | 12 | |
| 8 | | Kaden Wolff | D | 10 | |
| 9 | | Santiago Figueroa | F | 9 | |
| 10 | | Best Boonnet | F/M | 11 | |
| 11 | | Ryan Rowland | M | 9 | |
| 12 | | Jake Baney | F/D | 11 | |
| 13 | | Waylon Logan | M | 12 | |
| 14 | | Anthony Romero | F/M | 9 | |
| 16 | | Jayden Lytle | D | 9 | |
| 18 | | J.C. Erickson | GK/D | 10 | |
| 19 | | Leo Horeauf | D | 11 | |
| 21 | | Gio Serna | D | 11 | |
| 22 | | Zaul Mendoza | D | 11 | |