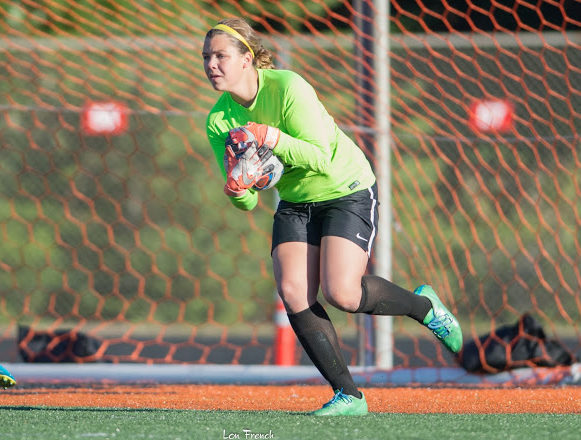 Calling it his team's most complete match of the season, Taft High Coach Joey Arce-Torres' girls soccer team played Dayton to a 1-1 league home tie Tuesday behind the stellar goalkeeping of sophomore Tristan Bradley.
"She had a big day and played as we expected her to perform all season," Arce-Torres said. "She had double-digit saves and made good decisions all evening."
Arce-Torres implemented a few changes defensively to provide more speed and assist senior sweeper Ana Ortiz with coverage against the state's 11th-ranked Pirates.
Freshmen Chloe Peterson and Jaelyn Olmeda joined the back line to assist seniors Ortiz and Lydia Prins, who will be making their home farewell at 4 p.m. Thursday against Western Christian/Perrydale.
"With that looming, we very much needed to groom some athletic kids to step into their roles next year," Arce-Torres said.
Junior Sammy Halferty scored midway through the first half for Taft's lone goal, which came from the right side on a pass from freshman Nicole Reyes.
"It is her favorite angle to shoot from and she caught all of it," Arce-Torres said.
Taft improved to 3-8-2 overall and 3-7-2 in Special District 2 play, while Dayton fell to 8-3-1, 8-3-1.
"Dayton was puzzled by our speed and tenacity of our midfielders," Arce-Torres said. "They kept trying to muscle us and knock us off the ball. Regardless on how many times they knocked us to the turf, we got up each time and wouldn't retreat."
Arce-Torres said he believed his team earned a measure of respect from the Pirates, who scored in the second half following some strong passing on the right side of the pitch.
"They were relentless and kept bringing numbers," he said. "The score came from a crowded box, our keeper couldn't see the shot, and it found its way into our goal.
"I was a little concerned after that goal that we may lose our confidence, but it didn't happen. Aubrey [Sciarrotta], Avery [Nightingale] and Sammy refocused and made sure Dayton wouldn't complete a comeback.
"It was a great team performance and one that will motivate us to do the necessary things needed to make the playoffs, as well as set the precedent for play next season."
Taft must win two of its next three matches to close out the regular season to have a shot at the playoffs, Arce-Torres said.
"I know we can do it, especially if we play as well as we did today," he said.
Taft hosts Western Christian at 4 p.m. Thursday in the home finale before facing Gervais and Amity on the road next week.