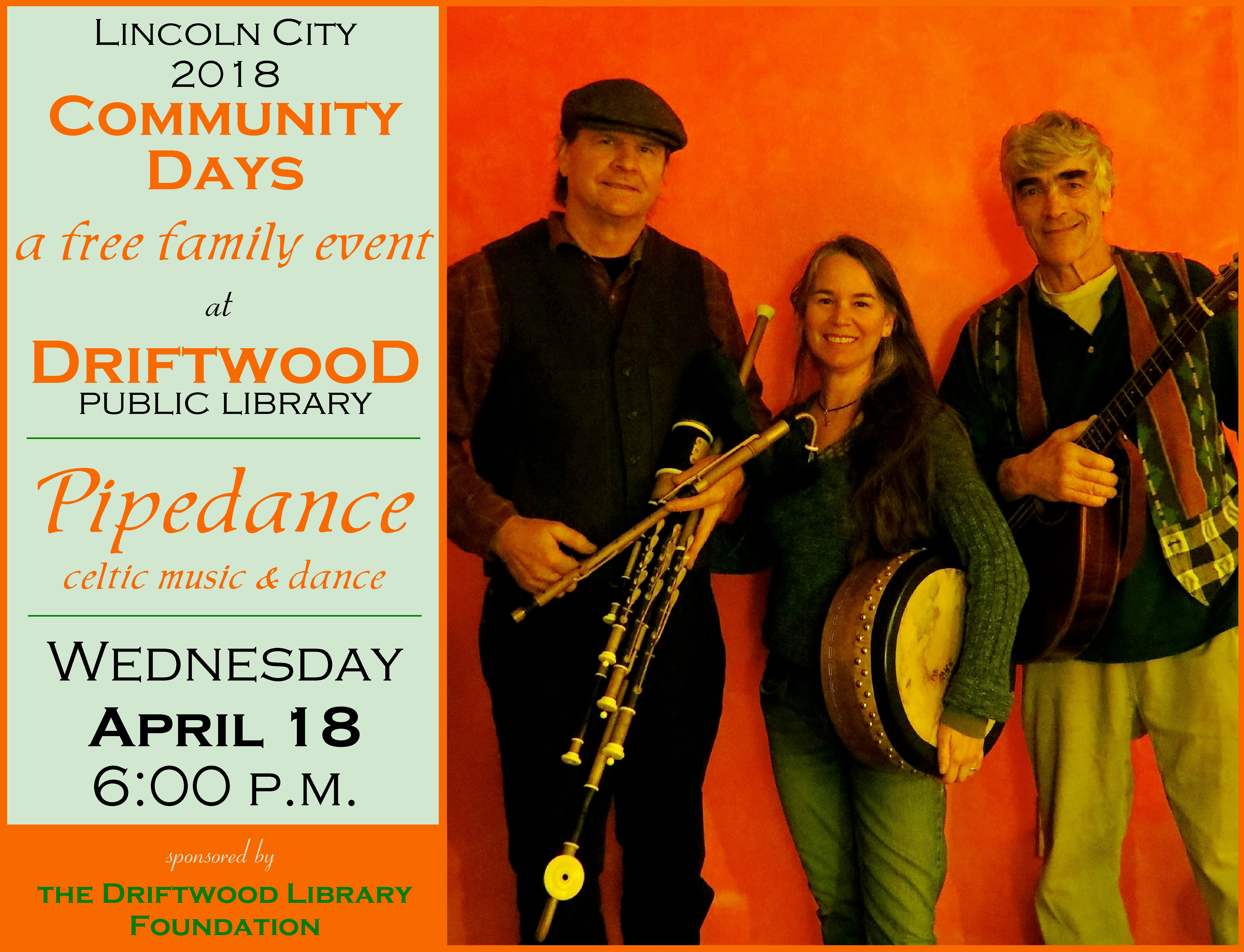 Lincoln City, OR – Driftwood Public Library will celebrate Community Days this year with a performance from local band Pipedance. The family program will begin at 6:00 p.m. on Wednesday, April 18th and all ages are invited to come listen, dance and enjoy the band's Celtic sounds.
Pipedance was formed out of a true love for Irish music and dance. The now Lincoln City, OR-based husband and wife team of Gary Burman and Nora Sherwood began to perform together in 2001. The duo's traditional sound is complemented by Nora's percussive sean nós dancing – this duo is not only fun to list to, they are fun to watch.
Gary Burman is a lifelong musician who plays uilleann pipes, guitar, flute and whistle, among many other instruments, and is also a balladeer. He is a craftsman who builds his own pipes and will be playing instruments he built himself.
Nora Sherwood is a retired champion Irish step dancer who ran an Irish dance school in Colorado before moving to Oregon. She plays whistle and bodhrán, and sings and dances in the traditional sean nós style. She was named Folk Musician of the Year at the Long's Peak Scottish/Irish Festival in 2008 for her sean nós singing.
Driftwood will also be announcing its 2018 Lincoln City Reads title at this program.
This concert is sponsored by the Driftwood Library Foundation and is free to all who wish to attend. Questions about the program may be directed to Ken Hobson at Driftwood Public Library: 541-996-1242 or [email protected]. Driftwood Public Library is located at 801 SW HWY 101 in Lincoln City on the 2nd floor of the City Hall building, across the street from Burger King and adjacent to McKay's Market.