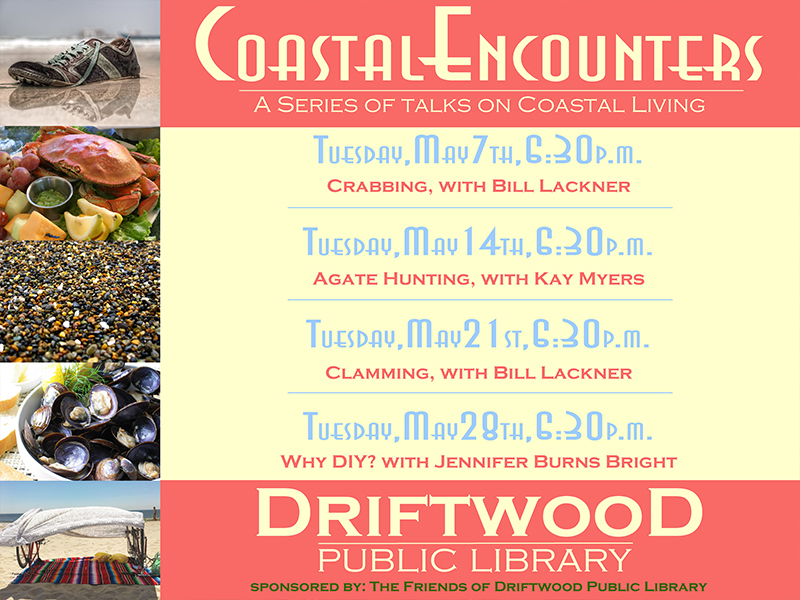 Driftwood Public Library will host the 14th year of its "Coastal Encounters" series of lectures this May.
Each year, the library invites a group of speakers and experts to present programs on their areas of interest. The presentations share a focus on coastal living, and presenters talk on a range of subjects from local history to activities both residents and visitors can enjoy on the Coast.
All presentations take place Tuesdays at 6:30 p.m..
Bill Lackner will visit the library on Tuesday, May 7, to speak about crabbing on the Coast. The crabbing presentation will be followed by a field trip to the north shore of Siletz Bay to go crabbing on Wednesday, May 8.
Lackner will return Tuesday, May 21, followed by a field trip to Siletz Bay to hunt purple varnish clams on Wednesday, May 22.
On Tuesday, May 14, Kay Myers, co-author of the perennially popular pocket guide Agates of the Oregon Coast: An Illustrated Guide of Information on Agates, Jasper, Fossils and Petrified Wood Commonly Found on the Oregon Coast, will discuss agate hunting on area beaches.
The series will conclude Tuesday, May 28, when Jennifer Burns Bright visits with her Oregon Humanities Conversation Project: Why DIY? Are we as self-sufficient as we can be? As we should be? What are the pleasures and pitfalls of doing it yourself?
Driftwood Library is located on the second floor of the Lincoln City Civic Center, 801 SW Highway 101 in Lincoln City.
For more information, contact Ken Hobson at 541-996-1242 or by email at [email protected].