PHOTOS AND VIDEO BY JUSTIN WERNER
Golf spelled backwards is flog, which means to beat repeatedly with a stick. Taft High players hope to refrain from the act as much as possible next week when they host the Class 3A/2A/1A Special District 2 Boys Golf Championships at Gleneden Beach.
At stake beginning at 10 a.m. Monday and Tuesday at Salishan Spa & Golf Resort will be a berth in the State finals, May 14-15 at Banks.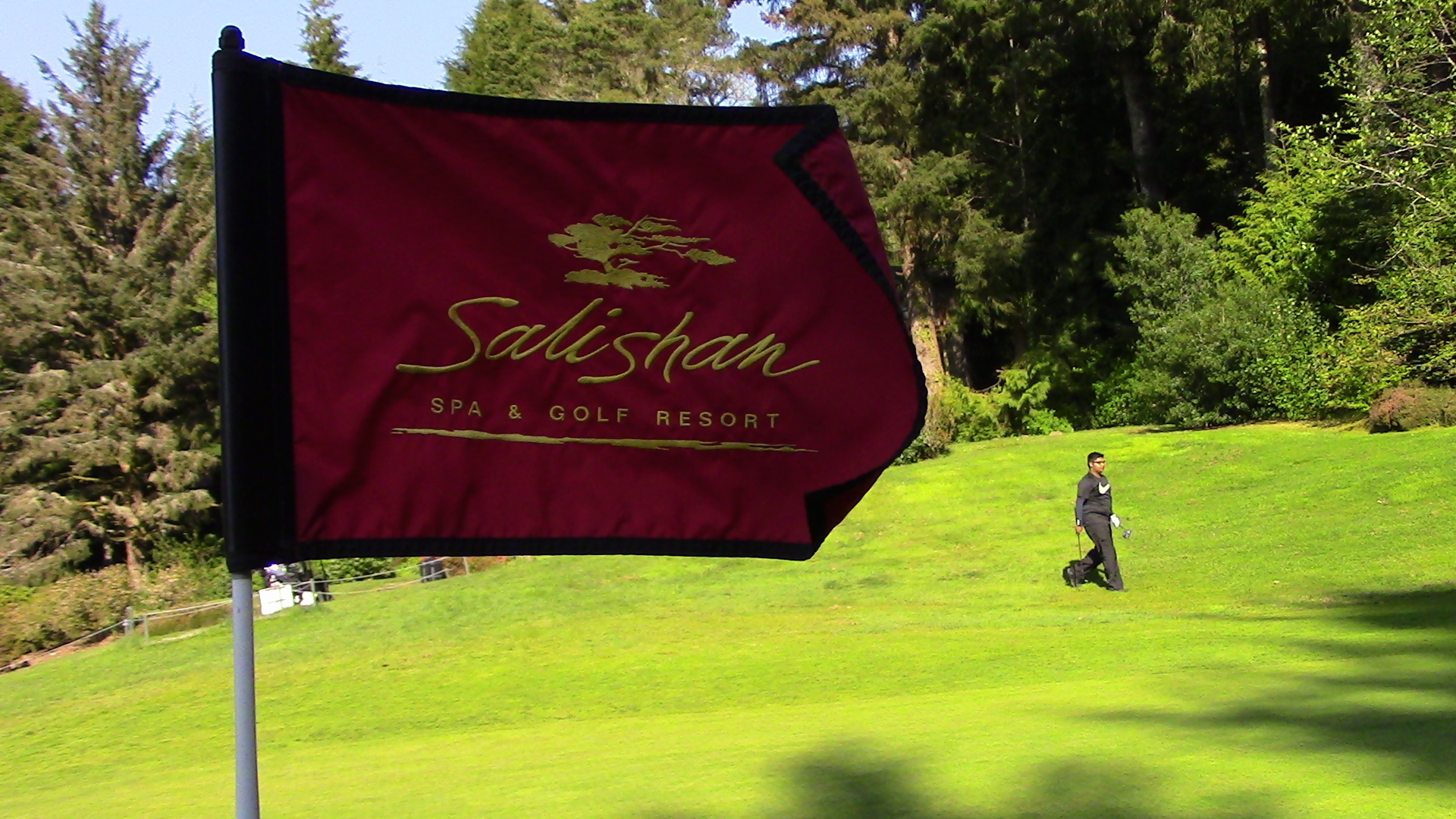 "A State championship is on the radar for the Tigers, but we will certainly be competing as an underdog, should we qualify for the tournament," first-year Taft coach Andy Morgan said. "I like our chances to finish the year strong."
The top three teams at Districts will advance to State at Quail Valley Golf Course. A five-player team total consists of the four lowest golfers' scores. The top five individual finishers automatically advance to State.
Taft, led by leading player Logan Merry, won one tournament and placed second in a couple of others this season. The Tigers will enter play in second place behind Blanchet Catholic in 11-team Special District 2 play.
"We began the year about 40 total team strokes behind the frontrunner and have narrowed that margin considerably," Morgan said."Taft will compete for a District Championship this year."
Morgan's squad has been bolstered over the course of the season by the improving play of its supporting players, who battle weekly to represent the team in various league and non-conference matches.
While Merry and senior Bonny Patel are firmly entrenched in the No. 1 and 2 positions, junior William Brooks and senior twin brothers Dawson and Ean Wood have solidified the lineup.
"Actually, our third, fourth, and fifth position have been achieving some personal-best scores lately," Morgan said. "William Brooks, Dawson Wood, and Ean Wood have served these respective positions well. These three have all improved their games by more than 10 strokes as we enter the last weeks of the season."
Merry, a junior, has played at No. 1 from Day 1 for the Tigers and is expected to lead the way for Taft while vying for District medalist honors.
"Logan has been our best individual golfer this year, and we expect some great rounds at the District championships," Morgan said.
Patel secured the second position early in the year and has routinely hovered around 90 each and every week, Morgan said.
"A serious competitor, Bonny likes to study the course and calculate each shot. He is constantly working on improvements in his game," Morgan said.
To prepare for next week's tournament, the Tigers spent three days last weekend golfing 18 holes per day at Tokatee Golf Course on the McKenzie River and at the Meadows Course in Sunriver.
"The schedule was grueling, as the team played through rain, hail, wind and otherwise very tough elements to mixed results." Morgan said. "The best thing besides the golf experience has been the team building and the endurance required to compete."
The 36-hole District tournament will have a neighborly feel for the Tigers, who practice at Salishan virtually daily and should benefit from local course knowledge on the 6,203-yard, par-72 layout.
"We will be playing on a familiar course following a season of top-three finishes at nearly every tournament," Morgan said. "We have a week ahead back home at Salishan, in which we will focus on polishing our details. . . . Taft will spend a short week back home working hard to fine-tune their game."