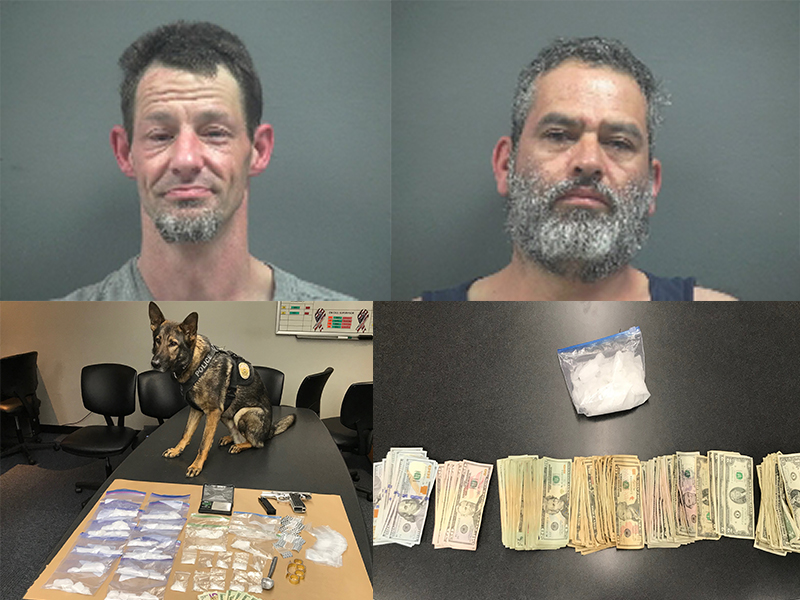 A specialized drug response team and a canine played a key role last week in the arrest of two Newport men following the discovery of a large amount of drugs, money and a weapon.
Following months of compiling evidence regarding the buying and selling of illegal narcotics, the Lincoln County's Street Crimes Response Team (SCRT) arrested Jason McNeely on Thursday, June 6.
A police report said the SCRT spotted McNeely driving and coordinated with the Newport Police K9 Team and conducted a traffic stop on his vehicle. Officers detained McNeely after finding a 9-millimeter pistol in his possession.
Newport Police Officer Hayden Randall and his canine partner, Nero, searched the vehicle and discovered methamphetamine, drug packaging materials, ammunition and a large amount of currency.
The SCRT took information from McNeely's arrest and identified Jose Guadalupe Gonzalez of Newport as a person of interest, obtained a warrant and searched Gonzalez's residence at about 11 p.m. on Saturday, June, 8.
During the search, officers found two pounds of methamphetamine, digital scales, packaging material and currency. Two minor children were also at home.
McNeely was lodged at the Lincoln County Jail for delivery, possession and manufacturing of methamphetamine, felon in possession of a firearm and a restricted weapon. His bail was set at $500,000.
Gonzalez was lodged at the Lincoln County Jail for delivery, possession and manufacturing of methamphetamine. His bail was set at $750,000. An investigation also continues into child neglect.
The SCRT is a newly developed team designed to augment the Patrol Division. It specializes in the handling of community impact crimes such as narcotics investigations.
The SCRT is made up of members of the Newport Police and the Lincoln City Police departments and often obtains assistance from the Toledo Police Department and Lincoln County Sheriffs Office.
The Newport Police Department encourages citizens to report any suspicious activity. The Tip Line is available at 541-574-5455, or Text-a-Tip at 541-270-1856 or [email protected].