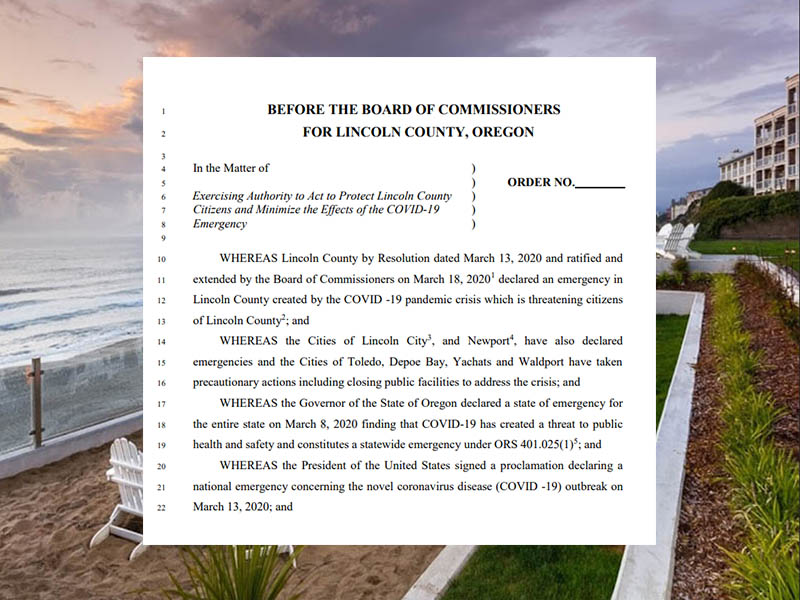 FINAL UPDATE 7:28 p.m. 3/23: City Manager Ron Chandler read the order aloud on the City's live stream during Monday night's City Council meeting.
Chandler said the cost for one month of lost transient room tax due to closures would be $900,000.
Lincoln City Mayor Dick Anderson said the City has barricaded beach access points, making it "unattractive" to any who see it. Chandler said the Oregon State Parks and Recreation Department barricaded D River Wayside and Roads End state parks.
Councilors Diana Hinton and Judy Casper voted along with the mayor at the meeting to ratify the order, with councilors Mitch Parsons Riley Hoagland, Diane Kusz, and Rick Mark voting unanimously via telephone.
Anderson apologized to his citizens for the appearance of not acting fast enough. He said there were many proposed fixes for the problem but Lincoln County ultimately took the lead.
Hinton thanked Anderson and Chandler for all the work they had done in previous days leading up to the order.
Casper said "this was a good wake up call for all of us," and expressed concern for the information disconnect between the City and getting information out. She called on the City's information technology department for a fix.
Chandler said City bathrooms with attached parking would remain closed. Bathrooms near businesses could be left open, he said. He said keeping bathrooms closed would help keep "day-trippers" away. Anderson said truckers would need a place to go to the bathroom. Chandler said bathrooms close at night and that practice would stay the same no matter what the City decides to do with bathrooms. Hoagland disagreed with closing the bathrooms, saying locals might need to use them, as well as the homeless population.
After a lengthy discussion, public restrooms will remain open in a limited capacity to be determined. Most likely it will be bathrooms the City maintains at beach access points, but not at parks declared closed.
Hinton said she was inundated by communications from the public with suggestions and comments. Of note was that one grocery store was following best practices and others were not. She also said the financial impact was concerning.
Chandler said the Chamber of Commerce requested there should be payments to businesses affected by the emergency and suggested the City Council look at it at a future meeting. Anderson said planning the recovery should be addressed.
Hoagland asked if the old Samaritan North Lincoln Hospital could be used to increase bed capacity.
The order has been ratified and will take effect tomorrow.
This concludes our live updates.
————————————————————————————————–
Lincoln City will join other cities in Lincoln County who have been working to draft a joint declaration ordering lodging to close.
Lincoln City, Newport, Toledo, Depoe Bay, Yachats and Waldport have already taken precautionary measures to prevent the spread of COVID-19 that includes closing public facilities.
Numerous public and private health officials in the State of Oregon have called for more stringent and aggressive social distancing measures because voluntary actions have gone unheeded.
In a news release from the City of Lincoln City, the City said it has been working with the Lincoln County Board of Commissioners and the other cities to draft a joint declaration, ordering the closure of:
Vacation rentals
Short term rentals
homestay lodgings
Hotels
Motels
RV parks
Private campgrounds
The order outlines some exceptions:
All hotels and motels, RV Parks and Private Campgrounds and similar lodgings or housing not identified above are closed to short term rentals of less than 30 days except as follows:
Stays for 30 days or longer are allowed.
Local county residents effecting a COVID-19 self-quarantine or who have moved from their local residence in order to allow a family member or roommate to self- quarantine in their local residence.
Families or individuals residing in lodging for less than 30 days if this is their only means of shelter. Includes, but is not limited to, vouchers for stay provided by local or regional governments or nonprofit agencies.
Employees of the facility provided lodging as a requirement or benefit of their employment.
Patients or families of patients receiving medical care at local facilities.
Essential workers, including but not limited to doctors, nurses, other health staff, home and health care workers, Coast Guard members, truck drivers and supply providers, workers in the county whose employer pays for lodging, construction workers on local projects (including public contractors), utility crews, and other persons whose work in the county requires temporary accommodations.
Other persons or categories of people who City managers or County Counsel deem consistent with the intent of this Order, after consultation with the Local Public Health Administrator.
All pools, spas and other public bathing facilities are closed at lodging properties.
The news should be welcome to scores of coastal citizens who decried the influx of "COVID-19 refugees and tourists" who descended upon the Oregon Coast over the last week.
Homepage reached out to Lincoln City Mayor Dick Anderson Sunday to find out what the City was doing to protect citizens. He responded the same day with:
"Justin, Call with Governor is over. She took input and suggestions. Not sure what her revised stance will be. Lincoln County and the separate Lincoln County Cities are trying to coordinate a message and position that is consistent. More to come. Fast moving. Dick."
Lincoln City City Manager Ron Chandler has advised Lincoln County that Lincoln City concurs with the draft order. The City Council will meet electronically at 6 p.m. tonight to ratify.
Chandler said representatives from Lincoln County and the other cities will meet electronically at 8 p.m. to provide further information.