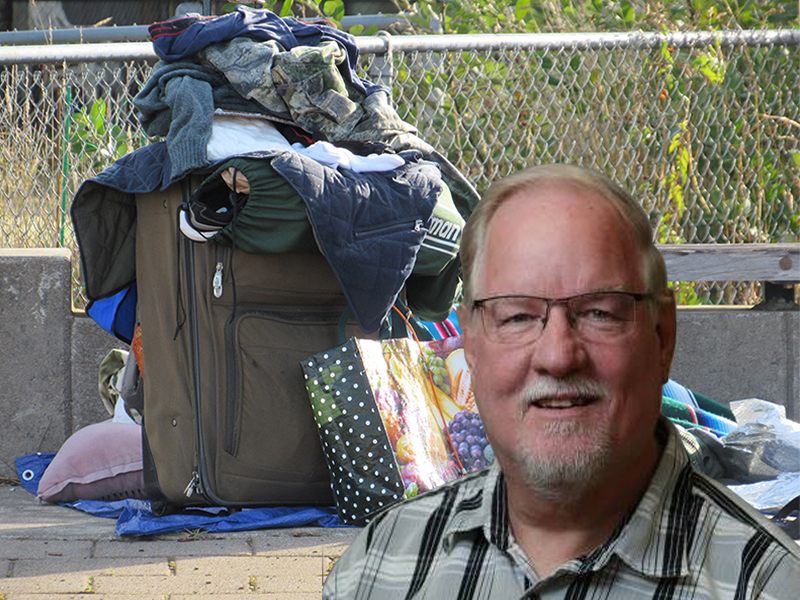 Lincoln City's plan to bus its homeless to a Newport warming shelter was not communicated to the Newport City Council, Newport Mayor-elect Dean Sawyer said Tuesday.
"This whole thing blindsided us," Sawyer said of Lincoln City City Manager Ron Chandler's arrangement with Grace Wins Haven in Newport to house North County homeless overnight on a temporary basis. "Our City Council never heard of this. I wish Lincoln City would have contacted us earlier in the process so we could have gone over the logistics."
Sawyer said Chandler spoke Tuesday morning with Newport City Manager Spencer Nebel and told him, "The plan is dead in the water."
On Tuesday afternoon, Chandler told Homepage, "The Warming Shelter LLC isn't interested in pursuing this so it's not going anywhere. There's no story in this other than the City was trying to help the Warming Shelter find a temporary solution, but they weren't interested."
In an email thread late last week between Chandler and Lincoln City Warming Shelter President Patrick Alexander obtained by Homepage, Chandler said:
"Dear Patrick: I'm pleased to inform you that I've made arrangements with Traci Flowers of Grace Wins Haven in Newport and the County to house those in Lincoln City needing temporary, overnight housing at the Grace Wins Haven facility in the County Fairgrounds. Traci said that she will need volunteers from your organization to assist when Lincoln City patrons are there and that we transport the patrons back to Lincoln City the next day. . . ."
Chandler went on to inform Alexander he had reached an agreement with Lincoln County Transit to purchase vouchers to transport patrons to Newport.
After learning of the arrangement, Alexander said busing his clients to Newport could only be considered as a "short-term stopgap measure" while a local shelter site is worked out.
Flowers told Homepage on Monday that her shelter at the County Fairgrounds was dropping its arrangement with Chandler, saying, "I'm not going to be a part of this unless the City is behind it."
Since Homepage's initial report Sunday, citizens from throughout Lincoln County have widely spoken out against such a plan, citing freezing temperatures as unsafe for travel and concerns about where homeless would store their belongings and pets, among numerous other considerations, such as getting clients back for work or job interviews.
Sawyer said he was surprised to learn of Lincoln City's plans to bus its homeless to his city through Homepage.
"I thought Lincoln City had a warming shelter figured out," he said.
Sawyer said Grace Wins Haven has been doing a great job serving Newport's homeless population, and that its leader, Flowers, has a "huge heart." He said it's difficult to keep volunteers working long hours to help the homeless.
"Finding people to work at 3 a.m. is a difficult task," he said. "Working with the homeless can be difficult at times, and keeping volunteers can prove challenging."
Sawyer said the homeless do not possess modern society's use of communication tools such as Facebook, email and smartphones to alert the public to changes in services and how to obtain them.
"If you are changing the location on the homeless, it's hard to get the word out to them," he said. "A coordinated effort needs to be made to create one place to get what you need, not 16 different places."
The League of Oregon Cities provides an opportunity quarterly each year for city officials to network and discuss common issues and solutions, he said.
"League of Oregon Cities talks about problems like homelessness," Sawyer said. "A couple councilors from Lincoln City and myself recently attended one of the meetings and they never said anything about problems with their warming shelter."
Preparing a strategy and experimenting with new ideas could help tackle homelessness, he said.
Sawyer said plans are in the works to create a committee or "task force" on homelessness in about a month that will be composed of Flowers, local businesses and citizens. Anyone interested in joining the committee is invited to apply on Newport's website.
"Every city has the same problems," he said. "We all have to try things and share our successes and failures."
Chandler has scheduled a meeting at 6 o'clock tonight (Tuesday) at the Driftwood Public Library, and 5:30 p.m. Wednesday at the North Lincoln County Historical Museum to discuss the homeless issue.
HOMEPAGE'S EARLIER COVERAGE
Plans made to bus Lincoln City homeless to Newport for temporary shelter
Resistance to homeless busing plan leads to Newport shelter's withdrawal