PHOTOS BY LON FRENCH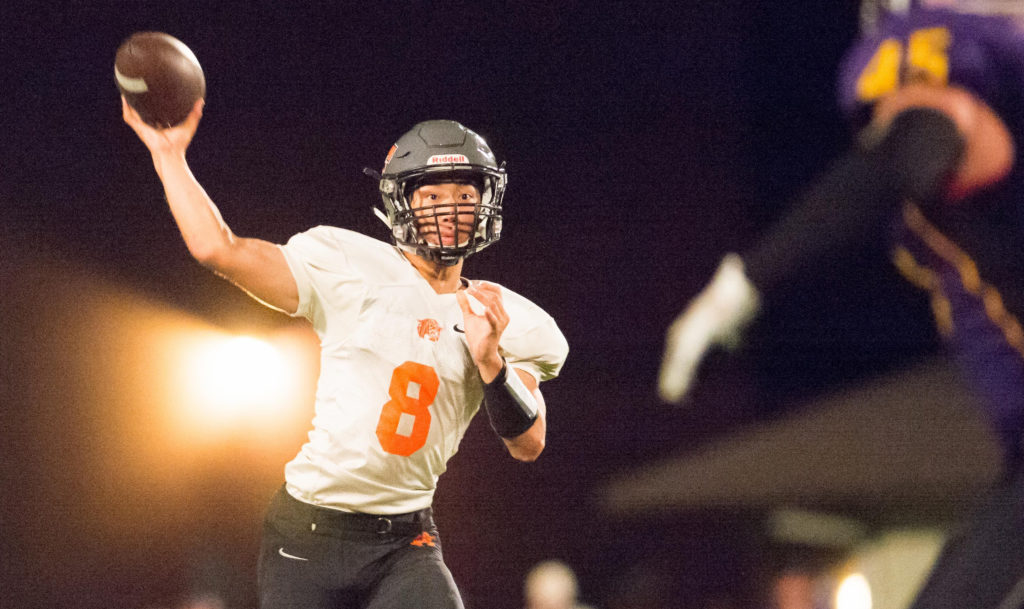 While his defense probably felt like it was drinking from a fire hose, there was plenty for Taft head coach Jake Tolan to build on Friday following the Tigers' lopsided road defeat to powerhouse Harrisburg to open the 2018 high school football season.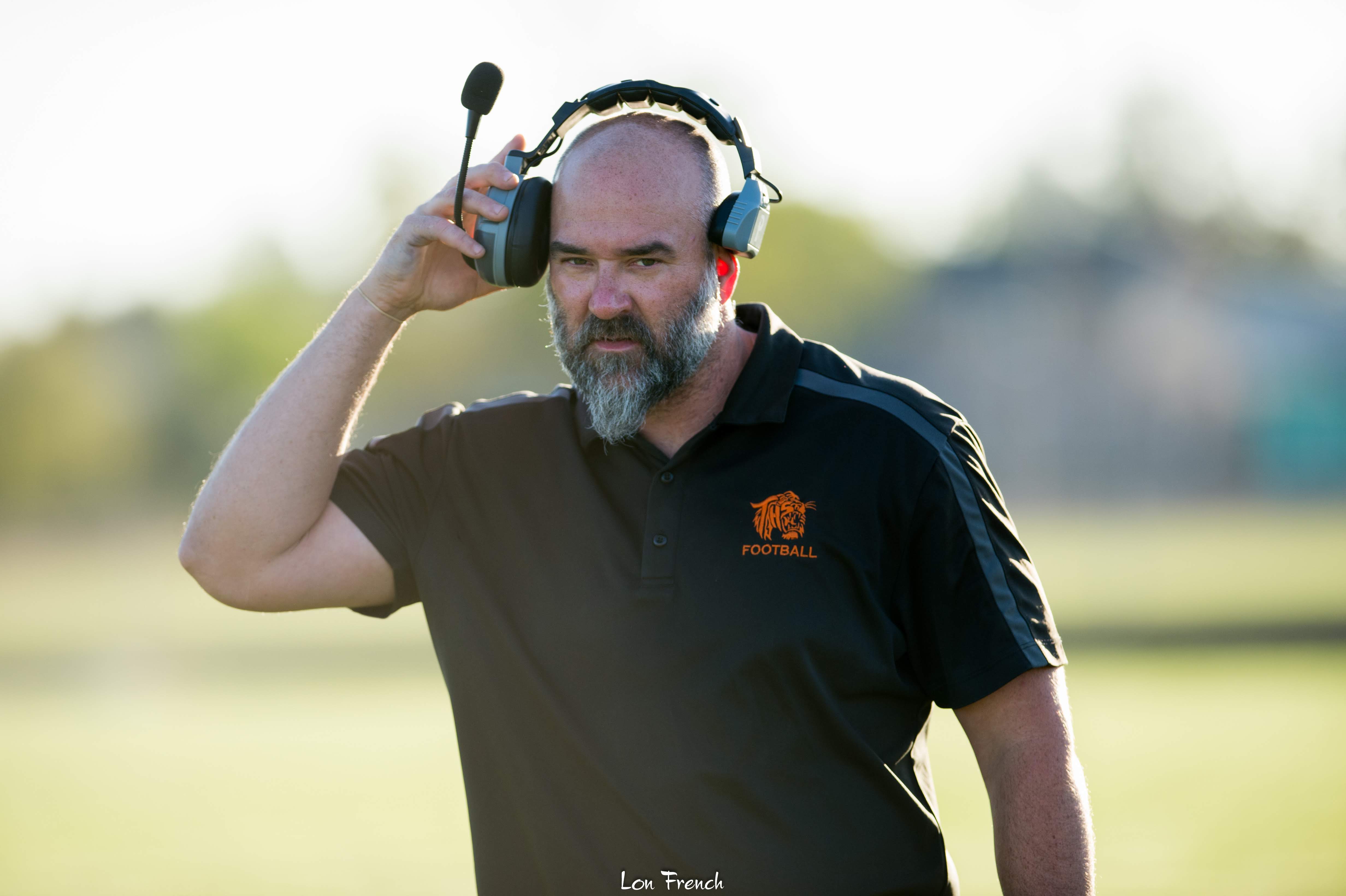 While the run-happy Eagles rolled to 35 unanswered first-half points and a 60-29 season-opening victory, Taft senior quarterback David Jin threw for four touchdowns to three different receivers to inspire a dedicated and determined effort from a team that went 2-7 overall and 0-5 in Class 3A West Valley League play last season.
"David Jin showed some really good things out on the field tonight," Tolan said. "He made good decisions with the ball and had some key runs."
And passes.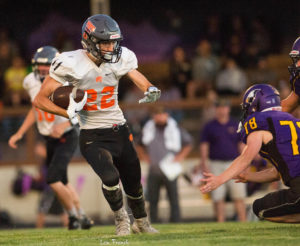 Sophomore wideout Fco Ramos was on the receiving end of two touchdown tosses from Jin, while senior Tyee Fisher and sophomore JJ French caught one each to help the Tigers slice the final margin in half.
"Our kids did a lot of things well tonight, and showed some huge improvement in comparison to last season," Tolan said. "We will go into next week, look at the film and see how we can all get better."
Improvement will start with conditioning, Tolan said.
"Harrisburg is a big, physical team that just wore my kids down," he said. "I liked how we came out in the first quarter and competed. We were able to play right with them, but towards the end of the first, and in the second quarter, our kids started to get tired, and that's when Harrisburg started to get big plays in their running game."
Senior quarterback Jonathon Lettkeman scored five touchdowns, and junior running back Gabe Knox led a virtually unstoppable ground attack for the Eagles, who won the Class 3A State title just two seasons ago and have made five straight appearances in the State quarterfinals or better.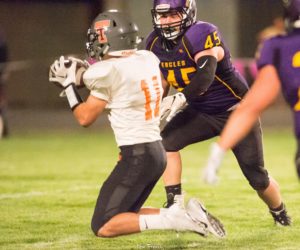 Taft committed just one turnover and Jin ran for big gains at key moments during the Tigers' most meaningful drives. The first came when Ramos caught a 5-yard throw following an 18-yard gain by Jin just before halftime.
Jin and Ramos teamed up again from 14 yards out for the Tigers' second touchdown to make it 35-13 just inside the 10-minute mark of the third quarter.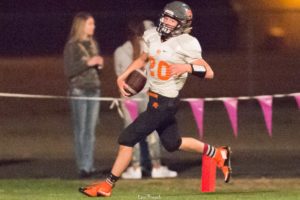 Two 15-yard penalties helped Taft move downfield midway through the fourth quarter before Jin hit Fisher for a 16-yard score.
French then scampered 40 yards for a TD on a swing pass to finalize the Tigers' scoring.
Tolan said his team will hit the weights and resume conditioning Monday in preparation for its home opener, Friday, Sept. 7, against Sutherlin at Voris Field.
The Bulldogs of the Class 3A Far West League defeated Class 4A Skyline Conference member Hidden Valley 16-13 Friday on the road. Sutherlin went 4-6, 1-4 in the Class 4A Sky-Em Conference last season.
Class 3A Special District 1 Standings
Taft Schedule
All games 7 p.m.
8/31 @ Harrisburg, L 60-29
9/21 vs. Yamhill-Carlton
*Denotes league game
Taft Roster
| | | | | | | |
| --- | --- | --- | --- | --- | --- | --- |
| No. | | Name | Position | Grade | Height | |
| 2 | | Logan McLendon | WR/DB | 12 | 5-8 | |
| 3 | | Kaden Hindman | WR/S | 9 | 5-9 | |
| 4 | | Devon Lindquist | WR/S | 12 | 5-10 | |
| 6 | | Zane Rowley | WR/DB | 10 | 5-4 | |
| 7 | | Chris Lopez | WR/DB | 12 | 5-9 | |
| 8 | | David Jin | QB/DB | 12 | 5-10 | |
| 9 | | Kameron Kessler | WR/S | 12 | 6-1 | |
| 11 | | Fco Ramos | WR/DB | 10 | 5-7 | |
| 14 | | Tristan Beach | WR/DB | 11 | 5-10 | |
| 15 | | Connor Bailey | WR/DB | 11 | 5-10 | |
| 16 | | Darius Smith | WR/DB | 10 | 5-9 | |
| 19 | | Antonio Suarez | QB/LB | 10 | 5-10 | |
| 20 | | JJ French | RB/LB | 10 | 5-10 | |
| 22 | | Tyee Fisher | WR/S | 12 | 6-5 | |
| 23 | | Clay Nelson | WR/LB | 12 | 6-0 | |
| 24 | | Trenton Hall | WR/LB | 11 | 5-9 | |
| 25 | | Kaden White | WR/DB | 9 | 5-7 | |
| 28 | | Logan Gilleo | RB/LB | 11 | 6-0 | |
| 50 | | Dylan Rodriguez | OL/DL | 9 | 5-8 | |
| 53 | | Micah Davis | OL/DE | 11 | 5-10 | |
| 54 | | Eriq Aquino | OL/DL | 12 | 6-1 | |
| 55 | | Elin Fitch | OL/DE | 11 | 6-3 | |
| 56 | | Malachi LaFrenz | OL/DL | 12 | 6-2 | |
| 57 | | Jace Phippen | OL/DL | 11 | 5-10 | |
| 60 | | Chris Byrum | OL/DL | 12 | 5-8 | |
| 61 | | Victor Carrasco | C/DE | 12 | 6-2 | |
| 62 | | Brendan Welch | OL/DL | 10 | 5-9 | |
| 66 | | Tyrese Hellman | OL/DL | 11 | 6-1 | |
| 70 | | Josiah LaFrenz | OL/DL | 10 | 6-3 | |
| 74 | | Sebastian Welch | OL/DL | 10 | 5-9 | |
| 75 | | Dakota Steen | OL/DL | 9 | 6-0 | |
Harrisburg Roster
| | | | | | | |
| --- | --- | --- | --- | --- | --- | --- |
| No. | | Name | Position | Grade | Height | Weight |
| 2 | | Spencer Gaines | WR/DB | 11 | 6-1 | 160 |
| 8 | | Dax Bennett | QB/LB | 12 | 5-11 | 190 |
| 11 | | Chandler Strauss | QB/LB | 10 | 6-2 | 185 |
| 12 | | Jonathon Lettkeman | QB/DB | 11 | 6-0 | 180 |
| 15 | | Riley Suttles | WR/DB | 12 | 5-9 | 155 |
| 20 | | Jimmy Holland | WR/DB | 11 | 5-8 | 150 |
| 21 | | Tristan Harris | WR/LB | 12 | 5-10 | 180 |
| 22 | | Joel Warren | WR/DB | 9 | 6-0 | 150 |
| 24 | | Gabe Knox | RB/LB | 11 | 5-9 | 200 |
| 31 | | Russell Talmadge | WR/DB | 10 | 5-8 | 145 |
| 45 | | Devin Nelson | RB/LB | 12 | 5-11 | 210 |
| 46 | | Jonathan Lettkeman | RB/LB | 11 | 6-0 | 170 |
| 50 | | Joan Tapia | OL/DL | 11 | 5-11 | 180 |
| 54 | | Wyatt Perry | OL/DL | 11 | 6-2 | 235 |
| 55 | | Britt Murray | OL/DL | 9 | 6-3 | 160 |
| 62 | | Leithan Briggs | OL/DL | 11 | 6-0 | 200 |
| 63 | | Brennan Erickson | OL/DL | 12 | 5-10 | 180 |
| 65 | | Vincente Velazquez | OL/DL | 9 | 5-7 | 160 |
| 67 | | Jackson Saunders | OL/DL | 9 | 5-8 | 170 |
| 71 | | Elijah Pate | OL/DL | 12 | 6-0 | 225 |
| 74 | | Josh Nasshahn | OL/DL | 12 | 6-1 | 210 |
| 78 | | Brynden Bevins | OL/DL | 12 | 5-10 | 160 |
| 79 | | Kaden Eastman | OL/DL | 9 | 6-0 | 170 |
| 82 | | Paul McNulty | WR/DB | 11 | 5-10 | 140 |
| 88 | | Trenton Kirchoff | WR/DB | 9 | 5-5 | 110 |
| 89 | | Josh Harris | WR/DB | 9 | 5-6 | 120 |