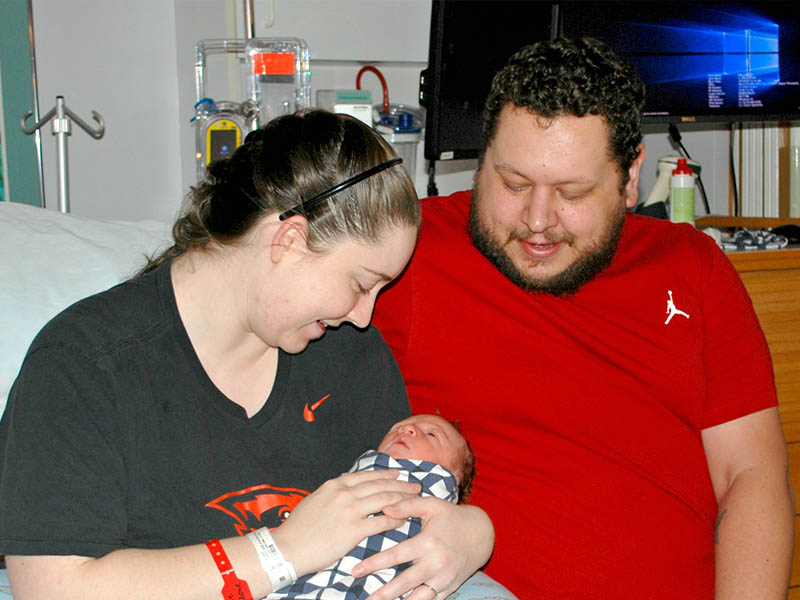 Every newborn is special, but tradition gives more emphasis on the first baby of the new year. At Samaritan North Lincoln Hospital, the first baby born in 2020 was Hudson Kai Canchola, who arrived at 10:41 p.m. on Wednesday, Jan. 1. He weighed 6 pounds, 7 ounces at birth and was 19.5 inches long.
Parents Tori Clark and Ashton Canchola said their new son's middle name means "ocean" in the Hawaiian language. He will be welcomed to his Neotsu home by older brother Gabriel, who turns 4 years old in March.
Dr. Meredith Mann assisted in the delivery, which came very quickly, Clark said. She labored for just a few hours and the delivery took a matter of minutes. Her first child also was in a hurry to see the world, but baby boy number two was even quicker, Canchola said, laughing.
Clark has been an emergency department technician at Samaritan North Lincoln Hospital for the past two years while Canchola works at Kenny's IGA, his family's business in Lincoln City.
Keeping with tradition, a large gift basket was presented by Leslie James, development specialist for the North Lincoln Hospital Foundation to the family. It included such things as stuffed animals, baby blankets, baby comb and brush, Binky Buddy, burp cloths, and more.
Another present, given by Sherri Nordyke on behalf of her non-profit organization, Clara's Closet, was a "baby shower in a box" – diapers, wipes, infant development toy, book, pacifiers, Lovey animal blanket, baby hygiene kit, hand-knit sweater and hat, hand-knit blanket, blanket, receiving blankets, bibs, burp cloths, Halo SleepSack, newborn clothing, thermometer and infant safety kit.
In addition, this year's new year baby received a plush commemorative baby blanket embroidered and donated by Oregon Corrections Enterprises (OCE), which is now doing laundry service for the hospital. Included with the gift were heartfelt notes from the women who helped make the blanket. The following are just a few of the thoughtful sentiments:
"My heart was filled with joy and hope for the newborns and their families. Wishing them a life full of love and happiness!" – Suzanne
"Even though I don't have children, I know what a blessing a baby can be. I loved that I played a part in making memorable keepsake blankets for someone's precious new arrival." – Rebecca
"It brings me joy to make these baby blankets, to give the newborns a little bit of love. It reminds me of my own children and grandchildren, and I love making new families happy."- Rosa