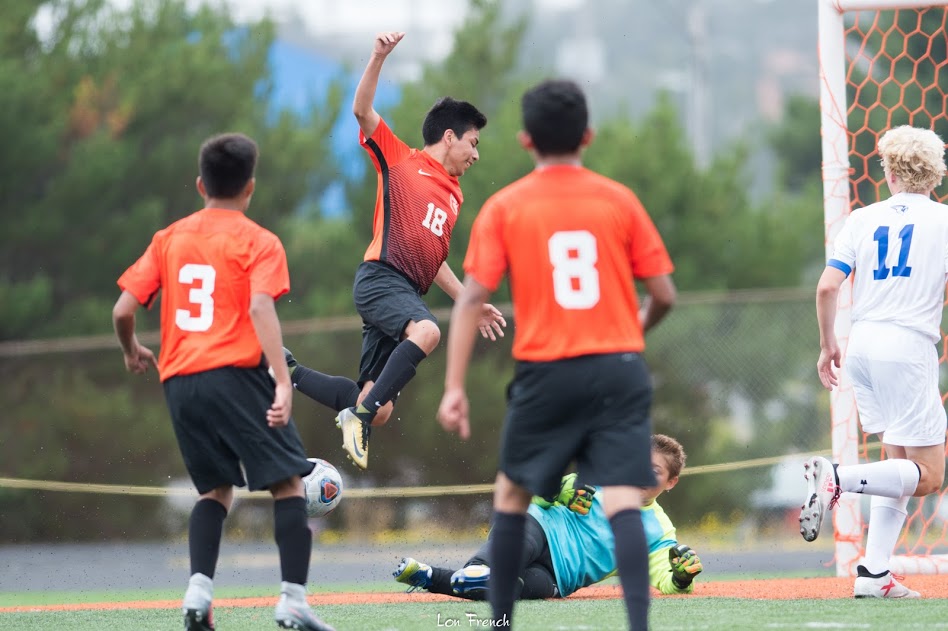 Sutherlin High stepped down in class from 4A to 3A with mixed results Thursday, losing to Taft in boys play, but winning in girls action in season-opening soccer matches at Voris Field.
The Taft boys deployed heavy offensive artillery in defeating Sutherlin 9-1 after building a 6-0 halftime lead, but the Bulldogs defeated the Tigers 6-1 in girls play.
Despite the rout, Taft boys coach RYan Ulicni identified several areas his team will work on as it prepares for its league opener Tuesday at Salem Academy.
"Sutherlin had a great defensive setup, which made it difficult to find our way through," he said. "Their control and distribution from the back to their midfield caused us some problems in the beginning."
Frequent substitutions and increased communication kept the Bulldogs on the defensive, the first-year coach said.
"I'm not the coach that will be loud from the sidelines. If something needs to be adjusted, I feel that a simple substitution can work. The players on the bench are just as important as the ones starting. I've also left it to the players to fix it on the field with communication, which they did."
Despite being the season opener, the Tigers benefited from the breakneck speed of the game, he said.
"Not only did these young men play with aggressiveness and speed, they also managed to control the pace of the game, which was a very fast pace" he said. "Our team does not have much in the way of height, but they more than make up for that in speed and heart. Their no-quit attitude all the way to that last minute was fantastic. Nobody could ask for more."
Ulicni warned not to be misled by the final score or the level of the competition, that all of his team's goals were earned.
"I know that some will look at the scoreline and say it was a blowout," he said. "Some might say, 'Well, it's nothing newer than last year.' I think everyone expected us to walk away with a win. What they might not be seeing is the change in the 'quality of goals.' I don't believe any of those goals were a lucky break or a fortunate bounce. They earned every goal and every shot. This game was all theirs. I'm just glad to be a part of it."
Sutherlin was playing for the first time since joining the Class 3A Far West League this season after competing in the Class 4A Sky-Em Conference last year. The Bulldogs boys team went 1-12-1 overall and 0-9-1 in league last season, while the girls placed second at 8-5-2, 6-2-2.
The girls team didn't learn it would be playing Thursday until late Wednesday morning when Sutherlin was announced as a late replacement for Portland Christian, which only had nine girls.
"Sutherlin had some talent," said Taft girls coach Joey Arce-Torres.
The Bulldogs took a 2-0 halftime lead before junior Ella Knott notched the Tigers' only goal from a corner kick early in the second half.
"We missed a couple of opportunities and gave up an own-goal," Arce-Torres said of the first-half deficit. "We had the momentum and many scoring opportunities [to start the second half], but failed to capitalize when we had them on their heels."
Taft's fourth-year head coach said seniors Melody Diggs and Lydia Prins and junior Fatima Lupercio put forth solid defensive efforts.
"It was a big learning experience for us before we start conference play [Tuesday at Salem Academy/Crosshill Christian]," he said. "Sutherlin was just too physical and too organized for us today. We will lick our wounds and come out battling on Tuesday."
Arce-Torres said he was extremely appreciative of the program's fan base, which gathered early to watch the boys endowment game prior to his team's opener.
Taft Boys Roster
POSITION – NAME – GRADE
D Genaro Flores  12
D Jacob Mayoral  12
GK William Brooks  12
D Abayomi Estib Hernandez-Melo  11
F Edson Fuentes  11
M Kaden Wright  11
M Adam Lasanco  10
F Alex Del Valle  10
D Ivan Cortez  10
M Jose Flores  10
M Joseph Cruz  10
D Joseph Kavadas  10
M Kevin Acosta-Lopez  10
D Logan Christianson  10
M Mauricio Rivas  10
M Rafa Perez  10
M William Calderon  10
M Adrian Garcia  9
D Angel Islas  9
D Brock Maiden  9
M Caleb Riah Cortes  9
GK Christofer Ochoa  9
D Ethan Thomas  9
D Ethan Unruh  9
GK Ian Loney  9
D Jeff Nunes  9
D Juan-Jose Lupercio  9
D Riley Ellis  9
M Sam Cortes  9
F Sammy Vasquez  9
Taft Schedule
8/30 vs. Sutherlin, W 9-1
9/4 4:15 p.m. @ Salem Academy
9/6 4 p.m. vs. Blanchet Catholic
9/10 4 p.m. @ Yamhill-Carlton
9/19 4:15 p.m. @ Western Christian/Perrydale
9/27 6 p.m. vs. Salem Academy
10/3 4:15 p.m. @ Blanchet Catholic
10/5 6 p.m. vs. Yamhill-Carlton
10/11 6 p.m. vs. Western Christian/Perrydale
Class 3A/2A/1A/ Boys Special District 2
Sutherlin Boys Roster
| | | | | | |
| --- | --- | --- | --- | --- | --- |
| No. | | Name | Position | | |
| | | Andre Littlebear | GK | 9 | |
| 1 | | Joaquin Vicencio | GK | 12 | |
| 3 | | Andrick Cardenas-Gil | M | 9 | |
| 6 | | Tyler Clement | F/M | 10 | |
| 7 | | Matthew Carrillo | F | 10 | |
| 8 | | Dalton Whelchel | M/D | 11 | |
| 9 | | Collin Bodine | M/F | 10 | |
| 10 | | Aldo Alcantar | M | 11 | |
| 11 | | Keith Sorenson | D | 10 | |
| 12 | | Trevin Wattman | F/M | 10 | |
| 13 | | Jacob Carrillo | D/M | 10 | |
| 14 | | Garrett Edwards | F | 11 | |
| 15 | | Andrew Munsey | D | 10 | |
| 17 | | Derek Moss | F/D | 9 | |
| 22 | | Connor Cooley | D/F | 9 | |
| 25 | | Christian Anderson | M/D | 11 | |
Taft Girls Roster
| | | | | | |
| --- | --- | --- | --- | --- | --- |
| No. | | Name | Position | Grade | Height |
| 2 | | Ella Knott | M/F | 11 | 5-5 |
| 3 | | Kaydince Beach | M/D | 9 | 5-1 |
| 4 | | Keara Gagnet | D/F | 11 | 5-6 |
| 5 | | Fatima Lupercio | D/M | 11 | 5-10 |
| 6 | | Magali Camarena | D/M | 9 | 5-4 |
| 7 | | Ariel Taylor | D | 10 | 5-4 |
| 8 | | Yuritzi Cuellar-Pacheco | M/D | 10 | 5-2 |
| 9 | | Ana Ortiz | M/D | 12 | 5-2 |
| 11 | | Aubrey Sciarrotta | F/M | 9 | 5-2 |
| 12 | | Avery Nightingale | D/F | 10 | 5-5 |
| 13 | | Nicole Reyes | GK/F | 9 | 5-2 |
| 14 | | Tristan Bradley | GK/D | 10 | 5-5 |
| 15 | | Chloe Peterson | F/M | 9 | 5-4 |
| 16 | | Kadence James | F/M | 9 | 5-10 |
| 17 | | Melody Diggs | D/M | 12 | 5-2 |
| 18 | | Maria Camarena | M/M | 11 | 5-3 |
| 19 | | Sammy Halferty | F/M | 11 | 5-10 |
| 20 | | Alexia Almarez | D/M | 11 | 5-4 |
| 22 | | Lydia Prins | D/M | 12 | 5-5 |
| 23 | | Sayge Ulrich | D/M | 9 | 5-7 |
| 29 | | Lucy Reyes | M/D | 9 | 5-2 |
Sutherlin Girls Roster
| | | | | | |
| --- | --- | --- | --- | --- | --- |
|   |   | Name | Position | Grade |   |
| | | Abby Masterfield | F/M | 11 | |
| | | Kirstyn Thomas | D | 11 | |
| | | Mariah Summers | M | 10 | |
| | | Jadyn Vermillion | F | 10 | |
| | | Sidney Williams | F | 9 | |
| | | Karliegh Schoonover | D | 9 | |
| | | Shakiya Candelaria | F | 11 | |
| | | Gracie Thurman | D | 9 | |
| | | Tegan Schoonover | D | 12 | |
| | | Litzi Aguirre Pina | D | 9 | |
| | | Isabelle Cummings | D | 10 | |
| | | Megan Carrillo | F/M | | |
| | | Kiersten Hains | GK | 11 | |
| | | Ashlyn Sophia | D | 10 | |
| | | Alyssa McCormick | D | 11 | |
| | | Caitlyn Powell | F | 9 | |
| | | Kaylei Burdett | F | 10 | |
| | | Madison Brown | M | 10 | |
Taft Girls Schedule
9/30 vs. Sutherlin, L 6-1
9/4 @ Salem Academy/Crosshill Christian
9/10 @ Yamhill-Carlton
9/13 @ Dayton
9/17 @ Western Christian/Perrydale
9/20 vs. Gervais
9/25 vs. Amity
9/27 vs. Salem Academy/Crosshill n
10/5 vs. Yamhill-Carlton
10/9 vs. Dayton
10/11 vs. Western Christian/Perrydale
10/15 @ Gervais
10/18 @ Amity 
Class 3A/2A/1A Girls Special District 2