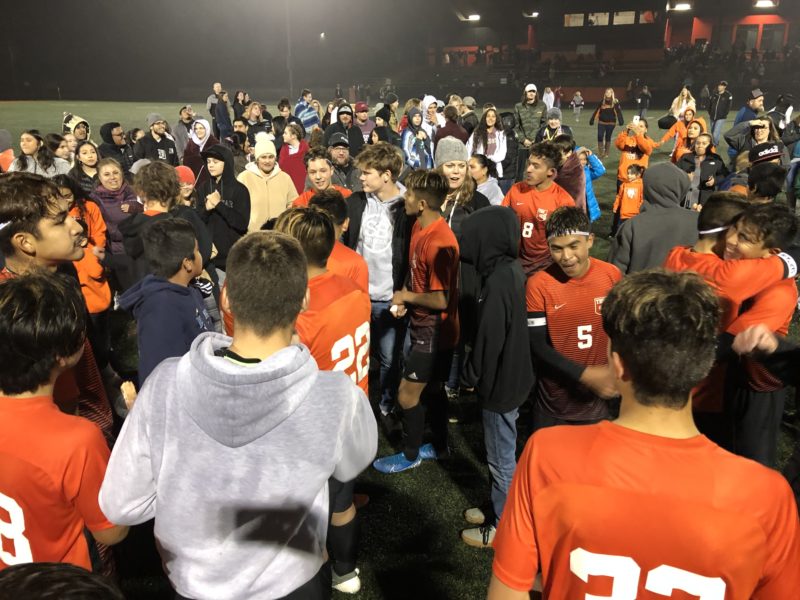 District Player of the Year Edson Fuentes scored both goals Saturday to lead Taft High to the semifinals of the Class 3A/2A/1A OSAA State Boys Soccer Championships with a 2-1 home revenge win over Riverdale.
"We knew this game was going to be intense," Taft coach Ryan Ulicni said, "both because of the history of the two teams and the winner advancing.  We played a very solid game most all the way through."
Seeded fourth, the undefeated Tigers (17-0, 14-0 Special District 2) will play at top-ranked and defending State champion Catlin Gabel (17-0, 9-0 Lewis & Clark), a 9-0 quarterfinal winner over No. 8 seed Santiam Christian, at 6 p.m. Tuesday.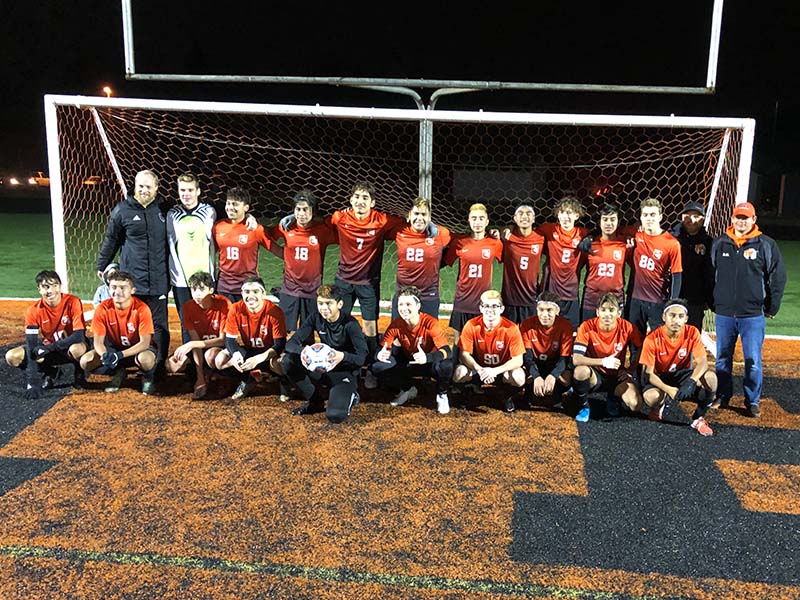 On the other side of the 16-team bracket, No. 2 Oregon Episcopal (15-2-1, 7-1-1 Lewis & Clark) of Portland defeated No. 7 Riverside 3-2 in overtime to reach a 2 p.m. semifinal home match Tuesday against No. 3 Brookings-Harbor (17-0, 14-0 Far West), a 4-0 winner over No. 6 St. Mary's, Medford.
The State championship game will be contested Saturday, Nov. 16, at Liberty High School in Hillsboro.
Taft's quarterfinal win avenged a 2017 second-round State elimination defeat, where the second-seeded Tigers were upset 3-2 at home by the 10th-seeded Mavericks after beating Nyssa 7-0 in the first round.
"There were a few slips here and there after the rain started, but we managed to bring it back into our control," Ulicni said.
A senior co-captain, Fuentes got Taft on the board first Saturday with a goal on a pass from sophomore Sammy Vasquez that stood up for a 1-0 halftime lead.
"The precision of ball movement was better than I had ever seen right through to the end of the first half," Ulicni said.
The Mavericks (10-3-1, 7-1-1 Lewis & Clark) responded to tie the score early in the second half before Fuentes answered back with his team-leading 40th goal of the season.
"At the start of the second half, it took some time, but with Riverdale pressing hard, they earned a goal and tied the game," Ulicni said. "After absorbing a relentless attack, we brought the game back under our control and slowly started making better advances toward their goal.
"We were able to capitalize on their hard press with a wonderful pass from Alex Del Valle to Edson, who had an even better touch to control the ball and move around the attacking goalkeeper. He was then able to finish the goal with an open net to regain the lead.
"After that, it was the intense back-and-forth game that everyone expected. Lots of shots. A few more fouls. Defensively, it was a team effort to get everyone doing their part to resist the attack. We were able to contain the ball for the remaining minutes and grabbed a victory."
Riverdale, the 2012 State champion, was coming off a 1-0 opening-round victory over SD2 runner-up Delphian. Taft downed Central Linn 11-0 Wednesday to reach the quarterfinals.
"These boys make me more proud every day to be a part of this team," Ulicni said. "We are going to enjoy this one, for sure, take a day of rest, and we will be back to hard work on Monday to be ready for Tuesday's semifinal match."