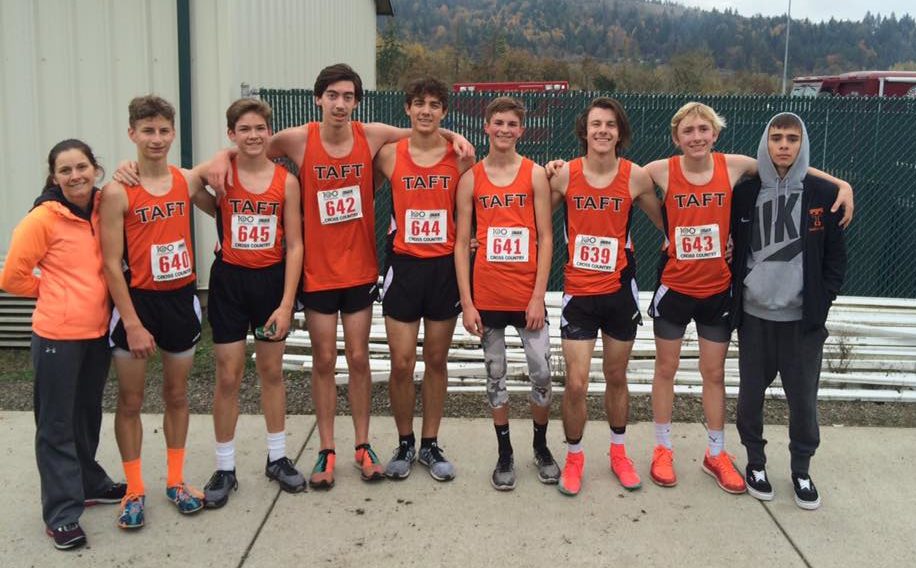 Senior Micah McLeish finished 27th and junior Lucas Hindman 34th Saturday to pace Taft High to an eighth-place finish in the Class 3A OSAA State Cross Country Championships at Lane Community College in Eugene.
"This team has laughed and held each other up throughout the season and continue to impress me," Taft coach Mandy Weiss said. "I'm so proud of each runner and the hard work and dedication they put into the season even before it started."
Burns, behind individual champion Emmett Klus, won the team title by two points over Enterprise.
Taft senior Clayton Helfrich placed 47th, junior Eli DeMello 52nd, junior Hunter Lundstedt 57th, freshman Austin Winters 64th and junior Joram Hoff 65th.
"All of our runners ran excellent this year," Weiss said. "We are losing four seniors this year, and I can't wait to see what next year brings to the cross country team."
PHOTOS BY ERIC DEMELLO
2018 CROSS COUNTRY STATE CHAMPIONSHIPS
Saturday, Nov. 3        
Lane Community College
Class 3A Boys Team Results
1. Burns                               
1    4    9   10   28  (35) (51) =    52
Emmett Klus, Jp Friedrichsen, Ryan Robles, Calvin Bates, Masson Shaw,
Tom Boyd, Chris Boyd
2. Enterprise / Joseph / Wallowa       
2    3    7   17   25  (26) (31) =    54
Henry Coughlan, Zac Knapp, Bayden Menton, Cole Gomes, Reece Nelson,
Brenden Moore, Foster Hobbs
3. Westside Christian                  
8   14   15   20   37  (42) (53) =    94
Caden Hildenbrand, Kellen Petersen, Davis Raz, Matthew Fagen, David
Dugan, Gabe Askew, Ethan Chung
4. Catlin Gabel                        
5   13   16   23   41  (55) (59) =    98
Will Leonard, Jimmy Maslen, Mike Hart, Dawit Dean, Eli Foster, Cole
Burkhart, Casey Shultis
5. Riverdale                           
11   12   24   32   52  (54) (61) =   131
Nolan Larkin, Zachary Rector, Miles Rosenthal, Pete Reamy, Lyle
McCaffrey, Holden Clausing-Hufford, Eleazer Birke
6. Brookings-Harbor                    
6   21   33   34   39  (44) (48) =   133
Kaleb Barnes, Zachary Abblitt, Everest Abblitt, Mason Beeman,
Christian Steendahl, Everett Van Maren, Daniel Strom
7. Harrisburg                          
19   27   30   38   46  (49) (56) =   160
Tad Christansen, Austin Brock, Shae Neuschwander, Bridger Martin, Zach
Harris, Korban Lang, Chance Hendrickson
 8. Taft                                
22   29   40   45   50  (57) (58) =   186
Micah McLeish, Lucas Hindman, Clayton Helfrich, Eli Demello, Hunter
Lundstedt, Austin Winters, Joram Hoff
9. Cascade Christian                   
18   36   43   47   60            =   204
Jake Saroni, Isaac Wilson, Carson Casey, Cody Havniear, Gabe Hehn

        
Individual Results
UNOFFICIAL - 11:48am; OFFICIAL - 12:10pm
3A BOYS
Place TmPl No.  Name                       Gr School                         Time  Pace     
===== ==== ==== ========================== == ============================== ===== ===== 
1    1  600 Emmett Klus                12 Burns                          16:31  5:19 
2    2  616 Henry Coughlan             9  Enterprise / Joseph / Wallowa  16:33  5:20 
3    3  619 Zac Knapp                  9  Enterprise / Joseph / Wallowa  16:49  5:25 
4       646 Zayne Troeger              12 Umatilla                       16:56  5:27 
5    4  599 Jp Friedrichsen            11 Burns                          16:56  5:27 
6    5  612 Will Leonard               11 Catlin Gabel                   17:00  5:29 
7    6  592 Kaleb Barnes               9  Brookings-Harbor               17:15  5:33 
8       630 Asa Brown                  11 Oregon Episcopal               17:17  5:34 
9    7  620 Bayden Menton              9  Enterprise / Joseph / Wallowa  17:20  5:35 
10    8  651 Caden Hildenbrand          9  Westside Christian             17:25  5:37 
11       586 Drew McMullen              11 Amity                          17:34  5:40 
12    9  601 Ryan Robles                11 Burns                          17:36  5:40 
13   10  596 Calvin Bates               11 Burns                          17:37  5:40 
14   11  634 Nolan Larkin               12 Riverdale                      17:40  5:41 
15       587 Miguel Gonzalez            12 Blanchet Catholic              17:41  5:42 
16   12  637 Zachary Rector             11 Riverdale                      17:48  5:44 
17   13  613 Jimmy Maslen               11 Catlin Gabel                   17:55  5:46 
18       654 Kaleb Floyd                10 Willamina                      18:00  5:48 
19   14  652 Kellen Petersen            12 Westside Christian             18:03  5:49 
20   15  653 Davis Raz                  11 Westside Christian             18:08  5:51 
21   16  611 Mike Hart                  9  Catlin Gabel                   18:09  5:51 
22   17  617 Cole Gomes                 11 Enterprise / Joseph / Wallowa  18:09  5:51 
23   18  606 Jake Saroni                9  Cascade Christian              18:12  5:52 
24   19  624 Tad Christansen            11 Harrisburg                     18:13  5:52 
25   20  650 Matthew Fagen              9  Westside Christian             18:15  5:53 
26   21  590 Zachary Abblitt            11 Brookings-Harbor               18:19  5:54 
27   22  644 Micah McLeish              12 Taft                           18:24  5:56 
28   23  609 Dawit Dean                 11 Catlin Gabel                   18:31  5:58 
29   24  638 Miles Rosenthal            12 Riverdale                      18:32  5:58 
30   25  622 Reece Nelson               9  Enterprise / Joseph / Wallowa  18:33  5:59 
31   26  621 Brenden Moore              10 Enterprise / Joseph / Wallowa  18:33  5:59 
32   27  623 Austin Brock               11 Harrisburg                     18:34  5:59 
33   28  602 Masson Shaw                9  Burns                          18:36  5:59 
34   29  641 Lucas Hindman              11 Taft                           18:41  6:01 
35       615 Brandon Moehlmann          10 Creswell                       18:43  6:02 
36   30  629 Shae Neuschwander          12 Harrisburg                     18:45  6:02 
37       588 Andrew Hill                11 Blanchet Catholic              18:49  6:04 
38   31  618 Foster Hobbs               11 Enterprise / Joseph / Wallowa  18:50  6:04 
39   32  636 Pete Reamy                 11 Riverdale                      18:51  6:04 
40   33  589 Everest Abblitt            9  Brookings-Harbor               18:53  6:05 
41   34  591 Mason Beeman               12 Brookings-Harbor               18:58  6:07 
42   35  598 Tom Boyd                   10 Burns                          18:58  6:07 
43   36  607 Isaac Wilson               12 Cascade Christian              19:03  6:08 
44   37  649 David Dugan                9  Westside Christian             19:03  6:08 
45   38  628 Bridger Martin             12 Harrisburg                     19:13  6:11 
46   39  593 Christian Steendahl        10 Brookings-Harbor               19:13  6:11 
47   40  640 Clayton Helfrich           12 Taft                           19:17  6:13 
48   41  610 Eli Foster                 9  Catlin Gabel                   19:20  6:14 
49   42  647 Gabe Askew                 11 Westside Christian             19:24  6:15 
50   43  603 Carson Casey               11 Cascade Christian              19:29  6:17 
51   44  595 Everett Van Maren          12 Brookings-Harbor               19:29  6:17 
 52   45  639 Eli Demello                11 Taft                           19:38  6:19 
53   46  625 Zach Harris                12 Harrisburg                     19:40  6:20 
54   47  604 Cody Havniear              10 Cascade Christian              19:44  6:21 
55   48  594 Daniel Strom               11 Brookings-Harbor               19:44  6:21 
56   49  627 Korban Lang                10 Harrisburg                     19:46  6:22 
57   50  643 Hunter Lundstedt           11 Taft                           19:57  6:26 
58   51  597 Chris Boyd                 12 Burns                          19:58  6:26 
59   52  635 Lyle McCaffrey             10 Riverdale                      20:00  6:27 
60   53  648 Ethan Chung                11 Westside Christian             20:07  6:29 
61   54  633 Holden Clausing-Hufford    10 Riverdale                      20:09  6:30 
62   55  608 Cole Burkhart              12 Catlin Gabel                   20:13  6:31 
63   56  626 Chance Hendrickson         12 Harrisburg                     20:20  6:33 
64   57  645 Austin Winters             9  Taft                           20:24  6:34 
65   58  642 Joram Hoff                 11 Taft                           20:24  6:34 
66   59  614 Casey Shultis              11 Catlin Gabel                   20:40  6:39 
67   60  605 Gabe Hehn                  11 Cascade Christian              20:44  6:41 
68   61  631 Eleazer Birke              12 Riverdale                      20:44  6:41 

Photos by Amy Rose-Lundstedt