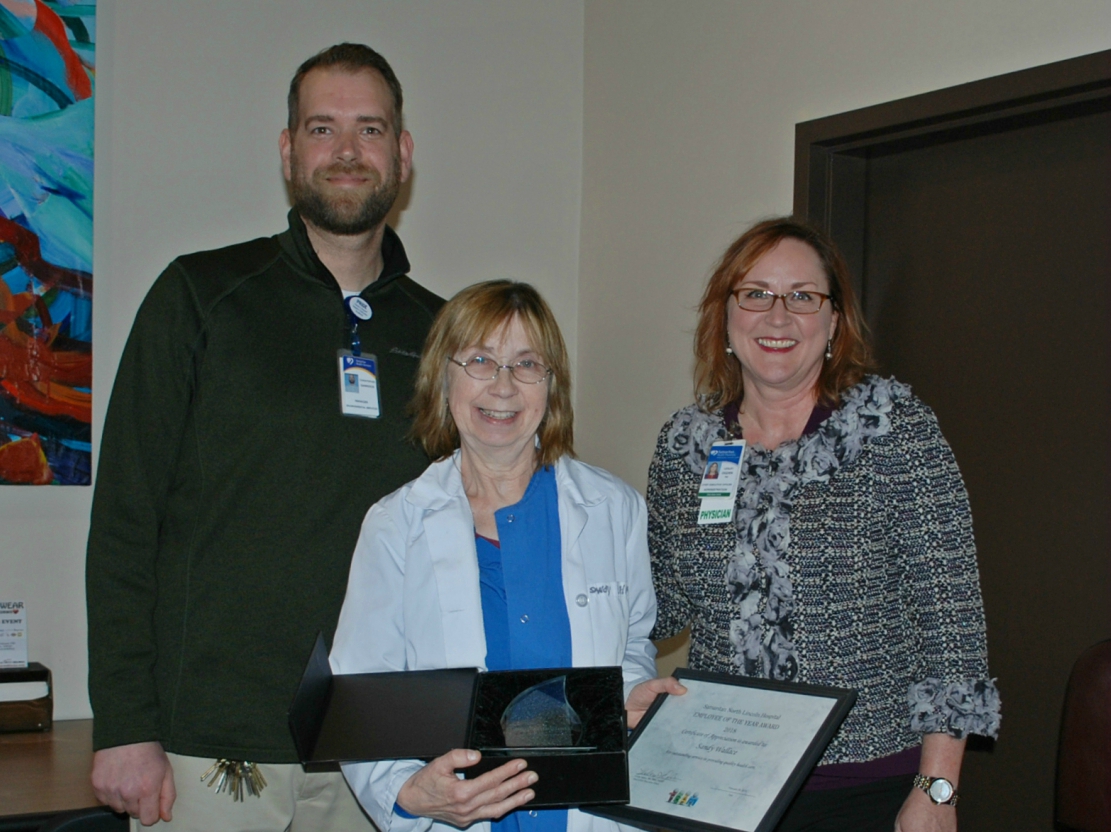 By a vote of her peers, Sandy Wallace was named 2018 Employee of the Year at Samaritan North Lincoln Hospital (SNLH).
Wallace has worked at the hospital as a housekeeper for the past 18 years. When accepting the award, she commented that working at Samaritan is a joy and that everyone in her department and throughout the hospital are like family to her.
Wallace was originally named employee of the month this past September, which made her eligible for consideration as employee of the year. At that time, several nominators praised her with such comments as:
Sandy is a joy to work with. She brings such a positive energy to our Environmental Services family. Sandy is a dedicated and hard-working employee. She is always willing to help and is appreciated so much.
She always has a smile. She will go out of her way to help other people. She is always so cheerful and good for a laugh if you need it.
She cleans and organizes the pre-op/PACU [surgical services] area for us and does this with a smile on her face! She has the best, positive, can-do attitude! We all appreciate her so much!
She is pleasant, hard-working and never complains. She transforms our workspace from being a disaster to a clean, comfortable and organized work space!
Each month throughout the year, SNLH employees are invited to submit nominations and the Employee Appreciation Committee is responsible for making the final selection. Those selected to be honored demonstrate a commitment to work excellence, provide high quality customer service and are enthusiastic and valuable team members. They also show a commitment to Samaritan's PRIDE values: passion, respect, integrity, dedication and excellence.
At the end of the year, all SNLH staff are invited to vote for one of the 12 monthly winners to receive the top honor. The recipient receives a nice monetary reward, a traveling trophy and smaller prizes in appreciation.