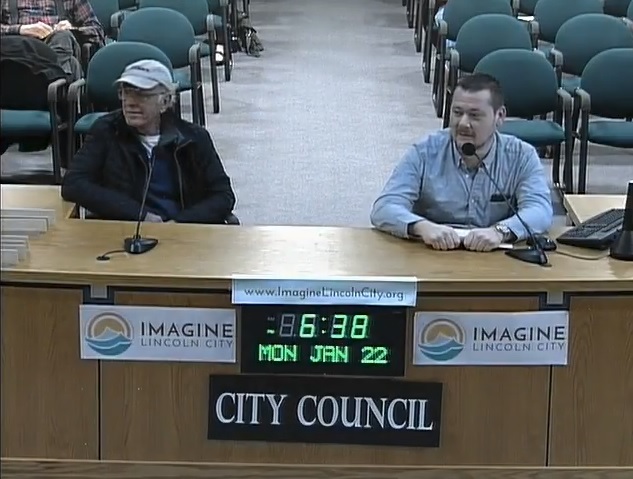 Lincoln City, Oregon – At Monday's city council meeting council asked staff to provide options to allow the Lincoln City Warming Shelter to continue to operate in Taft. City Manager Ron Chandler was asked new questions about the harassment allegations raised against City Attorney Richard Appicello. Newly hired Parks Director Jeanne Sprague asked council to remove a deed restriction on Regatta Park. And council voted to offer to settle two lawsuits alleging the council violated Oregon's Public Meeting Laws over 60 times since 2011. Here are the highlights, in chronological order:
Council requests options to allow the Warming Shelter to continue to operate in Taft

(Alexander)
Warming Shelter President Patrick Alexander asked council to update our zoning laws to allow emergency shelters in the Taft Village Core mixed-use zone. Emergency shelters are currently only allowed in the General Commercial (GC), Recreation-Commercial (RC), and Planned Industrial (PI) zones. Council then asked staff to provide options on initiating this zoning change. The Warming Shelter could be shut down, and Mayor Don Williams and the Warming Shelter each fined up to $1,100/day, if Planning Director Richard Townsend refuses to accept the Voluntary Compliance letter Alexander submitted to Townsend on Jan. 12.
Dreistadt chastised for advising businesses that surf contest permits aren't needed

(

Forse

)
Local surfer John Forse, founder/organizer of the Nelscott Reef Big Wave Classic, asked to attend the meeting that will be held by City Manager Ron Chandler, City Attorney Richard Appicello, and VCB Director Ed Dreistadt. Appicello called it a "staff meeting" and that he's privately given legal advice about the lack of requiring permits to hold surfing contests at the Nelscott Reef. Forse said he "hopes no one dies" from Dreistadt's "knuckleheaded" decision to not require permits to run surf contents. This is the second time Forse has petitioned council for their help.
New questions raised on alleged harassment complaint against City Attorney Appicello

(

Werner

)
In response to harassment allegations raised against City Attorney Richard Appicello, our own Justin Werner alerted council that he requested City Manager Ron Chandler meet with media representatives to answer the following questions:
Did Mr. Appicello file a cross complaint against the alleged victim?

Did the alleged victim receive a copy of this complaint?

Was the alleged victim's termination influenced by Appicello's complaint against her?

Was the alleged victim offered a Non Disclosure Agreement (NDA) to sign?

How much was the alleged victim paid to remain silent?

What discipline, if any, did Appicello receive?

What changes, if any, has the city implemented, to avoid this type of thing from happening again?
Werner thanked Chandler for offering to answer questions at the last council meeting regarding the serious allegations. Werner also applauded Councilor Kip Ward for calling for transparency in digging into the allegations.
Devils Lake Dash nixed due to deed restriction at Regatta Park

(

Brainerd

)
Devils Lake Manager and DLWID Executive Director Josh Brainerd said that Devils Lake was underused and under appreciated. He said many visitors to Lincoln City are unaware of this hidden gem that could be utilized for events such as the Devils Lake Dash, which didn't run this year, due to a 1934 deed restriction disallowing refreshment stands at Regatta Park. Other restrictions included the "smoking of cigars."
Appicello admitted he didn't know enough about deed restriction law, and had not spent any time on it because he hasn't "been directed to do it," and it would not be an easy process finding the heir and getting a release signed. Council voted to ask staff to contact a title company to see if removal of the deed restriction is possible, and the cost.
Councilor Kip Ward raised concerns over "environmentally safe fireworks" and asked if fireworks were being allowed to fall into the lake. Ward's comment provoked laughter by Councilor Diana Hinton.
VCB Director Ed Dreistadt said when visitors are asked about Devils Lake, the most common response is "there's a lake here?"  
Council voted to offer to settle the two Oregon's Public Meeting violation lawsuits

(

Anderson

)
After meeting in executive session, council voted 5-1 to make another settlement offer regarding two lawsuits alleging the city violated Oregon's Public Meetings/Records Laws over 60 times since 2011 (15CV22131 & 16CV21270). The lawsuits were filed by transparency advocate Ross Smith in 2015 and 2016 and are scheduled for trial in April and May of this year. So far, council has spent over $70,000 to fight the two suits, and legal experts estimate the trials could cost taxpayers $200,000, or more, an amount far exceeding this year's $40,000 litigation budget. Councilor Kip Ward voted no, as he has consistently in the past. Councilor Hoagland did not vote, due to his absence.