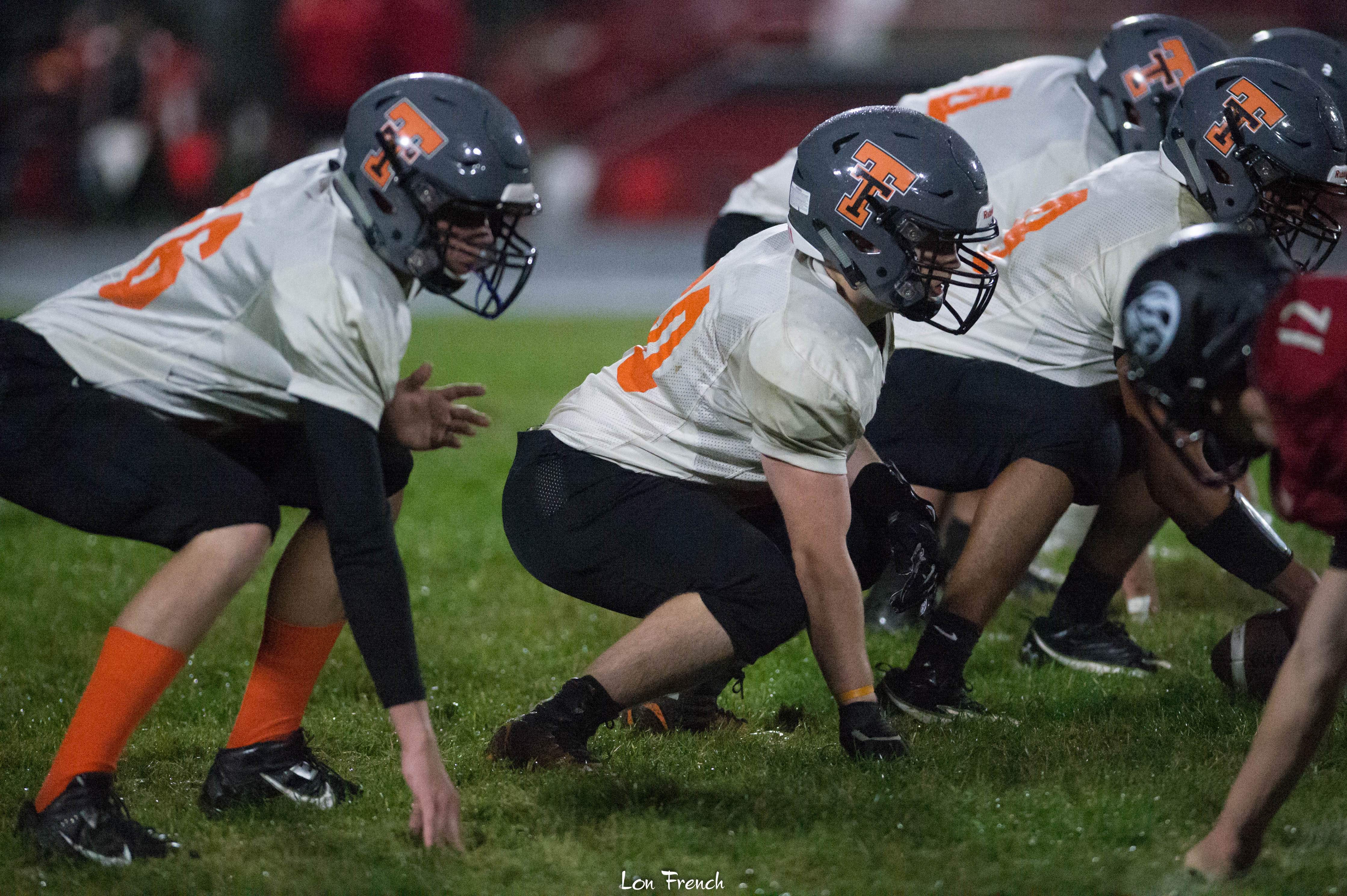 Fourth-ranked Willamina made Taft a welcome homecoming guest Thursday night by taking advantage of five turnovers to overcome an early 7-6 deficit for a 40-13 Class 3A Special District 1 West Division high school football victory.
The Tigers scored on an 8-yard pass from senior quarterback David Jin to senior wideout Tyee Fisher to take a 7-6 first-quarter lead before falling behind 27-7 at halftime.
Taft junior Logan McLendon caught a second-half touchdown from Jin for the Tigers' other score in a penalty-filled, turnover-laden game.
Taft fell to 1-6 overall and 0-3 in league play with its fifth straight defeat, while the Bulldogs improved to 5-2, 2-1.
The Tigers return home next week for the final two games of the regular season against Dayton and second-ranked Rainier, which hosts top-rated Amity in West Division play Friday.
The following is live, breaking, play-by-play coverage of tonight's Class 3A Special District 1 West Division high school football game . . . 
First Quarter
Taft, dressed in its road whites, kicked off to Willamina, donned in black for its homecoming game, to start the game and forced and recovered a fumble to take possession at the Bulldogs' 43 following a 27-yard return.
The Tigers failed to move on three plays to set up a fourth-and-8 following an offsides penalty, which Taft went for, but sophomore JJ French fumbled just short of a first down that turned the ball over to Willamina at its own 38.
Willamina senior running back David Healon then burst up the middle and rambled 62 yards for a touchdown to make it 6-0 Willamina with 10:09 following a blocked point-after kick.
Taft took possession on the ensuing kick at its own 35. French gained 13 yards on second down for the Tigers' second first down of the series into Willamina territory. Taft senior quarterback David Jin, playing on a sore ankle that cost him a start last week against Clatskanie, gained another first down on the drive. Jin busted the next play for 15 yards to the 8 for first-and-goal five minutes into the period. Two plays went nowhere before Jin hit senior receiver Tyee Fisher for an 8-yard score and a 7-6 Taft lead following the PAT.
Taft recovered a second Willamina fumble on the kickoff to resume possession in good field position. Taft opted to go again on fourth down and turned the ball over on downs on an incomplete pass.
Willamina failed to move the ball and punted to the Tigers late in the quarter, where they took possession at their own 28 with 3:37 left. French fumbled the ball back to the Bulldogs, however, following a 4-yard gain.
Willamina senior quarterback Kaleb Reid lost yardage on the first play from there with about two minutes left in the opening quarter. An incomplete pass on third down forced the Bulldogs into a punting situation and the Tigers took possession at their own 20 with 1:19 remaining.
Senior wide receiver Logan McLendon then gained 32 yards on a pass over the middle from Jin with 58 seconds to play. A short gain and an incompletion caused the Tigers to go for another first down on fourth down that Fisher converted on a completion from Jin as the quarter clock ticked down.
Second Quarter
Taft couldn't convert another fourth-down attempt, this time in the red zone, to surrender possession to Willamina at its own 13-yard line.
A personal foul penalty on the Tigers gave the Bulldogs a first down before Reid broke a run on a misdirection play just shy of Taft territory. Willamina moved into Taft turf at the 39 on the next play 9:08 before halftime. Reid then hit senior receiver Colton Doane for a first down to the 20 before a TD run on the next play was called back by a holding penalty.
Heavy pressure caused an incompletion to bring up third-and-long before Reid busted one 20-plus yards for first-and-goal midway through the quarter. Willamina sophomore Ruben Rizo then broke a tackle and scored to make it 12-7 following a missed conversion kick.
Taft failed to move the ball and punted to the Bulldogs six minutes before intermission. Reid broke two tackles to move deep into Tigers territory at the 11 with 3:26 left. Reid then broke through for an 11-yard score to make it 20-7 following a two-point conversion pass at 3:15.
Taft took the ensuing kick at its own 30, but couldn't advance and lost possession on downs on a failed fake punt that gave Willamina the ball at the Tigers 26 with 2:14 left before halftime. Rizo then scored on a 19-yard pass from Reid to make it 27-7 after the point-after with 1:32 to play.
Taft took possession and let the clock run down to halftime following a sack.
Halftime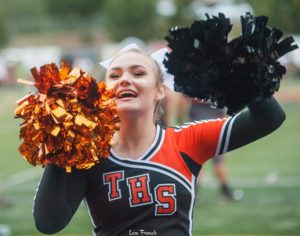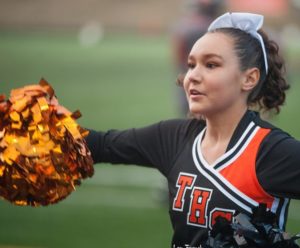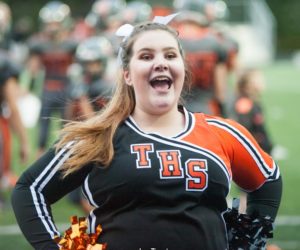 Third Quarter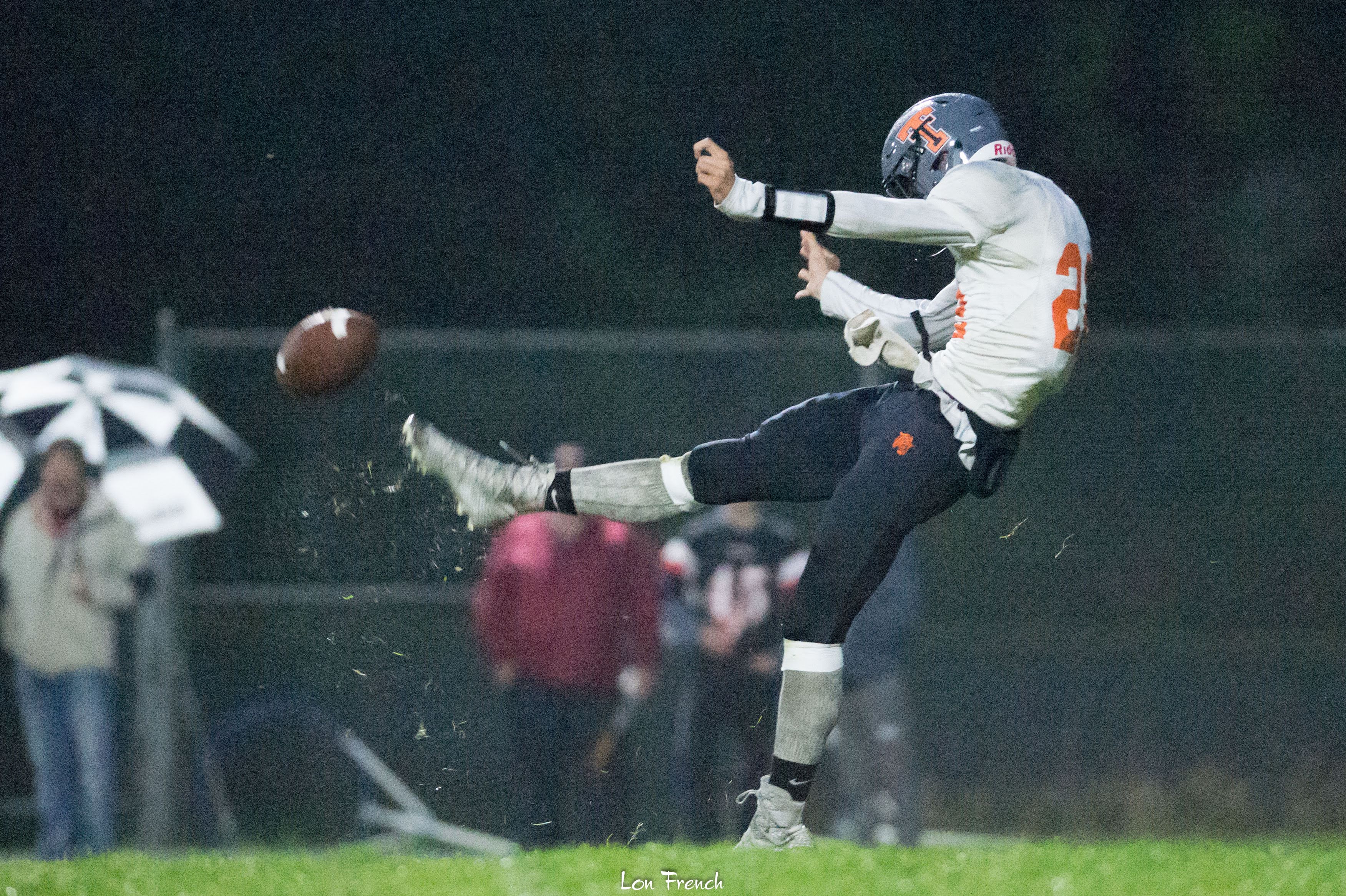 The Tigers took the opening kick of the second half and surrendered possession on a punt after failing to move the ball. The Bulldogs converted a third-down play for a first down to the Taft 40.
Reid then completed a pass to senior receiver Austin Watkins for 28 yards to the 13. A penalty cost the Bulldogs 15 yards to the 28 before Reid hit Watkins to the original line of scrimmage at the 13. Willamina missed a 30-yard field goal try from there to keep the score 27-7.
French gained six yards for a first down from the Taft 20 before junior Trenton Hall ran for another first down at 5:39 of the quarter. After McLendon caught his third pass of the game for a third first down on the drive inside Willamina territory, Taft benefited from a personal foul penalty, followed by an unsportsmanlike conduct call that advanced the ball to the 13.
After Hall burst 12 yards to the 1 on the next play, a facemask penalty moved the ball inches closer before a motion penalty moved the ball back to the 6. French was stopped for two yards to the 4 before Jin missed sophomore Fco Ramos on a pass to the back of the end zone. Jin overthrew McLendon to surrender possession at the Willamina 4 with 3:18 left in the quarter.
Taft junior linebacker Logan Gilleo then recovered Willamina's third fumble of the game at the Bulldogs 12, where French gained four yards to the 8. Jin and McLendon then hooked up for a score to make it 27-13 after a failed kick.
Fourth Quarter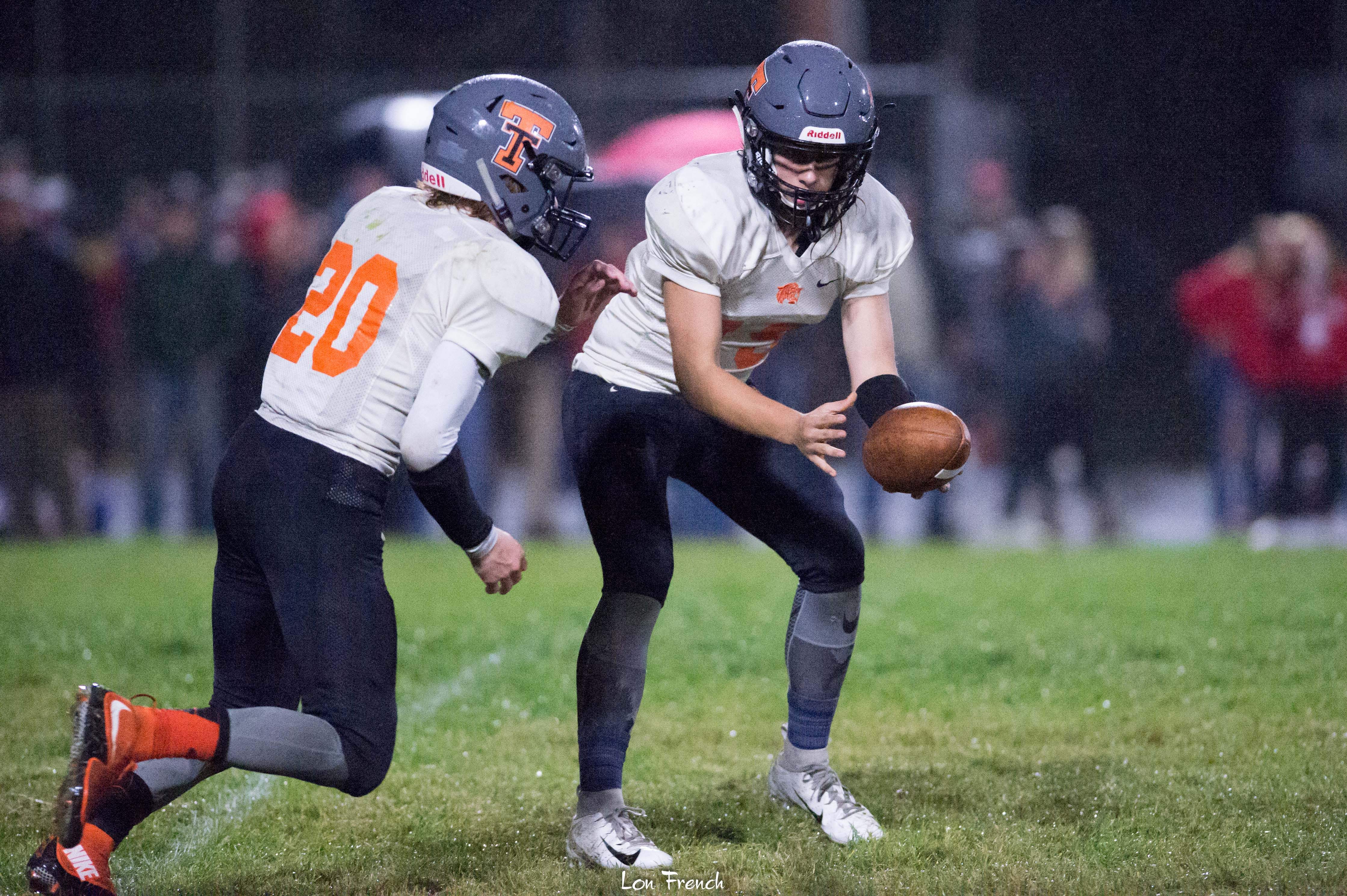 The Bulldogs opened the final period with a big play to the Taft 8. Doane scored on a reception from Reid from there to make it 34-13 after the PAT at 10:26.
Taft fumbled the ball away on the next possession before McLendon intercepted another pass for the Tigers. Starting at their own 9, McLendon gained 13 yards on a catch to the 22. After French gained eight yards to the 30 with 7:22 to play, penalties moved the ball back to midfield before Jin was intercepted with 6:22 remaining.
After regaining possession, Taft fumbled the ball back to the Bulldogs, who moved inside the 10 with 3:33 to play. Backup quarterback Dominik Briant then threw for another Willamina score to make it 40-13 with 2:21 left.
French then sprinted 72 yards for a score, but the touchdown was called back by an illegal man downfield penalty. Ramos caught a pass from Jin for 45 yards on the next play to the Willamina 32.
Taft marched inside the 10, where sophomore Antonio Suarez came on to replace Jin, who left the game after being shaken up by several big hits. Suarez then hit French to the 5, where the Tigers called timeout with three seconds left. A final play on fourth-and-goal fell incomplete.
Taft Roster
| | | | | | | |
| --- | --- | --- | --- | --- | --- | --- |
| No. | | Name | Position | Grade | Height | |
| 2 | | Logan McLendon | WR/DB | Sr. | 5-8 | |
| 3 | | Kaden Hindman | WR/S | Fr. | 5-9 | |
| 4 | | Devon Lindquist | WR/S | Sr. | 5-10 | |
| 6 | | Zane Rowley | WR/DB | So. | 5-4 | |
| 7 | | Chris Lopez | WR/DB | Sr. | 5-9 | |
| 8 | | David Jin | QB/DB | Sr. | 5-10 | |
| 9 | | Kameron Kessler | WR/S | Sr. | 6-1 | |
| 11 | | Fco Ramos | WR/DB | So. | 5-7 | |
| 14 | | Tristan Beach | WR/DB | Jr. | 5-10 | |
| 15 | | Connor Bailey | WR/DB | Jr. | 5-10 | |
| 16 | | Darius Smith | WR/DB | So. | 5-9 | |
| 19 | | Antonio Suarez | QB/LB | So. | 5-10 | |
| 20 | | JJ French | RB/LB | So. | 5-10 | |
| 22 | | Tyee Fisher | WR/S | Sr. | 6-5 | |
| 23 | | Clay Nelson | WR/LB | Sr. | 6-0 | |
| 24 | | Trenton Hall | WR/LB | Jr. | 5-9 | |
| 25 | | Kaden White | WR/DB | Fr. | 5-7 | |
| 28 | | Logan Gilleo | RB/LB | Jr. | 6-0 | |
| 50 | | Dylan Rodriguez | OL/DL | Fr. | 5-8 | |
| 53 | | Micah Davis | OL/DE | Jr. | 5-10 | |
| 54 | | Eriq Aquino | OL/DL | Sr. | 6-1 | |
| 55 | | Elin Fitch | OL/DE | Jr. | 6-3 | |
| 56 | | Malachi LaFrenz | OL/DL | Sr. | 6-2 | |
| 57 | | Jace Phippen | OL/DL | Jr. | 5-10 | |
| 60 | | Chris Byrum | OL/DL | Sr. | 5-8 | |
| 61 | | Victor Carrasco | C/DE | Sr. | 6-2 | |
| 62 | | Brendan Welch | OL/DL | So. | 5-9 | |
| 66 | | Tyrese Hellman | OL/DL | Jr. | 6-1 | |
| 70 | | Josiah LaFrenz | OL/DL | So. | 6-3 | |
| 74 | | Sebastian Welch | OL/DL | So. | 5-9 | |
| 75 | | Dakota Steen | OL/DL | Fr. | 6-0 | |
 Willamina Roster
| | | | | | | |
| --- | --- | --- | --- | --- | --- | --- |
| | | Name | Position | Grade | | |
| 2 | | Piper Schrabel | WR/CB | 9 | | |
| 3 | | Conrad Farmer | WR/CB | 11 | | |
| 5 | | Wyatt Baker | WR/S | 9 | | |
| 7 | | Austin Watkins | WR/CB | 12 | | |
| 8 | | Chris Vaccarezza | RB/LB | 11 | | |
| 9 | | Kimowen Corcoran | WR/S | 9 | | |
| 10 | | CJ Toney | RB/LB | 12 | | |
| 11 | | Kaleb Reid | QB/S | 12 | | |
| 12 | | Colton Doane | WR/CB | 12 | | |
| 16 | | Dominik Briant | QB/S | 10 | | |
| 19 | | Antonio Hernandez | QB/CB | 10 | | |
| 20 | | Drue Tuck | RB/LB | 9 | | |
| 22 | | Nick Colton | WR/LB | 12 | | |
| 24 | | Daniel Portugal | RB/S | 10 | | |
| 34 | | Ruben Rizo | RB/S | 10 | | |
| 39 | | David Helon | RB/LB | 12 | | |
| 45 | | Bryce Mode | WR/S | 10 | | |
| 51 | | Caleb Ash | OL/DT | 10 | | |
| 55 | | Kyle Andersen | OL/DT | 11 | | |
| 56 | | Logan Wilson | OL/DT | 10 | | |
| 61 | | Nakai Rock | OL/DE | 9 | | |
| 65 | | Sam Coates | OL/DE | 10 | | |
| 67 | | Jordan Mode | OL/DT | 9 | | |
| 68 | | Nate Konovalov | OL/DT | 12 | | |
| 70 | | Max Scarbrock | OL/DT | 9 | | |
| 71 | | Andrew Kennedy | OL/LB | 12 | | |
| 75 | | Austin Ash | OL/DT | 11 | | |
| 77 | | Jackson Schoenbachler | OL/DE | 12 | | |
| 79 | | Andrew Allen | OL/DT | 9 | | |
| 80 | | Spyre Nelson | WR/DE | 9 | | |
| 81 | | Chance Kalawa | OL/DL | 12 | | |
| 82 | | Riley Bowman | WR/CB | 11 | | |