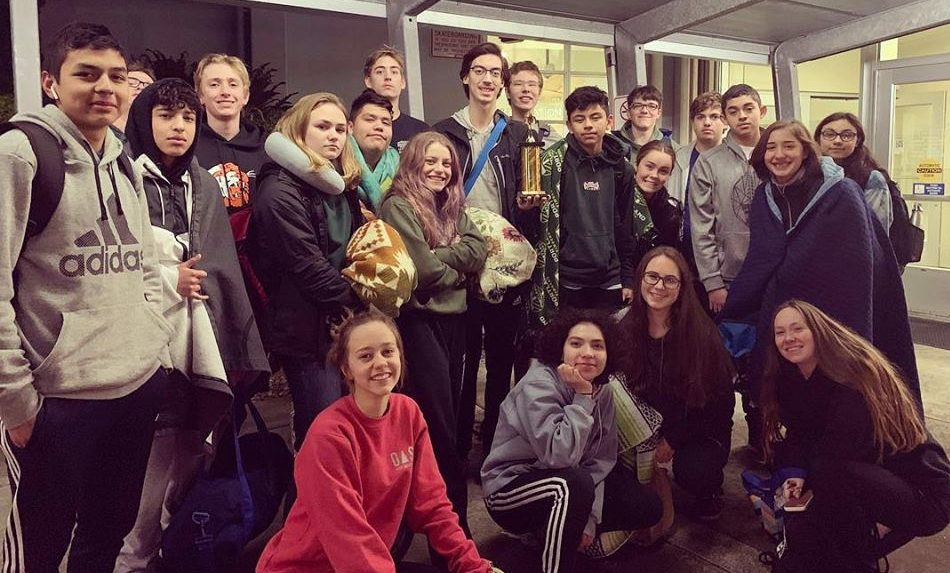 Several underclassmen gave themselves and their teammates a big boost in confidence moving forward Saturday as the Taft High swim team won the boys competition and placed second in the girls at the Andrew Nygaard Invitational in Astoria.
"Several of the freshmen were able to help us out quite a bit with kids like Aubrey Sciarrotta, Charlotte Lunstedt, Cristofer Ochoa, Sam Cortes and Angel Moreno," Taft swim coach Lissa Parker said. "We are beginning to see the pay off from having these swimmers swim for the Lincoln City Swim Club [LCSC] for several years."
The Class 3A Taft boys defeated Class 4A Valley Catholic 106-70, while the girls narrowly lost to VC, 74-70.
Twenty-one of the Tigers' 28 swimmers competed, with some having other commitments and some suffering from illness or injury. Taft is awaiting the return of junior Hunter Lunstedt, who has been sidelined with shoulder issues.
"Our novices got to swim in more events due to the fact that we didn't have some people there, and that gave them more confidence and experience, so that was good thing." Parker said.
Fourteen-year-old Cortes, a top youth age-group swimmer for years throughout the state as a member of Parker's LCSC squad, helped pace the Tigers by joining two-event winner Joram Hoff, an 18–year-old senior, on the tallest podium with a victory in the 100-yard backstroke.
Hoff won the 100-yard breaststroke and 200-yard individual medley for the Tigers, while Cortes placed second in the 100 butterfly.
Junior Micah McLeish won the 200-yard freestyle and was third in the 100-yard backstroke.
Charlotte Lundstedt was second in the 200 IM; Sciarrotta second in the 100 free; sophomore Jose Segura second in the 500 free; and senior Lydia Prins second in the 500 free.
Junior Sammy Halferty and McLeish were third for the girls and boys, respectively, in the 100 back; and sophomore Isabelle Serrato and Moreno third for the girls and boys, respectively, in the 500 free.
"We are trying something new this year where I am switching the swimmers around from meet to meet so that they all get to do different events, and it makes it a little bit more fair for everyone," Parker said. "That being said, I can't really put novices the 500 free yet. We did get a lot of points for having several swimmers in tough events like the 100 fly, the 200 IM and the 500 free."
Taft returns to the pool Thursday for the Rhonda Relays at Philomath.