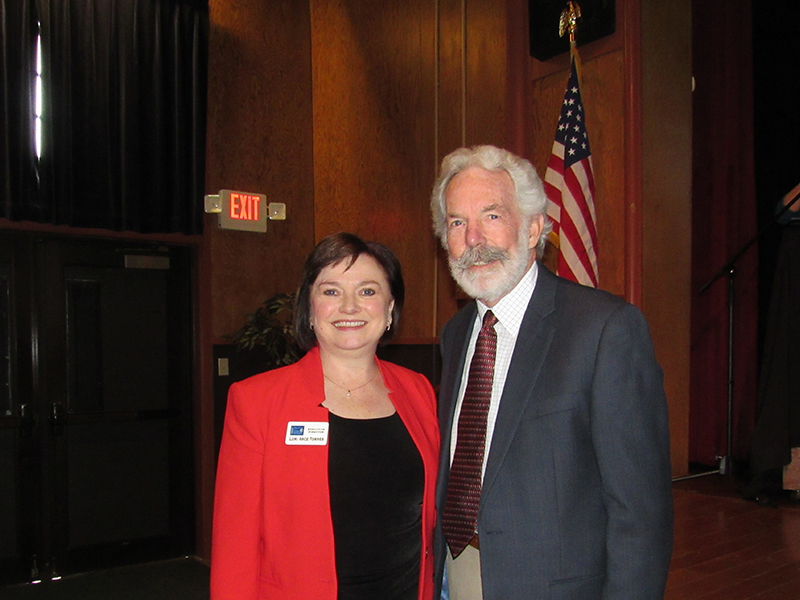 Lincoln City Mayor Dick Anderson spoke before a crowd of local business owners, managers and city officials for his State of the City address Tuesday at the Lincoln City Cultural Center sponsored by the Lincoln City Chamber of Commerce.
The speech outlined what was accomplished over the last year, as well as the future of Lincoln City. Anderson spoke about affordable housing, leadership and how he has been able to conduct City Council meetings lasting up to four hours without taking any "potty breaks."
Roger Robertson with All Ways Traveling, who sponsored Anderson's address and sold the mayor on two river cruises, announced a Panama Canal package for charity that benefits kids with cancer.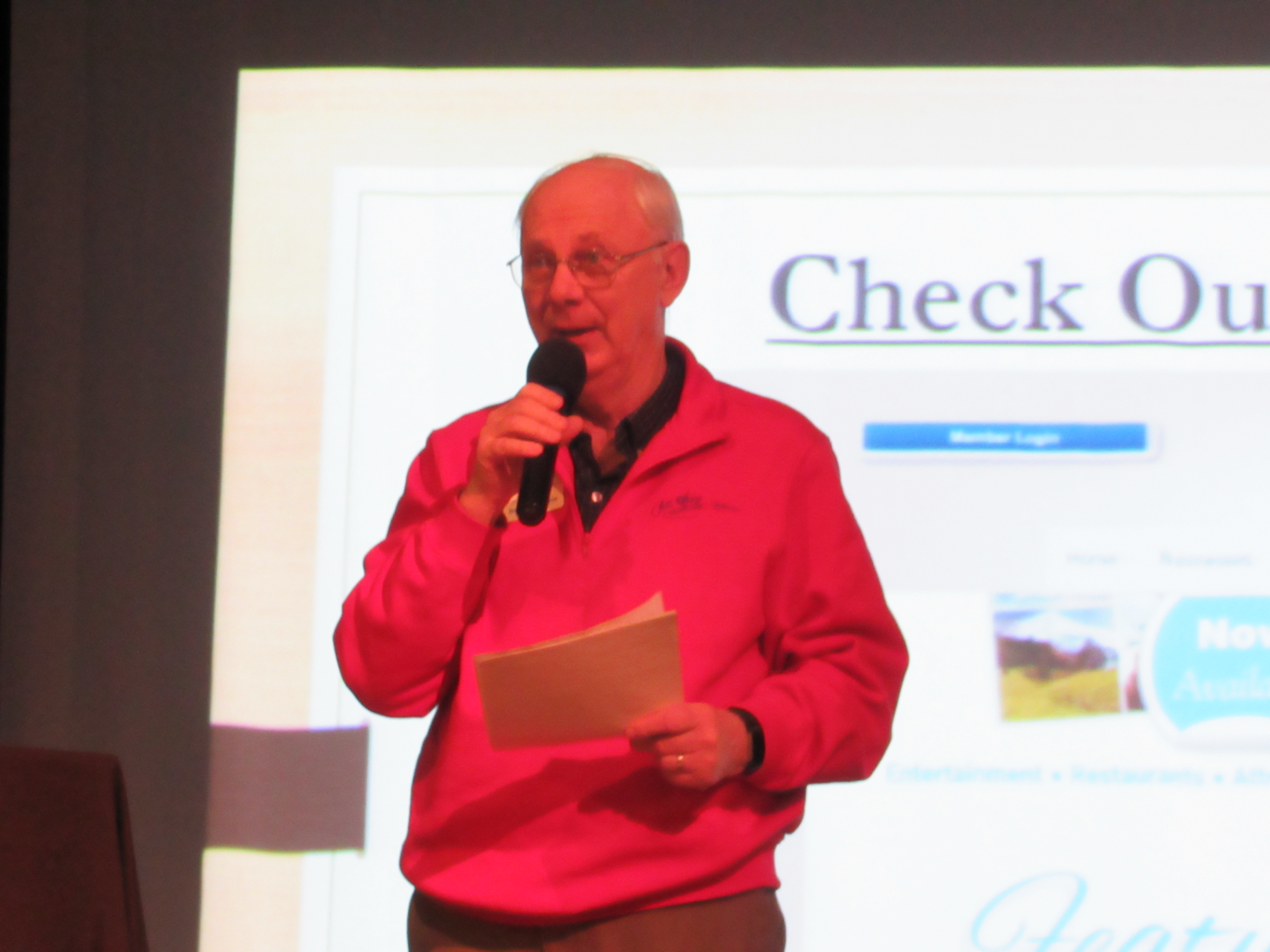 Anderson gave praise to the Lincoln City Cultural Center, which hosted the event, for being great for locals and tourists alike, saying, "I don't know what we'd do without this kind of a mainstay in Lincoln City."
Mayor Anderson mentioned how the Lincoln City Cultural Center will be making capital improvements that will enhance the exterior grounds and welcomed citizens to become members and contribute to "… paving the way for a great vision."
Anderson thanked the voters of Lincoln City for allowing him to be mayor for the next four years. "I'm excited to do it again," He said. "More than half of citizens have an appreciation for their local government. Twice that –surprise, surprise– of the Federal Government. So I just want you to know I feel your love."
Anderson said the Driftwood Public Library has become a hub in the community and gave recognition to Outreach Services Coordinator Star Kahn for being one of six individuals from across the country who was awarded the Association for Library Service to Children's Equity Fellowship Award.
Anderson also talked about how the Library did away with overdue fines.
"It's amazing to me how many people utilize this library," he said.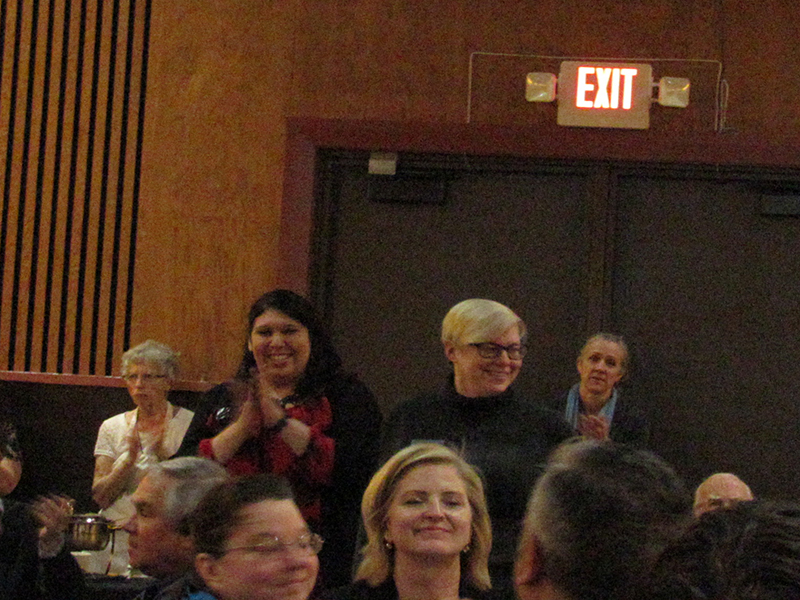 Lincoln City Police Chief Jerry Palmer was recognized by Anderson, who thanked him for his leadership in getting a "futuristic police station" and the police department at full staff. Anderson said he attended the Citizen's Police Academy and recommends it for all Lincoln City residents.
"It is an eye-opening opportunity to better understand what our officers live with and are confronted with on a daily basis," he said.
LCPD's K9 program was also lauded.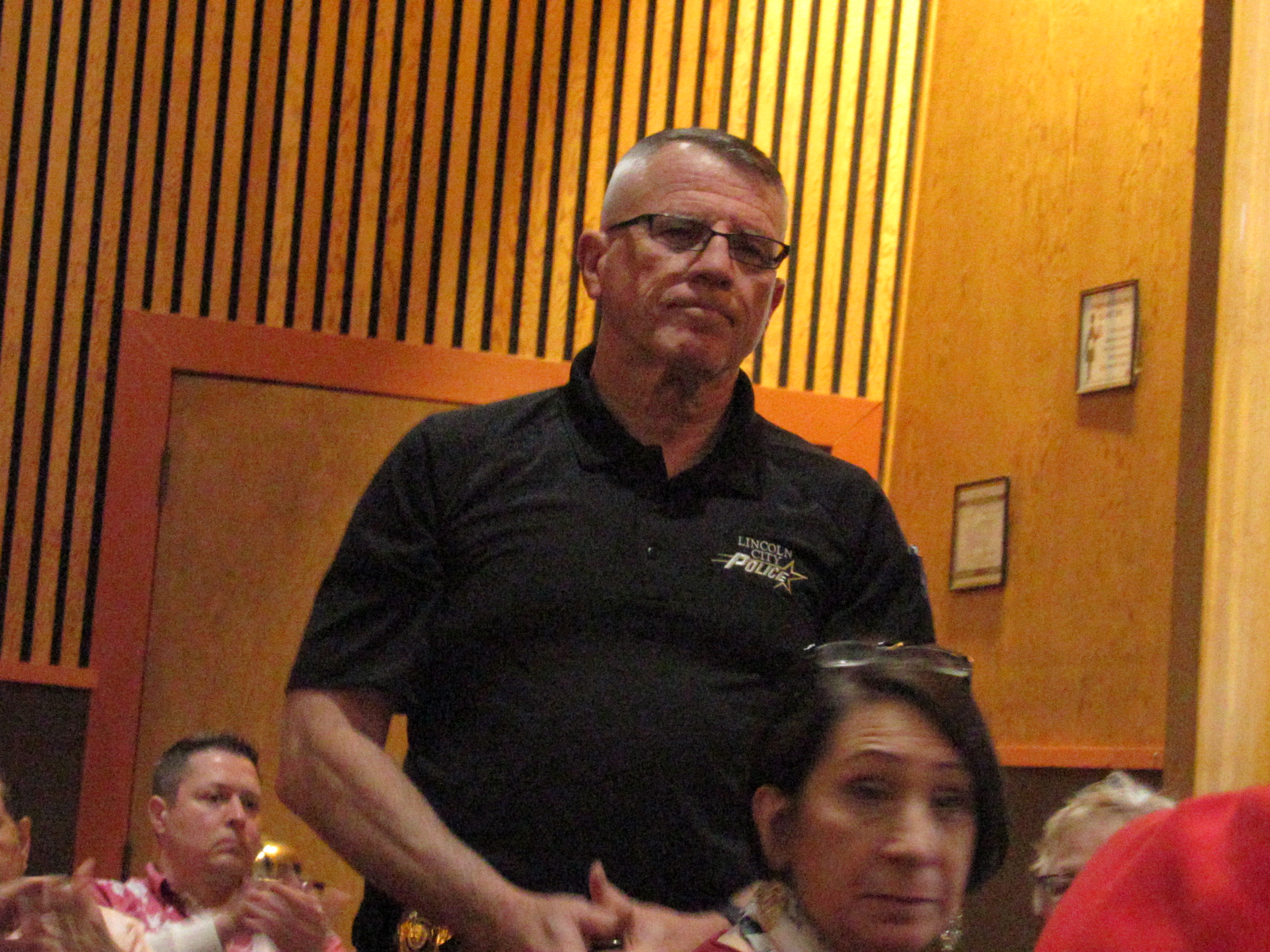 Due to action by the City Council, treated water usage was less in 2018 than in 2017, Anderson said.
"Conservation comes in all different forms," he said, thanking Lincoln City Public Works.
Anderson thanked Lincoln City Manager Ronald Chandler and his staff for leadership in 2018.
"Thank you all for what you do," he said. "It's seldom recognized, but it's felt everyday."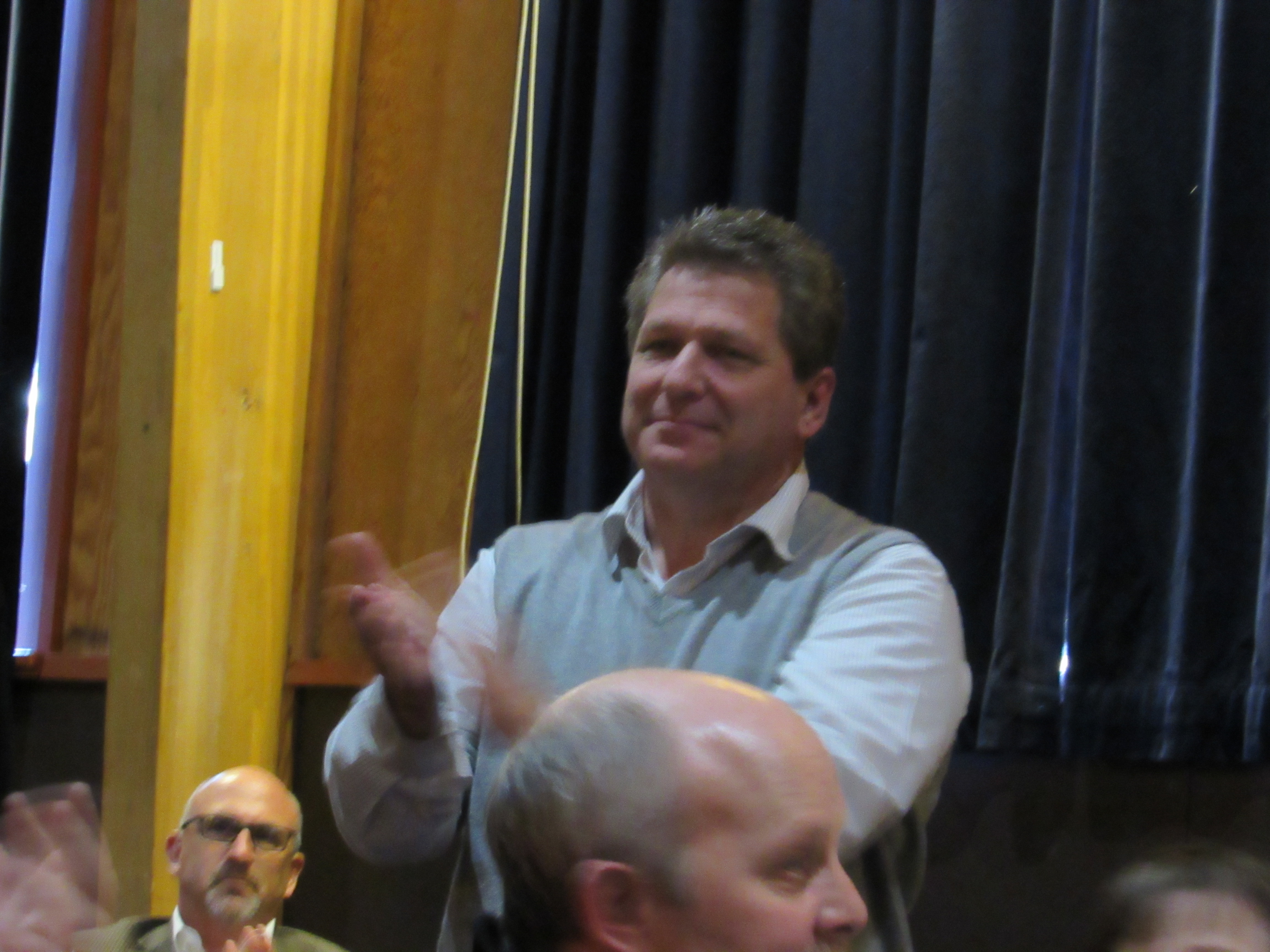 Anderson said he is often asked what Lincoln City is doing to drive positive economic development and increase the median family income of the citizens.
"It's a great question and very appropriate." he said. "I believe we have to first make sure that our community is attractive to new business. And quite frankly, we are not.
"I have five areas of evaluating our readiness and they are: an ample supply of housing at all levels; the perception of our schools; managing the expectations about the level of medical services; transportation, including buses, roads and access to airports; properly zoned land with appropriate utilities available."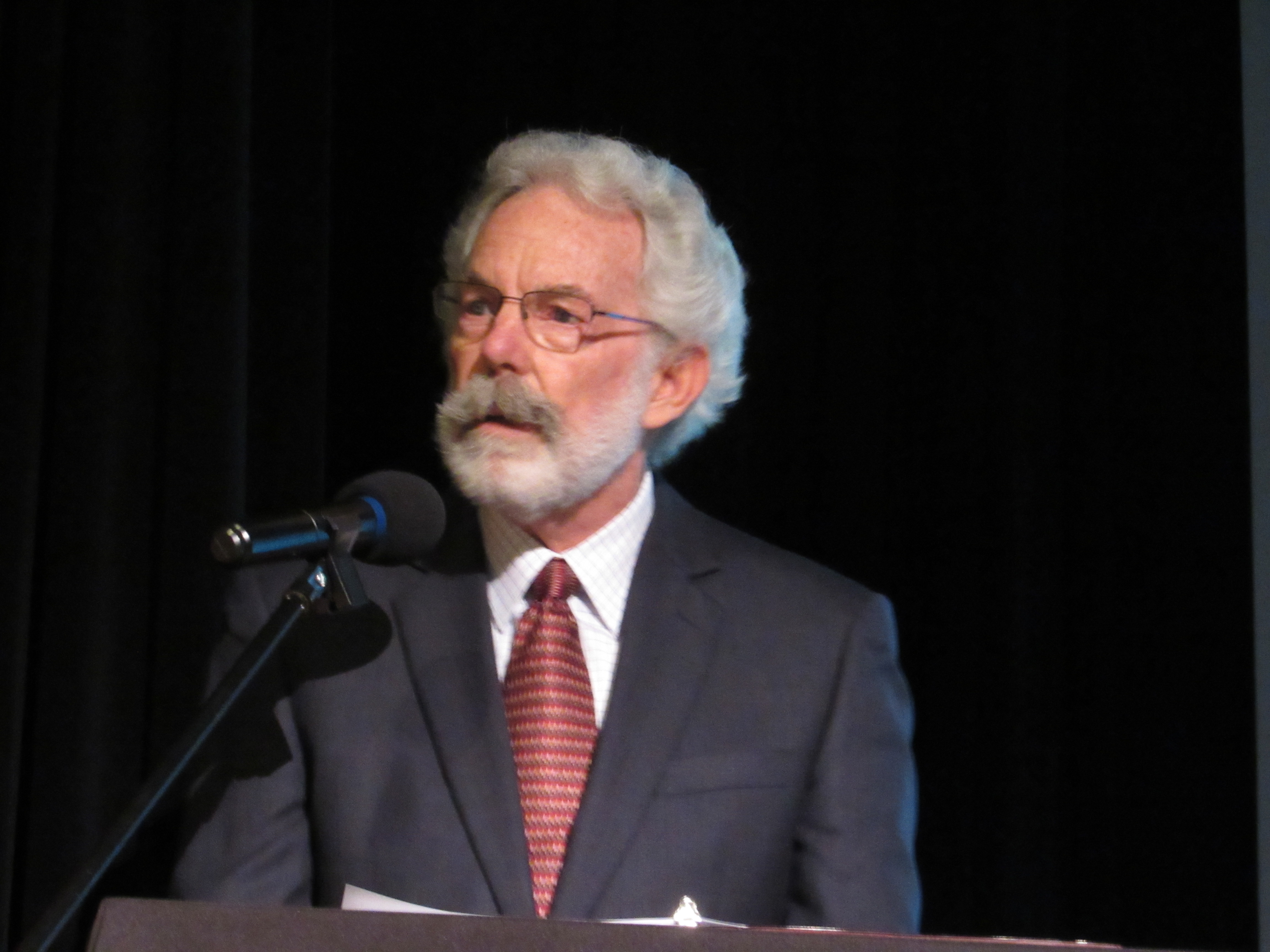 "There is a great deal of concern about the lack of housing in our area," he said. "Rightfully so, but progress is being made. In 2018, there were 62 single-family and duplex building permits issued, plus the 30-unit apartment project on West Devils Lake. That is 90-plus units added in one year. I know there is still a need, but progress is being made."
Local businesses saw expansion and improvements over the course of 2018 with Roby's Furniture and Starfish Manor adding space. The new Samaritan North Lincoln Hospital, Crab Pot rebuild in Cutler City, the recently completed St. James Santiago School and the new Lincoln City Police Department were highlighted.
"The hospital is a major economic engine for the city and North County," he said. "A new facility only enhances this importance. I might point out that we, the citizens, are not paying any more for this new hospital than what we have always paid to the North Lincoln Health District."
"Our schools are rated average in the State of Oregon," Anderson said. "But average does not cut it when decisions are being made to relocate businesses or families. Our community needs to get behind our schools."
That's a huge list of accomplishments in just a single year," he said. "That certainly reflects our growing community and positions us well with the future."
Anderson recognized members of the crowd, including Cultural Center staff, board members and volunteers while having the audience give appreciation to the individuals responsible for contributing to the city's success.
"This council is no longer just the 'good 'ole boys','" he said. "Especially with three women and some younger folks now serving. This group appears to be committed to a healthy growing community."
Anderson said there has been outstanding participation from citizens around the Imagine Lincoln City project that lays out what we want the city to look like in 20 years.
"We have a pleasant, safe, healthy and prosperous town where everyone enjoys a high quality of life," he said. "I am encouraged for the future of Lincoln City.
"We are in the unique position of planting seeds today for our own grandchildren's benefit. I ask you all to work with me, the City Council and all City staff to make this vision a reality."