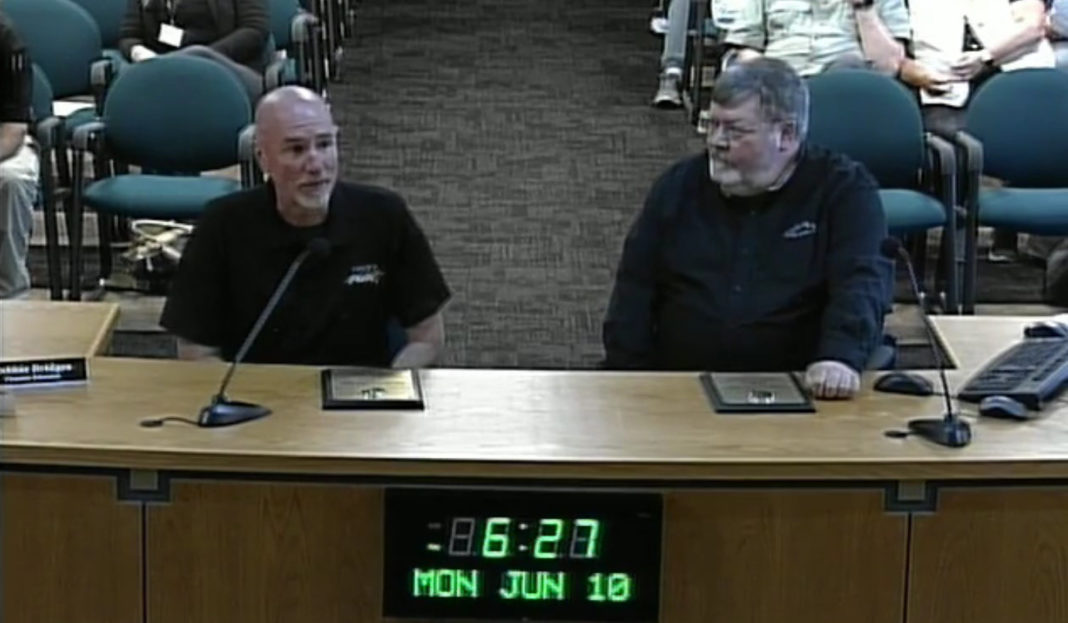 Lincoln City Police Chief Jerry Palmer honored Detective Bud Lane for 30 years of service and police sergeant-turned-911-dispatcher Mark Hopkins for 35 years at Monday's City Council meeting.
"Bud does anything that is asked of him over and above stuff that he does away from work," Palmer said. "He's lead on our Major Crimes Team, he works closely with our federal and state partners. He's a remarkable employee that makes my job easier."
Lane earned an Associate of Applied Science in criminal justice from Portland Community College in 1988. Lane joined the LCPD in 1989 and graduated the police academy in 1990. In 1991, Lane took on added responsibilities as evidence officer. Lane was promoted to detective in 1992.
"Detectives make our agency shine everyday," Palmer said.
Hopkins, who retired from the department as a patrol sergeant in 2007, was also honored by Palmer for coming back in 2011 as a 911 dispatcher and hitting 35 years of service.
"Bud is one of those guys who I'm not sure we can retrain, and Mark is one of those examples that shows we can," Palmer said.
Mayor Dick Anderson asked Lane to share the biggest difference he saw in his 30 years serving Lincoln City.
"I've seen a lot of improvement in the city itself, housing and our department in 30 years. It's been really remarkable to see," Lane said. "If anyone was here 30 years ago and you drove down Highway 101, you saw a lot of vacant buildings, a lot of depleted buildings — business and industry has been a major change.
"Our caseloads have changed. When I started out as a detective, I did bad check cases because there was not a lot to do. Those days are gone. I have not done a bad check case in 20 years. It's person crimes now. It's been an amazing change."
Anderson asked Hopkins to share any thoughts on going from officer to dispatch.
"Its an unusual way for the career to go. More often it's from dispatch into patrol," Hopkins said. "This is a less complex role for me, but a different set of complexities in the 911 center. My colleagues are truly amazing, you guys are lucky to have them. Keep them. They'll keep you all safe."
Hopkins joined LCPD as an officer in 1980 after serving for three years as an officer in California. Hopkins was promoted to patrol sergeant in 1997 and retired in 2007. He successfully applied for 911 dispatcher in 2011.