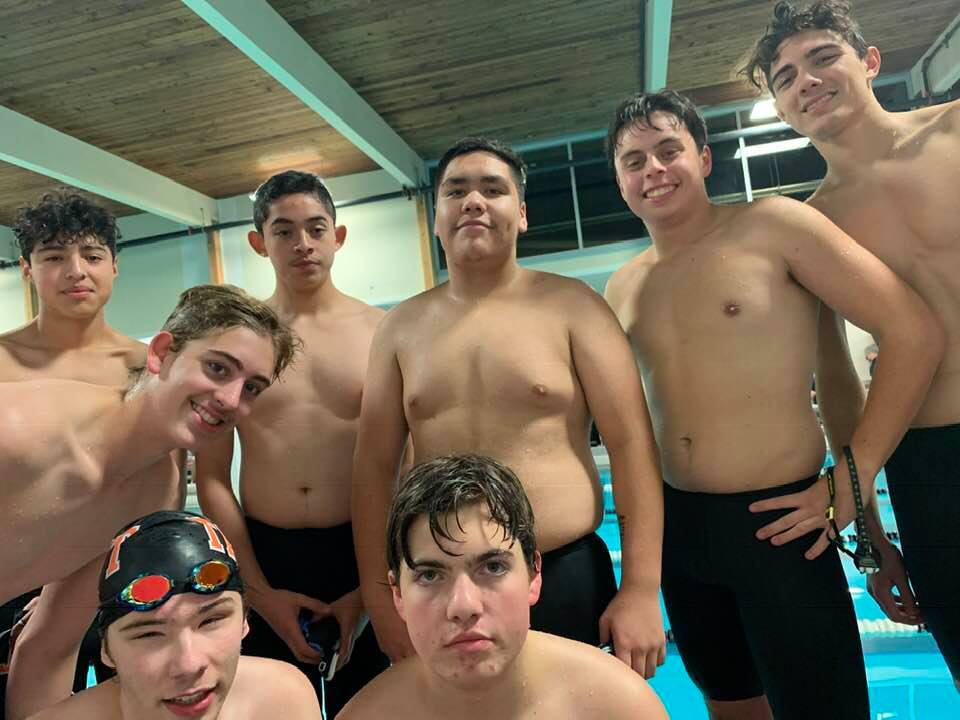 The Taft High boys 200- and 400-yard breaststroke teams led the way with victories Thursday at the Rhonda Relays, a non-scoring swim meet in Philomath.
"It was a great experience for everyone," Taft and Lincoln City Swim Club coach Lissa Parker said. "Several of the novices were able to try other strokes, and some of the breaststroke relays did really well."
Twenty-five of Taft's 28 team members competed, with Hunter Lunstedt still attending to shoulder issues.
"It was a quick meet — hard to get very much rest," Parker said. "We raced Newport and Sweet Home, which are very fast teams, while Stayton and Philomath also have some fast kids, so there's a lot of learning and motivation to keep us training hard and rise up to challenge them down the road."
Parker cited "up-and-coming" beginners Ayden Woodard and Isabell Mackie, sprinters Jonee Wright and Tanner Landry, freshman Aubrey Sciarrotta, and upperclassmen Lydia Prins and Sammy Halferty for their progress.
Taft returns to the pool Friday, Dec. 21, at the Newport Invite.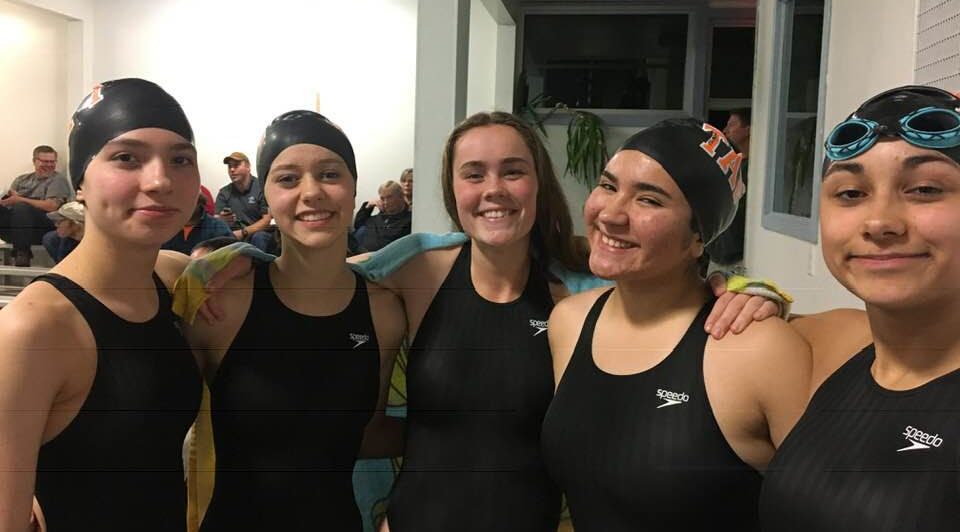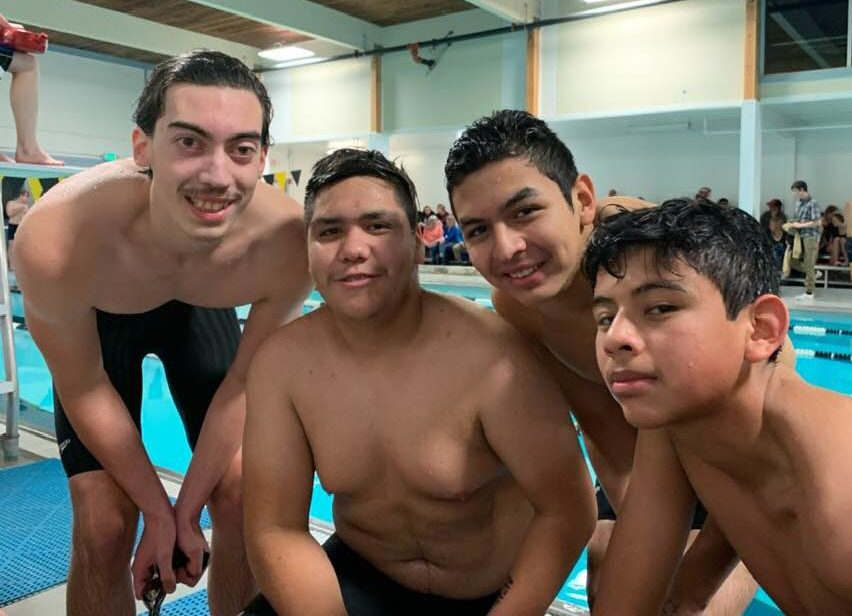 Rhonda Relays 2018 - 12/13/2018                        
Results                                    
Event 1  Girls 200 Yard Medley Relay
===============================================================================
School                                               Seed     Finals Points 
===============================================================================
1 Sweet Home High School  'A'                       2:08.00    2:05.26  
2 Newport  'A'                                      2:15.58    2:08.48  
3 Stayton  'A'                                      2:16.00    2:16.48  
4 Taft  'A'                                         2:19.37    2:17.36  
1) Meyer, Napy E 10                2) Halferty, Sammy E 11           
3) Prins, Lydia P 12               4) Lunstedt, Charlotte A 09       
5 Philomath-OR  'A'                                 2:20.55    2:21.95  
6 Sweet Home High School  'B'                            NT    2:27.01  
7 Philomath-OR  'B'                                      NT    2:40.50  
8 Sweet Home High School  'C'                            NT    2:50.91  
9 Taft  'B'                                              NT    3:00.84  
1) Mackie, Isabell M 10            2) Paget, Bryanna D 11            
3) Serrato, Isabelle R 10          4) Weaver, Hannah G 11            
10 Newport  'B'                                           NT    3:07.42  
11 Newport  'C'                                           NT    3:21.26  
Event 2  Boys 200 Yard Medley Relay
===============================================================================
School                                               Seed     Finals Points 
===============================================================================
1 Newport  'A'                                      1:55.88    1:49.41  
2 Newport  'B'                                      1:55.88    1:53.67  
3 Taft  'A'                                         2:00.83    1:57.23  
1) Hoff, Joram M 12                2) McLeish, Micah J 11            
3) Cortes, Sam L 09                4) Wright, Jonee D 12             
4 Philomath-OR  'A'                                 2:03.55    2:07.51  
5 Newport  'C'                                           NT    2:15.90  
6 Taft  'B'                                              NT    2:18.72  
1) Moreno, Angel I 09              2) Woodard, Ayden M 12            
3) Landry, Tanner J 12             4) Sawyer, Degen S                
7 Stayton  'A'                                      2:06.00    2:21.49  
8 Sweet Home High School  'A'                            NT    2:25.60  
Event 3  Girls 200 Yard Backstroke Relay
===============================================================================
School                                               Seed     Finals Points 
===============================================================================
1 Sweet Home High School  'A'                       2:11.50    2:09.73  
2 Stayton  'A'                                      2:17.00    2:16.39  
3 Taft  'A'                                              NT    2:35.06  
1) Galvan, Cassandra M 09          2) Weaver, Hannah G 11            
3) LeBoeuf, Brieanna M 09          4) Sciarrotta, Aubrey E 09        
4 Philomath-OR  'A'                                 2:40.55    2:35.18  
5 Sweet Home High School  'B'                            NT    2:42.60  
6 Newport  'A'                                           NT    3:02.40  
7 Philomath-OR  'B'                                      NT    3:12.35  
8 Newport  'B'                                           NT    3:38.00  
Event 4  Boys 200 Yard Backstroke Relay
===============================================================================
School                                               Seed     Finals Points 
===============================================================================
1 Newport  'A'                                      2:20.20    2:11.48  
2 Taft  'A'                                         2:26.10    2:14.76  
1) Segura, Jose C 10               2) Barrera, Dylan R 09            
3) Young, Michael E 11             4) Ochoa, Cristofer 09            
3 Sweet Home High School  'A'                       2:45.50    2:15.59  
4 Philomath-OR  'A'                                 2:19.55    2:17.95  
5 Stayton  'A'                                           NT    2:29.37  
6 Sweet Home High School  'B'                            NT    2:45.03  
7 Newport  'B'                                           NT    2:55.73  
Event 5  Girls 400 Yard Breaststroke Relay
===============================================================================
School                                               Seed     Finals Points 
===============================================================================
1 Sweet Home High School  'A'                       5:30.00    5:30.74  
2 Philomath-OR  'A'                                 2:30.55    5:32.66  
3 Newport  'A'                                           NT    5:39.03  
4 Taft  'A'                                              NT    6:07.86  
1) Lunstedt, Charlotte A 09        2) Paget, Bryanna D 11            
3) Prins, Lydia P 12               4) Halferty, Sammy E 11           
Event 6  Boys 400 Yard Breaststroke Relay
===============================================================================
School                                               Seed     Finals Points 
===============================================================================
1 Taft  'A'                                         5:08.60    5:00.75  
1) Cortes, Sam L 09                2) Moreno, Angel I 09             
3) Segura, Jose C 10               4) Hoff, Joram M 12               
2 Newport  'A'                                           NT    5:07.75  
3 Philomath-OR  'A'                                 5:25.55    5:16.32  
Event 7  Girls 200 Yard Butterfly Relay
===============================================================================
School                                               Seed     Finals Points 
===============================================================================
1 Sweet Home High School  'A'                       2:10.50    2:06.02  
2 Stayton  'A'                                      2:24.00    2:21.26  
3 Sweet Home High School  'B'                            NT    2:23.62  
4 Taft  'A'                                              NT    2:25.25  
1) Serrato, Isabelle R 10          2) Sciarrotta, Aubrey E 09        
3) Galvan, Cassandra M 09          4) Meyer, Napy E 10               
5 Philomath-OR  'A'                                 2:35.55    2:26.73  
6 Newport  'A'                                      2:18.39    2:37.71  
Event 8  Boys 200 Yard Butterfly Relay
===============================================================================
School                                               Seed     Finals Points 
===============================================================================
1 Newport  'A'                                      1:52.97    1:52.53  
2 Philomath-OR  'A'                                 2:00.55    1:55.22  
3 Newport  'B'                                           NT    2:40.61  
-- Taft  'A'                                         2:17.93         DQ  
1) Young, Michael E 11             2) Ochoa, Cristofer 09            
3) Barrera, Dylan R 09             4) Landry, Tanner J 12            
Event 9  Girls 400 Yard Freestyle Relay
===============================================================================
School                                               Seed     Finals Points 
===============================================================================
1 Sweet Home High School  'A'                       4:20.00    4:14.70  
2 Stayton  'A'                                           NT    4:39.87  
3 Philomath-OR  'A'                                 5:10.55    4:44.75  
4 Sweet Home High School  'B'                            NT    4:56.82  
5 Newport  'A'                                      4:40.88    5:02.51  
6 Sweet Home High School  'C'                            NT    5:17.67  
7 Taft  'A'                                         4:57.61    5:20.73  
1) Weaver, Hannah G 11             2) Mackie, Isabell M 10           
3) LeBoeuf, Brieanna M 09          4) Serrato, Isabelle R 10         
8 Philomath-OR  'B'                                      NT    5:41.23  
9 Newport  'B'                                           NT    7:04.67  
Event 10  Boys 400 Yard Freestyle Relay
===============================================================================
School                                               Seed     Finals Points 
===============================================================================
1 Newport  'A'                                      3:35.88    3:51.48  
2 Sweet Home High School  'A'                       4:25.50    4:13.32  
3 Newport  'B'                                           NT    4:22.17  
4 Taft  'A'                                         5:00.37    4:47.44  
1) Anderson, Sam E 12              2) Price, Ethan P 11              
3) Woodard, Ayden M 12             4) Wright, Jonee D 12             
5 Stayton  'A'                                           NT    4:55.98  
6 Sweet Home High School  'B'                            NT    5:02.97  
7 Newport  'C'                                           NT    5:18.03  
Event 11  Girls 200 Yard Breaststroke Relay
===============================================================================
School                                               Seed     Finals Points 
===============================================================================
1 Sweet Home High School  'A'                       2:50.50    2:35.53  
2 Newport  'A'                                      2:50.45    2:38.27  
3 Philomath-OR  'A'                                 2:35.55    2:38.94  
4 Taft  'A'                                         2:49.34    2:44.79  
1) Paget, Bryanna D 11             2) Lunstedt, Charlotte A 09       
3) Prins, Lydia P 12               4) Halferty, Sammy E 11           
5 Stayton  'A'                                      2:55.00    2:55.20  
Event 12  Boys 200 Yard Breaststroke Relay
===============================================================================
School                                               Seed     Finals Points 
===============================================================================
1 Taft  'A'                                         2:38.26    2:24.75  
1) Barrera, Dylan R 09             2) Moreno, Angel I 09             
3) Landry, Tanner J 12             4) McLeish, Micah J 11            
2 Philomath-OR  'A'                                 2:36.55    2:43.26  
3 Taft  'B'                                              NT    2:46.68  
1) Ochoa, Cristofer 09             2) Young, Michael E 11            
3) Price, Ethan P 11               4) Woodard, Ayden M 12            
4 Newport  'A'                                      2:11.57    2:48.50  
5 Newport  'B'                                           NT    3:02.96  
Event 13  Girls 400 Yard Backstroke Relay
===============================================================================
School                                               Seed     Finals Points 
===============================================================================
1 Sweet Home High School  'A'                       4:45.80    4:44.68  
2 Taft  'A'                                              NT    5:27.28  
1) Meyer, Napy E 10                2) Sciarrotta, Aubrey E 09        
3) Serrato, Isabelle R 10          4) Galvan, Cassandra M 09         
3 Philomath-OR  'A'                                 2:40.55    5:34.04  
Event 14  Boys 400 Yard Backstroke Relay
===============================================================================
School                                               Seed     Finals Points 
===============================================================================
1 Newport  'A'                                      4:00.88    4:17.28  
2 Taft  'A'                                         4:36.92    4:28.87  
1) Segura, Jose C 10               2) Cortes, Sam L 09               
3) Ochoa, Cristofer 09             4) Hoff, Joram M 12               
3 Sweet Home High School  'A'                       5:15.50    5:03.84  
Event 15  Girls 200 Yard Freestyle Relay
===============================================================================
School                                               Seed     Finals Points 
===============================================================================
1 Sweet Home High School  'A'                       2:08.50    2:01.44  
2 Stayton  'A'                                      2:26.00    2:05.13  
3 Sweet Home High School  'B'                       2:30.00    2:12.78  
4 Philomath-OR  'A'                                 2:30.55    2:13.48  
5 Philomath-OR  'B'                                      NT    2:19.56  
6 Sweet Home High School  'C'                            NT    2:21.66  
7 Taft  'A'                                         2:13.38    2:23.19  
1) Mackie, Isabell M 10            2) Weaver, Hannah G 11            
3) Paget, Bryanna D 11             4) LeBoeuf, Brieanna M 09         
8 Newport  'A'                                           NT    2:56.73  
Event 16  Boys 200 Yard Freestyle Relay
===============================================================================
School                                               Seed     Finals Points 
===============================================================================
1 Newport  'A'                                      1:40.88    1:39.31  
2 Taft  'A'                                         1:46.39    1:45.14  
1) McLeish, Micah J 11             2) Young, Michael E 11            
3) Landry, Tanner J 12             4) Wright, Jonee D 12             
3 Newport  'B'                                      2:00.88    2:01.31  
4 Stayton  'A'                                      1:52.00    2:02.06  
5 Philomath-OR  'A'                                 2:10.55    2:03.03  
6 Sweet Home High School  'A'                       2:00.00    2:04.53  
7 Taft  'B'                                         2:12.55    2:15.95  
1) Anderson, Sam E 12              2) Sawyer, Degen S                
3) Price, Ethan P 11               4) Woodard, Ayden M 12            
8 Sweet Home High School  'B'                            NT    2:17.82  
9 Newport  'C'                                           NT    2:37.01  
Event 17  Girls 400 Yard Medley Relay
===============================================================================
School                                               Seed     Finals Points 
===============================================================================
1 Sweet Home High School  'A'                       4:50.50    4:41.27  
2 Newport  'A'                                      5:13.91    5:01.30  
3 Stayton  'A'                                      5:00.00    5:07.95  
4 Taft  'A'                                         5:13.91    5:08.76  
1) Meyer, Napy E 10                2) Halferty, Sammy E 11           
3) Prins, Lydia P 12               4) Lunstedt, Charlotte A 09       
5 Philomath-OR  'A'                                 5:20.55    5:20.36  
Event 18  Boys 400 Yard Medley Relay
===============================================================================
School                                               Seed     Finals Points 
===============================================================================
1 Newport  'A'                                      4:08.19    4:13.93  
2 Taft  'A'                                         4:34.16    4:27.68  
1) Hoff, Joram M 12                2) Segura, Jose C 10              
3) Cortes, Sam L 09                4) Moreno, Angel I 09             
3 Philomath-OR  'A'                                 3:00.55    4:31.92  
4 Newport  'B'                                           NT    5:58.29  
Event 19  Mixed 200 Yard Freestyle Relay
===============================================================================
School                                               Seed     Finals Points 
===============================================================================
1 Sweet Home High School  'A'                       1:50.00    1:44.14  
2 Newport  'A'                                      1:50.88    1:47.58  
3 Newport  'B'                                      2:10.88    1:49.70  
4 Taft  'A'                                              NT    1:51.91  
1) Sciarrotta, Aubrey E W09        2) McLeish, Micah J M11           
3) LeBoeuf, Brieanna M W09         4) Wright, Jonee D M12            
5 Stayton  'A'                                      1:52.00    1:52.38  
6 Philomath-OR  'A'                                 1:55.55    2:00.43  
7 Sweet Home High School  'B'                       2:05.50    2:04.21  
8 Philomath-OR  'B'                                 2:10.55    2:08.73  
9 Stayton  'B'                                      2:10.00    2:13.06  
10 Taft  'B'                                              NT    2:15.86  
1) Mackie, Isabell M W10           2) Anderson, Sam E M12            
3) Galvan, Cassandra M W09         4) Barrera, Dylan R M09           
11 Philomath-OR  'C'                                      NT    2:19.04  
12 Newport  'C'                                           NT    2:25.92  
-- Stayton  'C'                                           NT         DQ