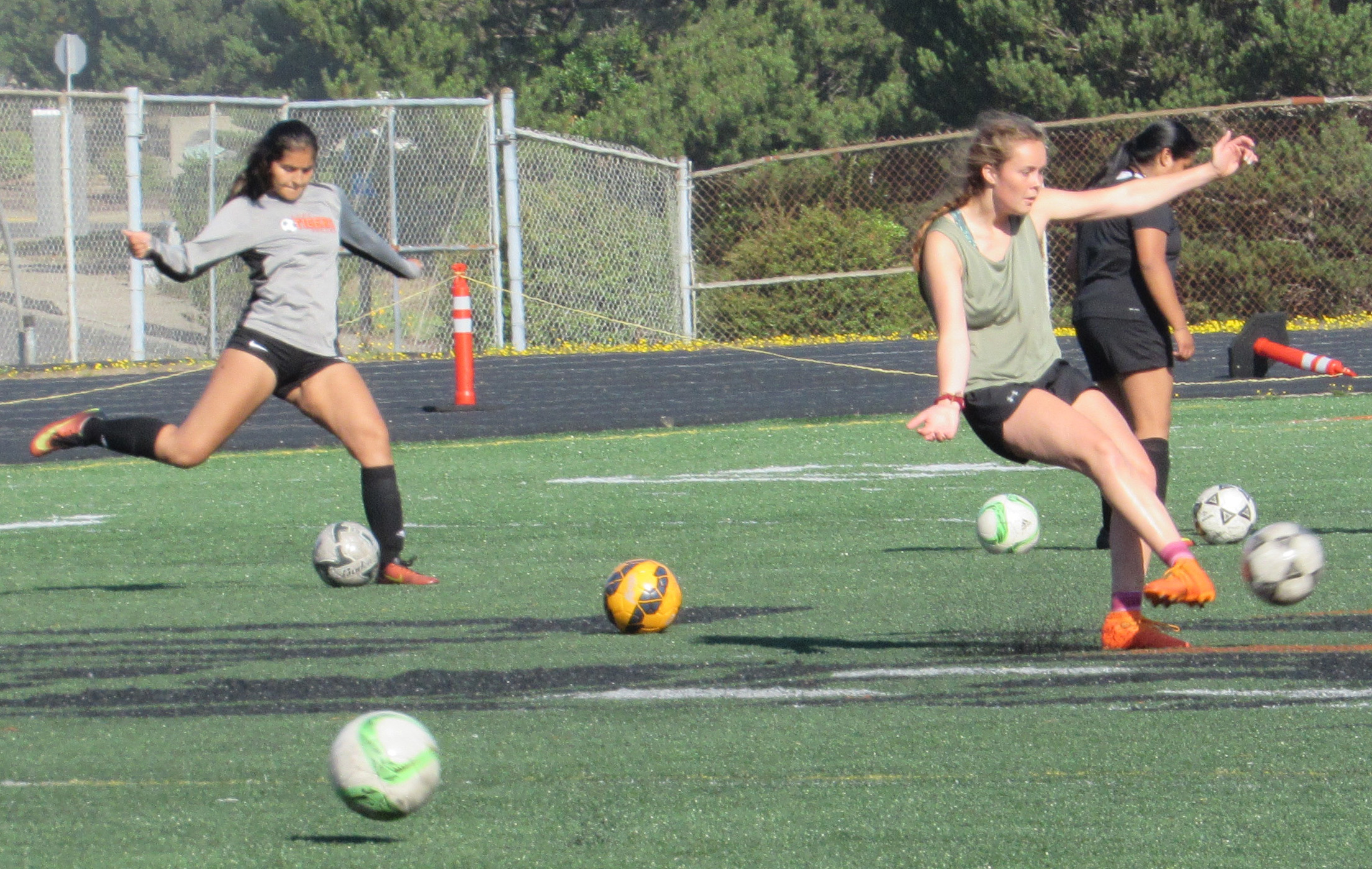 Young and able with a spattering of experience in key leadership roles is how Taft High coach Joey Arce-Torres might best describe his new-look Tigers entering the 2018 girls soccer season.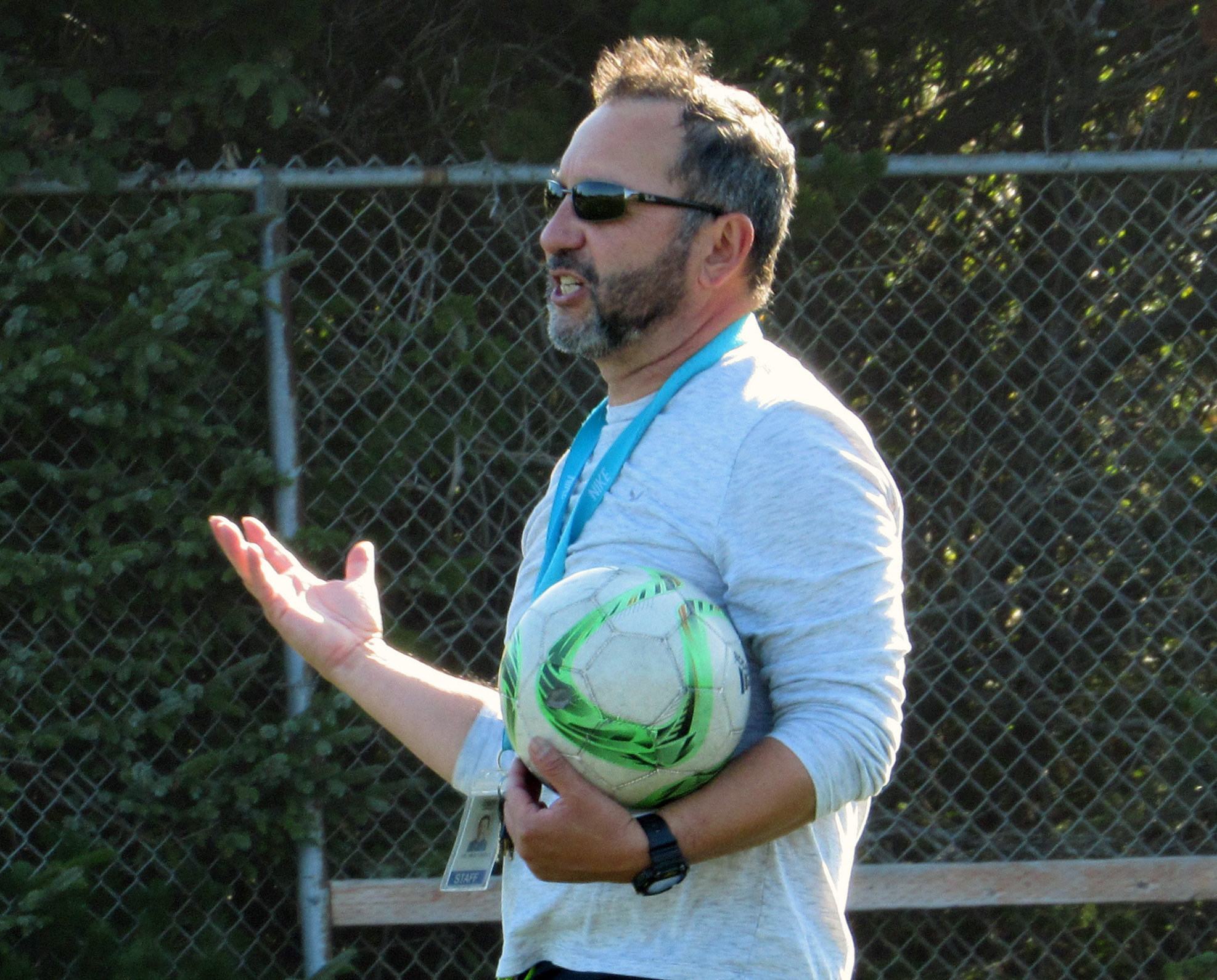 Taft, which went 9-6-1 overall and 8-3-1 in Class 3A/2A/1A Special District 3 last year before missing the State tournament with a narrow play-in defeat, will compete in the eight-team Special District 2 this season.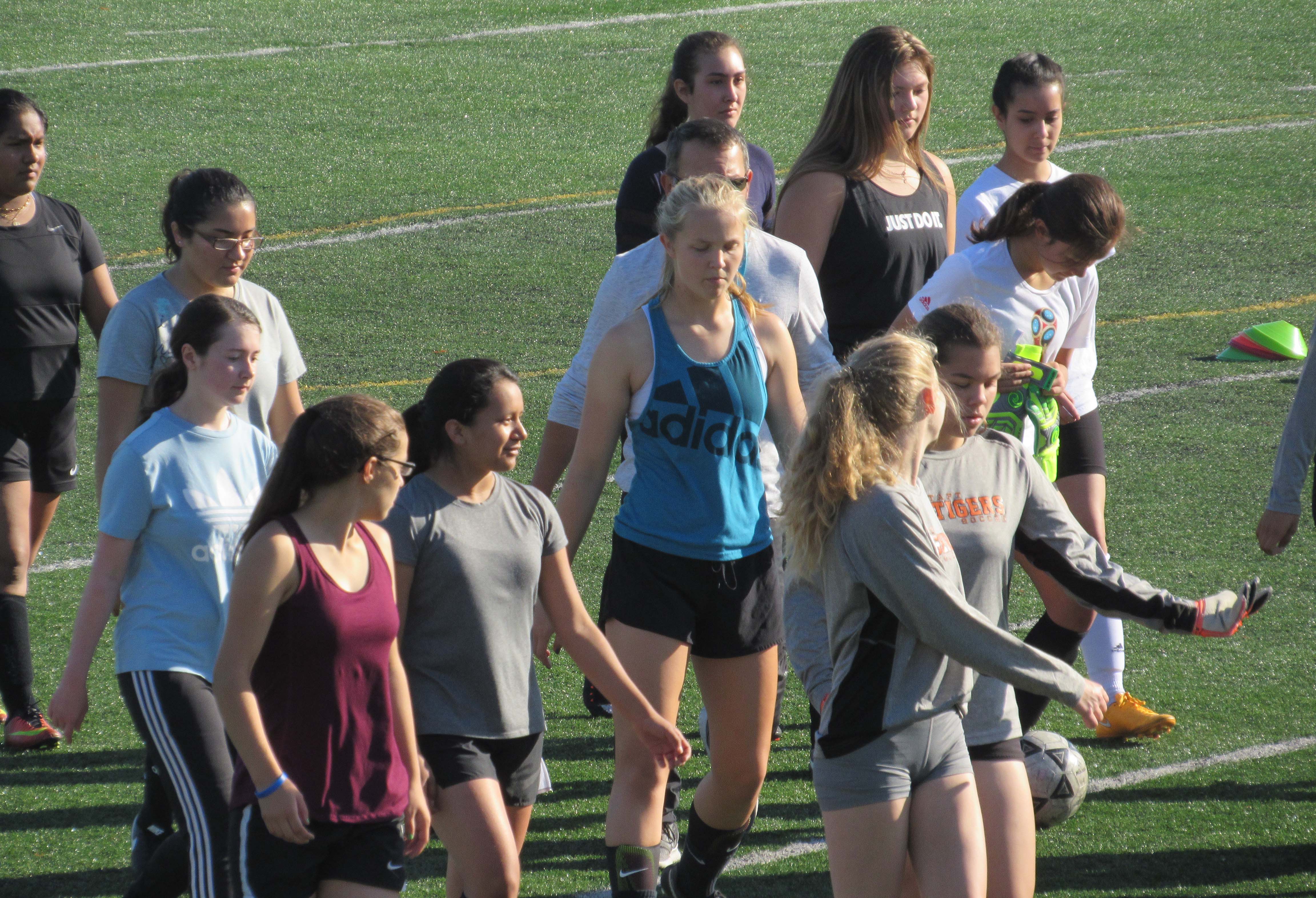 But that's not the biggest news.
The departure of nine seniors will be the biggest change.
But leave it to the fourth-year Taft head coach to put a positive spin on things.
"Losing those kinds of numbers will definitely create some opportunities," said Arce-Torres, whose team scored 24 goals against 28 allowed in its third-place league showing last year before falling 2-1 at Western Mennonite/Perrydale in a league postseason playoff game.
Taft will field more freshman and sophomores than upperclassmen this season, with 12 underclassmen on the 21-player roster. The Tigers open their regular season at home at 4 p.m. Thursday against Sutherlin, and play their league opener Monday, Sept. 10, at Yamhill-Carlton.
"All three coaches [Josh Vrendenburg and Kate Quinn] are thrilled and excited with the attitudes and enthusiasm the team possesses," he said. "Each athlete comes to each practice ready to learn and challenge their teammates to be stronger soccer players."
Three players — recently crowned captains Sammy Halferty, Lydia Prins and Ana Ortiz — return to the Tigers and will carry a heavy load, Arce-Torres said.
"The captains bring experience, a winning culture and the desire to build a positive club who work together," he said. "They will need to remain patient and provide strong leadership to the many new faces on the pitch."
Halferty, a junior striker, will be Taft's main scoring threat.
"Her speed and dribbling skills will create many opportunities for her to challenge opposing defenses," Arce-Torres said. "It is very apparent that she has been working on her shot."
Seniors Ortiz and Prins will start for their fourth season and have been major players in the burgeoning program since their freshman years, Arce-Torres said.
"Ana's strength, despite her petite size, is her soccer IQ and ability to play both offense and defense," he said. "Lydia, a varsity swimmer and cross country and sprint competitor, brings superior conditioning and needed experience to the back line."
Providing a fresh new look and energy to the team will be the freshman trio of Chloe Peterson, Nicole Reyes and Aubrey Sciarrotta, Arce-Torres said.
"All three are extremely quick and will play multiple positions," he said. "Peterson will surprise many with her athleticism and tenacity. I expect her to lead the team, as a freshman, in assists and playing minutes.
"Nicole will spend significant time in the goalie box and as a midfielder distributing the ball to fellow teammate Sciarrotta, who will log time as a striker."
The team as a whole is extremely young and inexperienced, but full of potential." said Arce-Torres, who is working on developing a junior varsity program with his large turnout. "They will mature by midseason and have the ability to challenge most teams. As a coach, I am energized by our numbers, our athleticism and our ability to make large gains in skill in short time frames."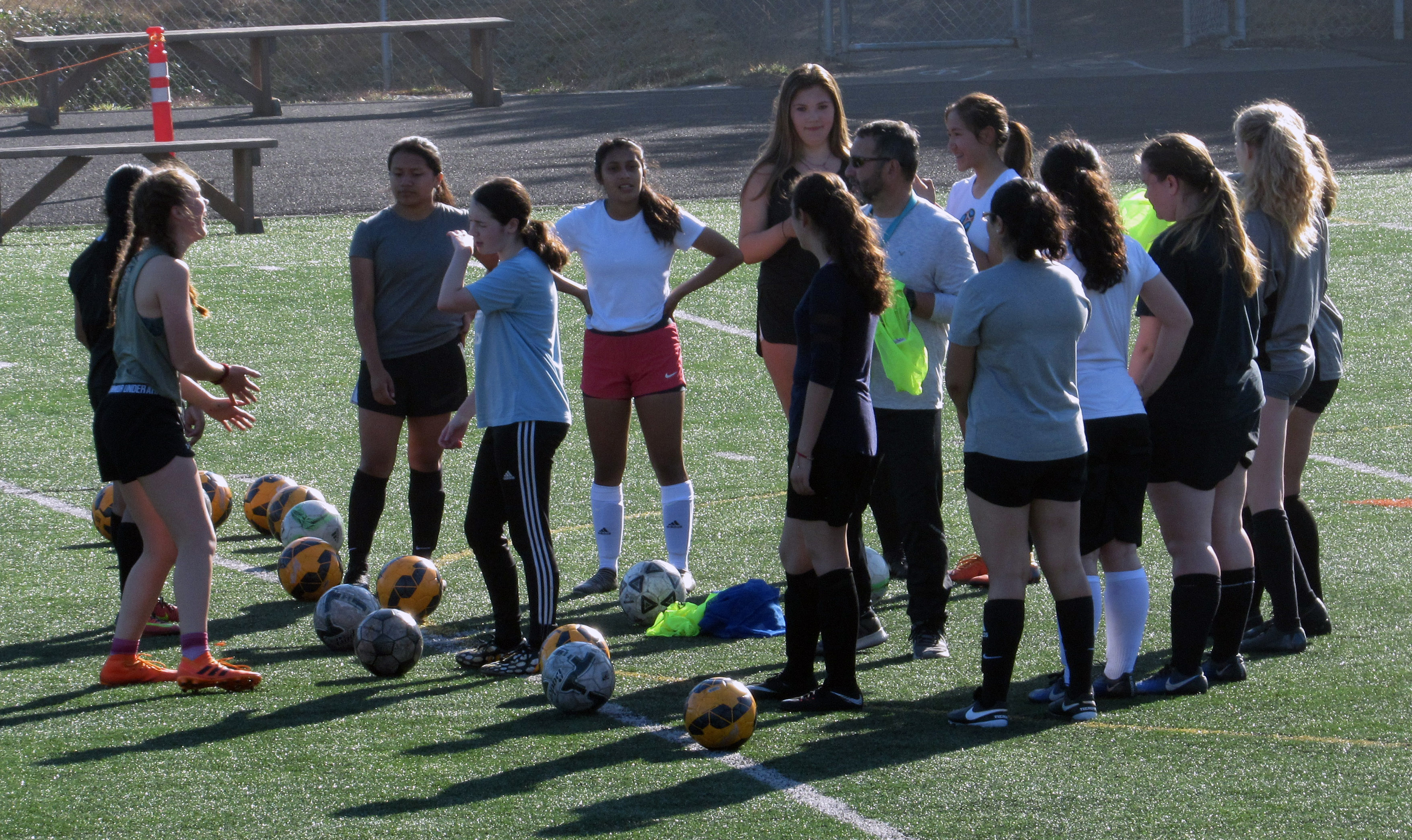 Roster
| | | | | | |
| --- | --- | --- | --- | --- | --- |
| No. | | Name | Position | Grade | Height |
| 2 | | Ella Knott | M/F | 11 | 5-5 |
| 3 | | Kaydince Beach | M/D | 9 | 5-1 |
| 4 | | Keara Gagnet | D/F | 11 | 5-6 |
| 5 | | Fatima Lupercio | D/M | 11 | 5-10 |
| 6 | | Magali Camarena | D/M | 9 | 5-4 |
| 7 | | Ariel Taylor | D | 10 | 5-4 |
| 8 | | Yuritzi Cuellar-Pacheco | M/D | 10 | 5-2 |
| 9 | | Ana Ortiz | M/D | 12 | 5-2 |
| 11 | | Aubrey Sciarrotta | F/M | 9 | 5-2 |
| 12 | | Avery Nightingale | D/F | 10 | 5-5 |
| 13 | | Nicole Reyes | GK/F | 9 | 5-2 |
| 14 | | Tristan Bradley | GK/D | 10 | 5-5 |
| 15 | | Chloe Peterson | F/M | 9 | 5-4 |
| 16 | | Kadence James | F/M | 9 | 5-10 |
| 17 | | Melody Diggs | D/M | 12 | 5-2 |
| 18 | | Maria Camarena | M/M | 11 | 5-3 |
| 19 | | Sammy Halferty | F/M | 11 | 5-10 |
| 20 | | Alexia Almarez | D/M | 11 | 5-4 |
| 22 | | Lydia Prins | D/M | 12 | 5-5 |
| 23 | | Sayge Ulrich | D/M | 9 | 5-7 |
| 29 | | Lucy Reyes | M/D | 9 | 5-2 |
Sutherlin Roster
| | | Name | Position | Grade | |
| --- | --- | --- | --- | --- | --- |
| | | Abby Masterfield | F/M | 11 | |
| | | Kirstyn Thomas | D | 11 | |
| | | Mariah Summers | M | 10 | |
| | | Jadyn Vermillion | F | 10 | |
| | | Sidney Williams | F | 9 | |
| | | Karliegh Schoonover | D | 9 | |
| | | Shakiya Candelaria | F | 11 | |
| | | Gracie Thurman | D | 9 | |
| | | Tegan Schoonover | D | 12 | |
| | | Litzi Aguirre Pina | D | 9 | |
| | | Isabelle Cummings | D | 10 | |
| | | Megan Carrillo | F/M | | |
| | | Kiersten Hains | GK | 11 | |
| | | Ashlyn Sophia | D | 10 | |
| | | Alyssa McCormick | D | 11 | |
| | | Caitlyn Powell | F | 9 | |
| | | Kaylei Burdett | F | 10 | |
| | | Madison Brown | M | 10 | |
Schedule
9/4 @ Salem Academy/Crosshill Christian
9/10 @ Yamhill-Carlton
9/13 @ Dayton
9/17 @ Western Christian/Perrydale
9/20 vs. Gervais
9/25 vs. Amity
9/27 vs. Salem Academy/Crosshill n
10/5 vs. Yamhill-Carlton
10/9 vs. Dayton
10/11 vs. Western Christian/Perrydale
10/15 @ Gervais
10/18 @ Amity
Class 3A/2A/1A Special District 2
Salem Academy/Crosshill Christian