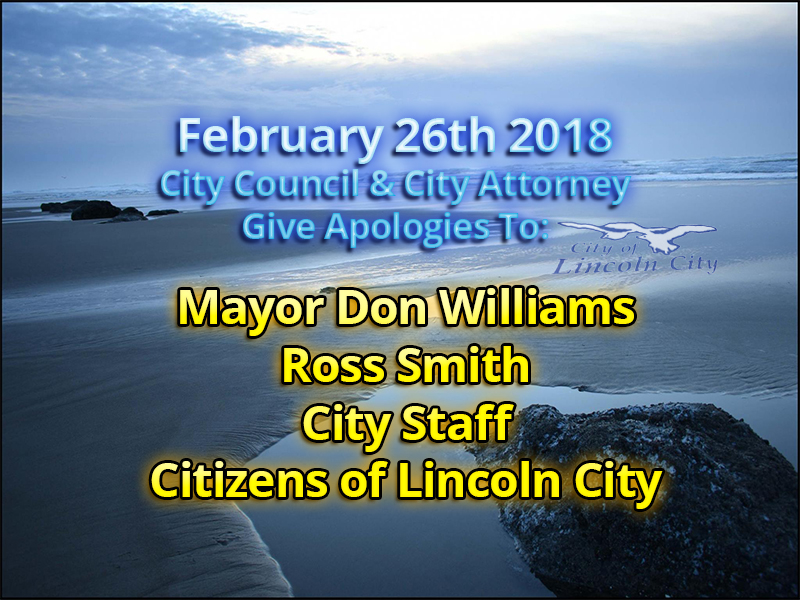 Lincoln City, OR – After spending three years, and over $112,000 taxpayer dollars, on four failed attempts to oust Lincoln City Mayor Don Williams from office, the Lincoln City Council, and the city attorney, have finally decided to apologize to Williams, and move on.
Council's mea culpa to Williams caps three tumultuous years of city officials alleging Williams committed numerous crimes. But for all their numerous allegations, no charges were ever filed against Williams as the city was unable to produce any evidence to back up their claims.
The apologies are the hard fought result of months of negotiations between the city's attorneys and Cutler resident Ross Smith. Smith, a retired software developer, and fervent supporter of Williams, sued the city in 2015, and again in 2016, claiming the city held years of illegal meetings and secret votes. In exchange for dropping the lawsuits, Smith asked the city to donate $3,000 to the Lincoln City Warming Shelter, and $3,000 to the Lincoln County Bar Association's scholarship fund. Smith is not an attorney, and wrote all his pleadings himself.
Asked about the settlement, Smith was conciliatory. "It takes a lot of courage to admit you're wrong, and apologize. I thank our city council for letting the past go, and putting our citizens before politics. I hope we can now move forward, and focus on our shared goals, and not our perceived differences."
In addition to their apology to Williams, council is also apologizing to Smith, the city staff, and the citizens of Lincoln City. City Attorney Richard Appicello, the man who spearheaded the multiple attacks on Williams, and alleged Smith was also a criminal, has also agreed to personally apologize to Williams, Smith, the city staff and its citizens.
Here is the full text of the apology to be read by Councilor Dick Anderson at the Feb. 26 city council meeting:
Ross Smith has filed two lawsuits against the City of Lincoln City, and our City Council in which he alleges we violated the Oregon Public Meetings Law, Oregon Public Records Law, the Lincoln City Charter and our Municipal Code at various times.
With Mr. Smith's decision to drop the two lawsuits, it will allow us to return to the duties we were elected to do. We, the Council, wish to apologize to Mayor Don Williams, Mr. Smith, the City staff, and the citizens of Lincoln City.
Although we do not admit we violated any laws we acknowledge the lawsuits have served to remind us to carefully ensure that our public meetings, and executive sessions, are held in strict compliance with all applicable laws.
We regret the impact of disputes between the Council, Mr. Smith and the Mayor. The Mayor and Council pledge to work together to minimize disputes that distract from the important work the Mayor, Council and City staff perform for the citizens of Lincoln City.
UPDATED 2/27 With Video: 
The complete Settlement Agreement between the city and Smith is here.